Founded in 1954 by Frank Pendleton, VAC-U-MAX celebrated 65-years providing growth, industry leadership and innovations. VAC-U-MAX designed the world's first industrial vacuum cleaner operating on compressed-air for high volume recovery of combustible and flammable materials. Additionally, VAC-U-MAX was the first to introduce vacuum-generated venturi power units with patented noise suppression for vacuum conveying over 10,000 various powders and granular bulk materials. Today, pneumatic conveying is the most commercially accepted way of moving dry powder particulate to processing and packaging lines.
This year also marks the 50th work year anniversary for Steve Pendleton who served various positions within the organization from 1969 to present, including serving as President of VAC-U-MAX. During his 50-year tenure, Steve Pendleton led the company's vision, transformation, and growth following family tradition and entrepreneurial spirit. For his 50th work year anniversary, VAC-U-MAX provided a catered luncheon for the entire organization and surprised him with a cake.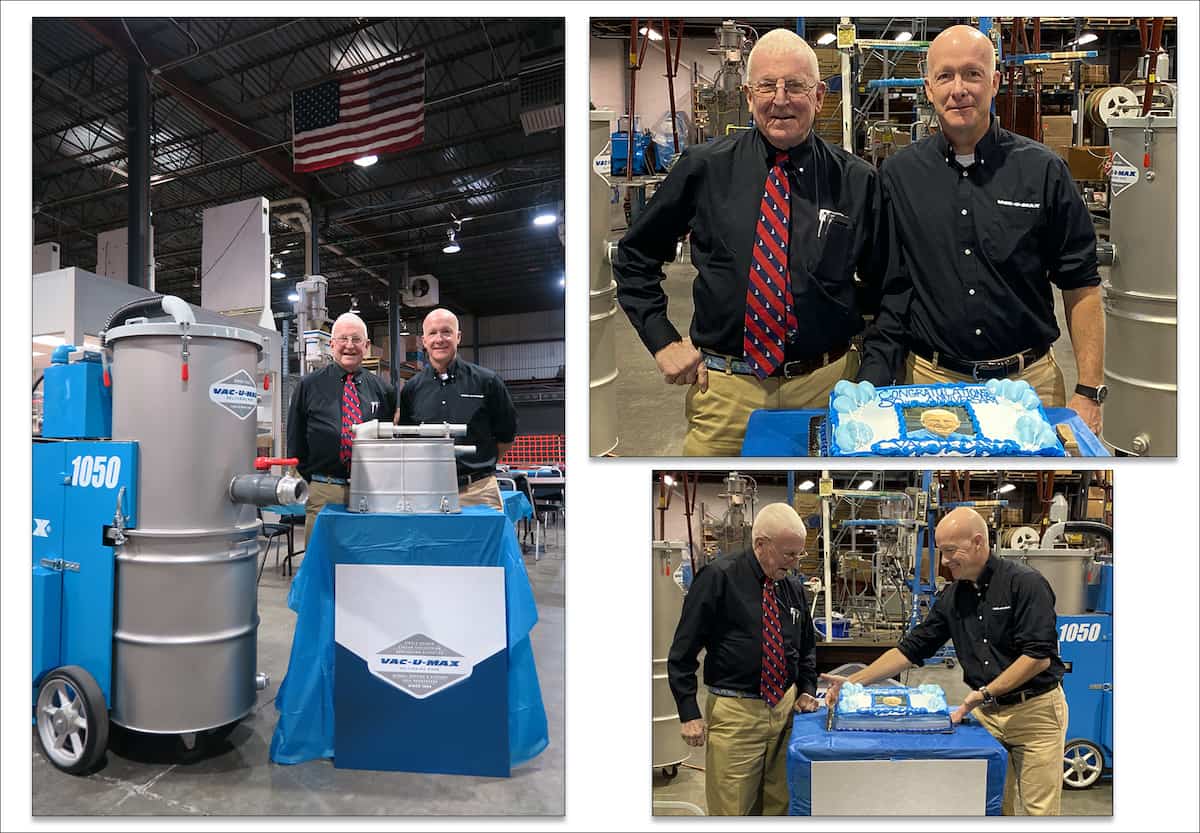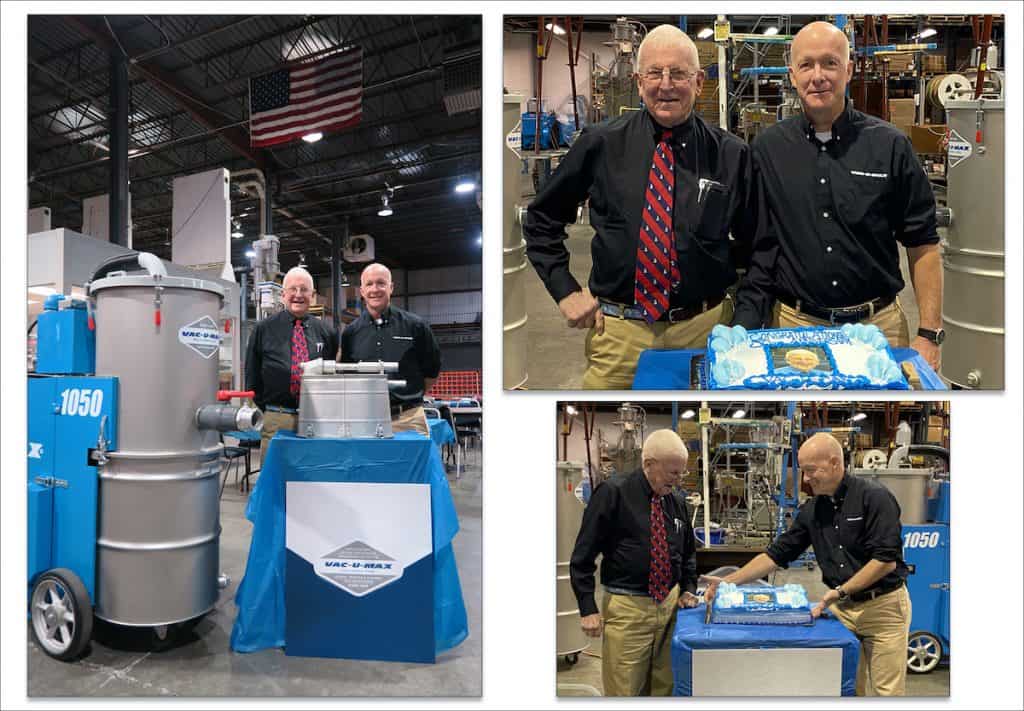 "Fifty years ago, I filled an open sales position offered to me by my father Frank, selling compressed-air powered vacuum cleaners from the trunk of my car," said Steve Pendleton. "The past 50 years have been the best memories of my life, with a fantastic team of dedicated and loyal employees along the way. Thank you for celebrating this work anniversary with me, but with this announcement, I am also letting you know that I resign as President and introduce to you our new President, Doan Pendleton."
At the meeting VAC-U-MAX announced the appointment of Doan Pendleton as President, assuming the new role effective November 1, 2019. Doan Pendleton will continue to create, communicate and implement VAC-U-MAX's vision, mission and overall direction within the companies' philosophies, expectations, and guidelines. Doan brings forward decades of experience and proven track records of customer-centric visions. Steve Pendleton will continue as Chairman of the Board.
"I am both humbled and honored for this opportunity to serve as President," said Doan Pendleton. "My father was the first to see the true potential of VAC-U-MAX and is responsible for growing VAC-U-MAX to where it is today. I cannot thank him enough for his vision, leadership, perseverance and contributions. He is the true pioneer and visionary and will continue as Chairman of the Board," said Doan Pendleton.
VAC-U-MAX marked another milestone in 2019 with the introduction of the new Model 1050, a continuous-duty industrial vacuum cleaner designed for high volume recovery of high-density and abrasive materials including steel shot, grit, cement, foundry sand, and other similar materials. The Model 1050 vacuums up to 10,000 lbs (4,500 kg) pr/hr from distances up to 30 feet (9m) away. For more information visit www.vac-u-max.com/1050.
About VAC-U-MAX
VAC-U-MAX is a worldwide leader in the design and manufacture of bulk material handling and industrial vacuum cleaning systems for a wide range of industries including food, pharmaceutical, nutraceutical, chemical, nonwovens, frac sand, precast, pulp and paper, biomass, ceramic, concrete, plastics and more. Product range and application expertise includes vacuum conveying systems, multi-ingredient handling and batch weighing systems, bulk bag loading and unloading systems, bag dump stations with integrated dust collection and empty bag compaction, flexible and aero-mechanical screw conveyors, direct-charge blender loading systems, mobile vacuum conveying systems, and UL-listed control panels for general purpose and hazardous locations. Product range includes a full line of portable, continuous-duty and central vacuum cleaning systems. Bulk material handling specialties include powders, fibers, flakes, combustible dusts, parts conveying, high-density materials, gel caps, biomass, tablets, food ingredients, and non-free-flowing materials.
For more information visit www.vac-u-max.com or email info@vac-u-max.com.