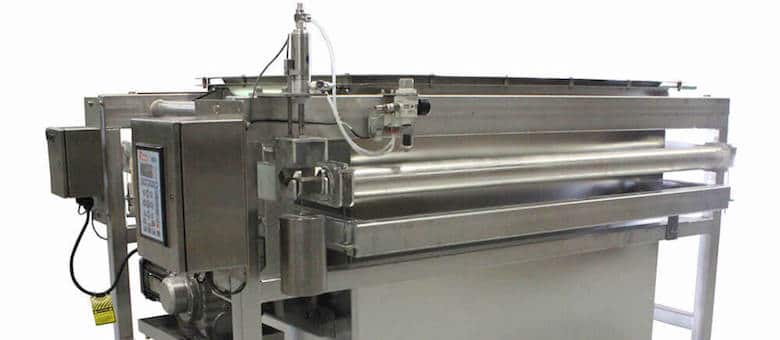 Thayer Scale's Accumulative Ingredient (Gain-in-Weight) Batch Scales are designed to accurately weigh solids and liquid materials ranging from highly fluid powders to corrosive chemicals and ores.
The weigh scales are typically used in the steel, aluminum, plastics, agricultural, chemical, and cement industries for applications involving materials that cannot be discharged from conventional weigh hoppers. A versatile configuration for high capacity applications allows refuse materials (wood scrap, cans, bottles, sawdust, etc.) of virtually any size or shape, wet or dry, to singularly or accumulatively be batch weighed, batch checked, dumped, and transfer-conveyed for downstream collection or processing.
Material is normally supplied vertically or at right angles to the bucket's rotation axis by various types of volumetric feeders, conveyors, or liquid pumps. Manual or semi-manual loading using front end loaders, barrel dumpers, plows, etc. are also accommodated.
The system consists of a rotating "bucket" that turns and empties after a batch cycle. The rotary bucket is mounted on Thayer Scale's industry-leading Force Measurement Suspension System (FMSS) Cable Scale.
Thayer Scale's Cable Suspension System has no equal when it comes to its ability to tolerate shock loads, overload conditions, or the unintentional operator abuse that accompanies frequent equipment cleanout, setup changeovers, equipment re-positioning, and mechanical repair if necessary. This patented system utilizes a series of stainless-steel cables in conjunction with Torque Transfer Tubes to accurately focus a force to a tension-type (single) load cell, which is completely independent of load position.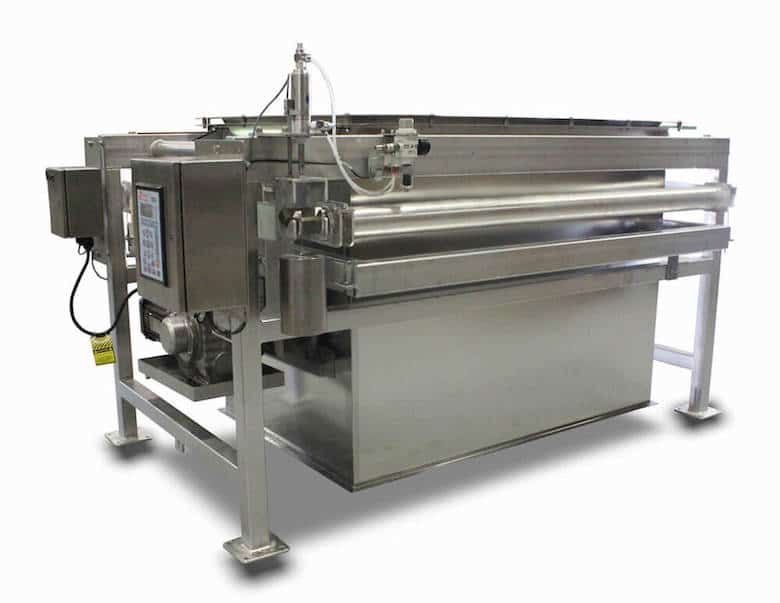 Because the system utilizes only static components, there are no active elements to maintain, even under severe operating conditions. The cable suspension system is inherently self-aligning to the direction of gravity, and therefore, is not affected by building or foundation distortions. It can be hung from the ceiling or mounted on wheels without concern.

The system provides TARE balancing of dead loads (typically as high as 200 times NET loads), thereby enabling the full utilization of the available load cell force range. This means the weighing drum is mechanically tared so that the load cell is sized for the amount of the material batch. The smaller the load cell size the greater the resolution and accuracy.
Automated Test Weight Lifter (ATWL) for Cable Scale
Thayer Scale's Automated Test Weight Lifter ("ATWL") provides a means for automatically applying a known test load and going through a calibration sequence or push-button command to check scale calibration. A "foolproof" self-checking software algorithm in the feeder control instrumentation prevents erroneous calibration.
The test weight calibration method has proven accurate and reliable over decades of in-plant use. Unlike material sampling, it is clean, fast, safe, and free from human error. Unlike electronic signal simulation, it mechanically tests the performance of critical electro-mechanical components under the full deflection range of the load cell.
Features of the Rotary Bucket Weighing System:
No batch scale can take more physical abuse
Sustained sensitivity without maintenance
Inherently self-aligning to gravity
Nullifies heavy tare loads
Adapts to all mounting arrangements
Tolerates heavy overloading
Withstands extraneous lateral shocks
Easily accepts Automatic Test Weight Lifter (ATWL)
Low maintenance
Versatile and flexible
This article is published by
Thayer Scale is a leading global manufacturer of equipment for the continuous weighing industry. Founded in 1949, we provide engineered solutions for the food, energy and ...