A big bag emptying station, or SBB, allows the contents of a big bag to be emptied in comfort and safety for the operator and allows to send the product to the next production step without waste.
The big bag is lifted – by means of a forklift or hoist – and inserted into the emptying station with the product outlet downwards. To facilitate the descent of the product, the big-bag emptying station can be equipped with pneumatic cylinders that strike the big bag alternately. To interrupt the flow of product and keep it inside the big bag, the station can be equipped with a manually operated diaphragm valve which, when activated, closes the discharge outlet of the big bag, allowing the product to be replaced.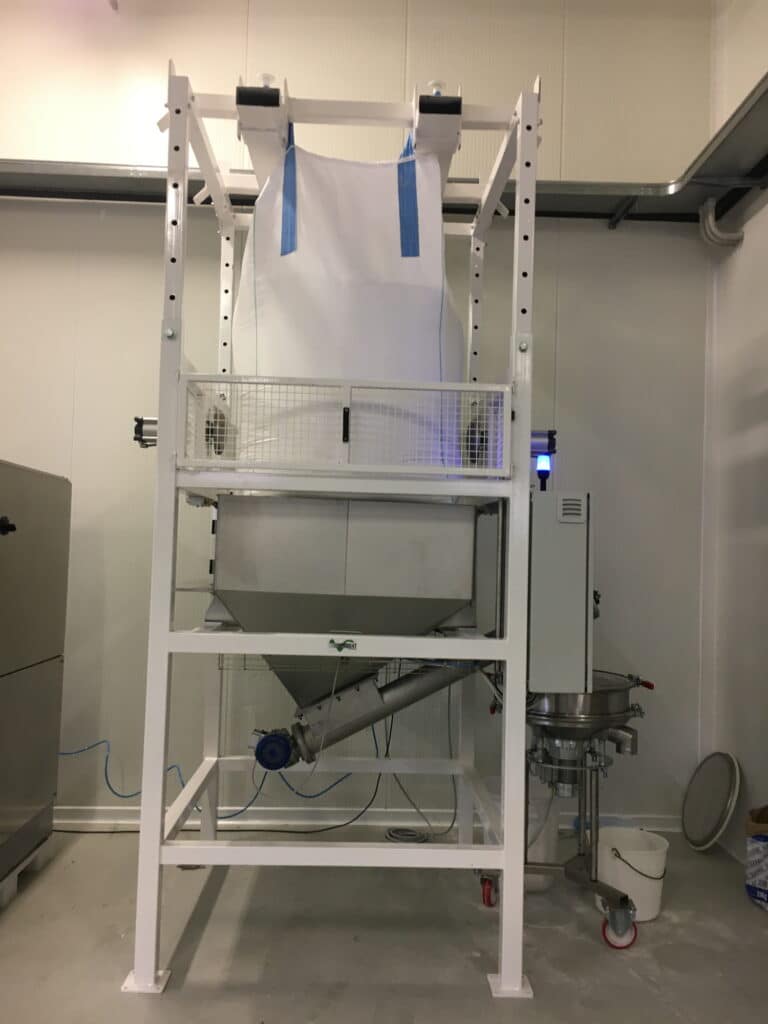 BHT produces big bag emptying stations in various versions, depending on the customer's use needs and the available space. With granular and in any case sliding products, extraction from big bags is provided by means of a probe, while for more packing powders the machine can be configured with a flat bottom extractor and with pneumatic systems for moving the bag to facilitate emptying. The product can then be conveyed with pneumatic suction systems or with screw conveyor and dosing systems for the powders, as you can see from the distinctions below.
RBB
The big-bag filling station, or RBB, is composed of a metal big-bag support structure and a product conveyance fitting inside the big-bag. The basic version is made up of a frame with variable height and a chain-link system for hooking big-bags. The options that can be implemented are:
Suspension attachment system with variable tensioning, guaranteed by pneumatically operated cylinders
Double jacket loading element with air and fumes suction connection
Loading trunk locking and support system with inflatable gasket
Level indicator to manage filling
Weighing platform (or load cells in the upper part) complete with digital instrument on board
Vibrating platform for settling the product inside the big bag
On request, the RBB can be supplied suitable for installation in the ATEX environment
Feeders
The BHT horizontal screw feeders can also be used for dosing activities to produce bags, envelopes and containers of various types. The capacities can vary from a few grams to 1 Kg or more according to the requests. The use is easy and immediate for the operator, who gives the input to the system to dispense the product up to the required capacity.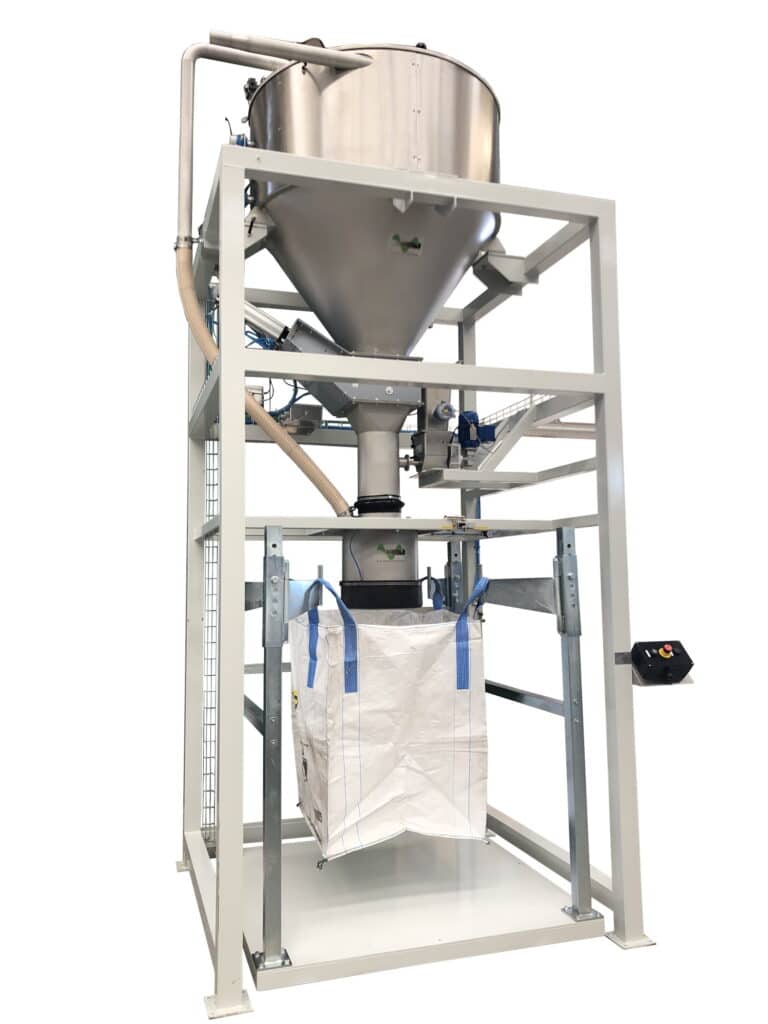 The control instrumentation is available in different versions depending on the control and budget requirements. In any case, the instrumentation provides a result that is always repeatable over time. The system can be completed with pneumatic suction transfer systems to load the product into the dispenser, eliminating fatigue and product waste.