Digital Stockpile Inventory and Stockpile Change Logging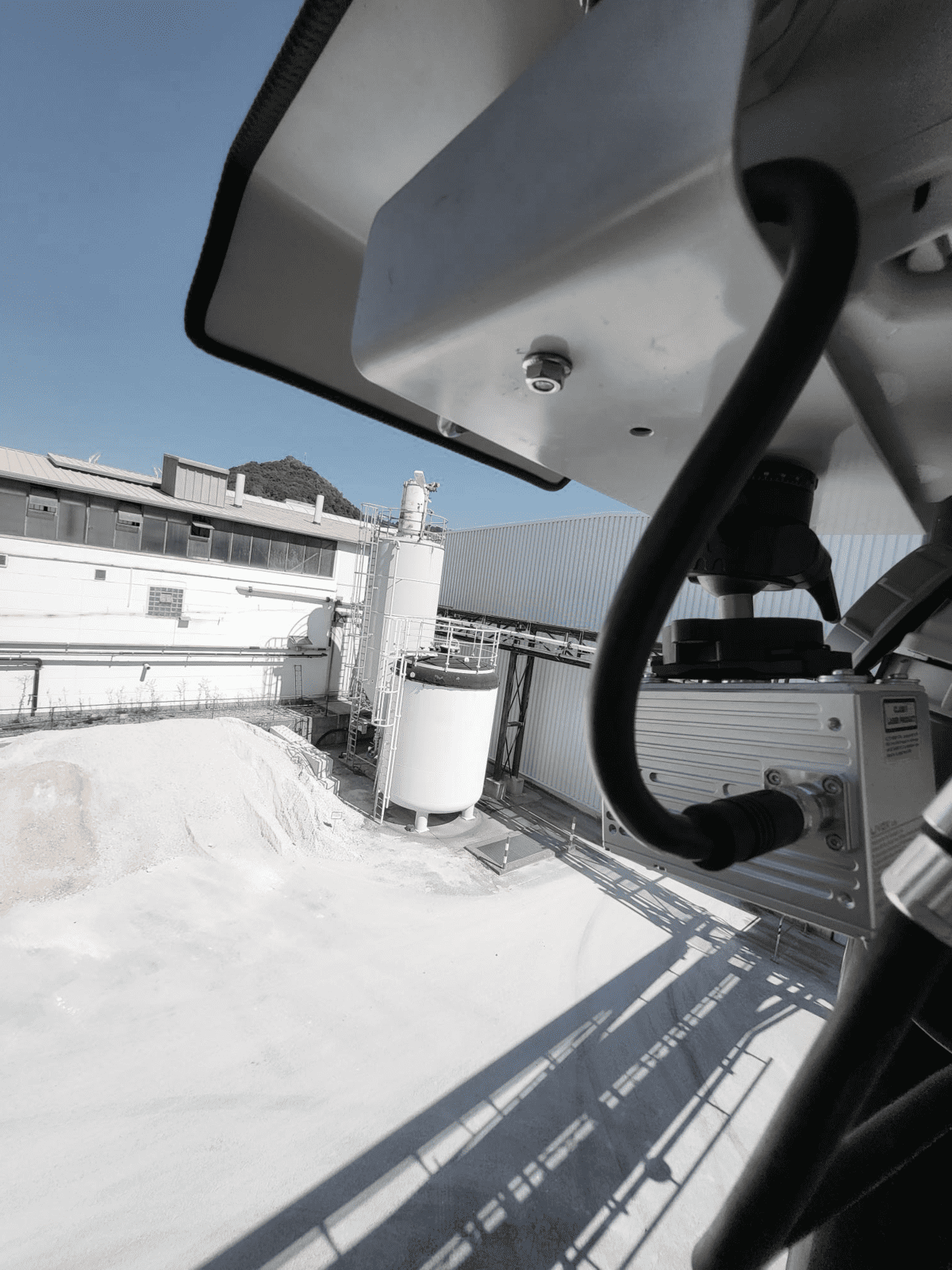 With the Owl Eye system, any bulk material stockpiles in flat stores can be digitally and precisely recorded as volume. Volume accuracies of +- 1% are achieved. Innovative LiDAR sensors (Light Detection and Ranging) are used. These 3D laser sensors record the environment and create a point cloud of the surrounding contour. This is a form of three-dimensional laser scanning. Using the known density of the bulk material, the volume can be converted into a mass. The measurement, evaluation and visualization is done via a web server application with a connected powerful database.
Sachtleben Technology's know-how – the stockpile inventory
Sachtleben Technology GmbH has a high-precision Riegl laser scanner with a range of up to 1.2 km. This is used to scan quarries, open-cast mines, bulk material stockpiles or buildings three-dimensionally as a service. For this purpose, the scanner is set up at various set-up points and the individual point clouds are merged into one large common point cloud. The data from the quarries and open pits are then analyzed for slope monitoring for the mining office. For inventory purposes such as year-end inventory, volumes are calculated from the scanned bulk rock piles. Special software from the Maptek company is used for this purpose. The evaluated volumes are then converted to mass using the known bulk density. For the year-end inventory, this value can then be used, for example, as the year-end inventory.
Buildings are also scanned by Sachtleben Technology GmbH and processed to produce a realistic digital twin as a CAD model. This knowledge has been incorporated into the Owl Eye System's algorithms, so that automated data evaluation is reliable and precise.
Stockpile changes digitally measured and logged
The Owl Eye System developed by Sachtleben Technology is used for measuring and logging of bulk material stockpiles. Any bulk material can be recorded. It is detected by modern 3D LiDAR (laser) sensors. These scan the environment by day and by night and record a 3D image. This is then automatically evaluated by the Owl Eye software developed in Germany and visualized via an intuitive dashboard. Finally, the heap volumes are evaluated. For this purpose, the volume between the recorded contour and the ground is calculated. The ground can have any shape. With a point cloud of good quality, a volume accuracy of +- 1 % is achieved.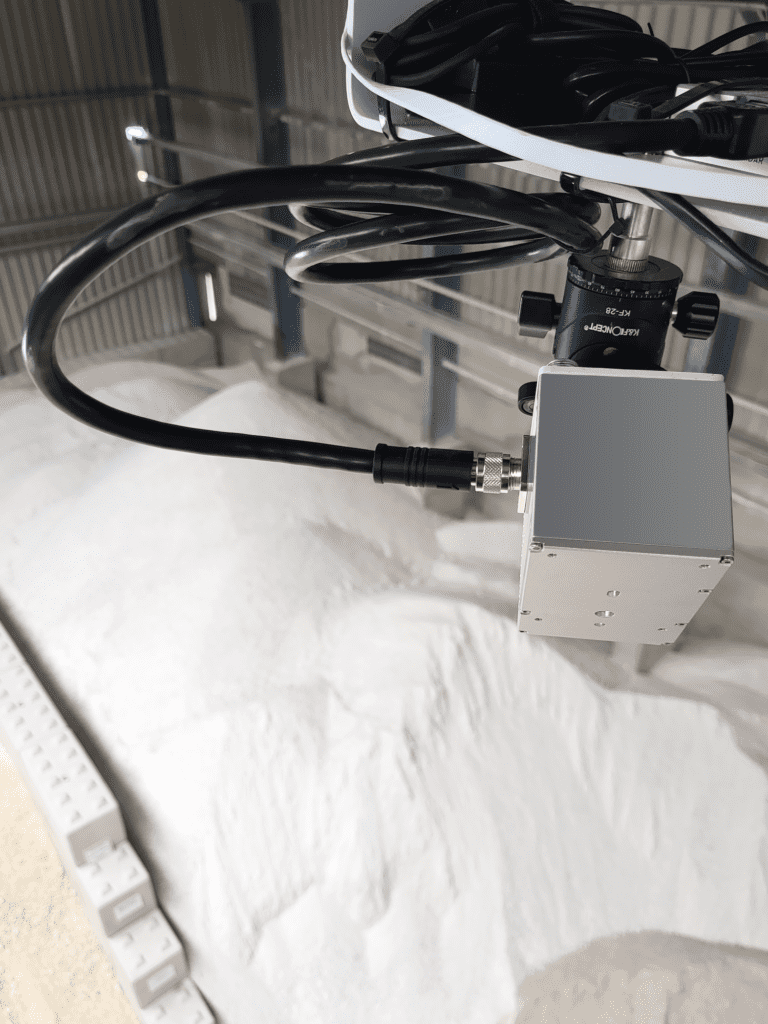 Another application within the Owl Eye system is the so-called "Stockpile History Management". This means that areas, e.g. a stockpile, can be scanned at any time intervals (e.g. hourly) and a log can be kept of which stockpile has been at which location for how long. This also works when a stockpile is tipped onto or against another stockpile. Laboratory data on individual stockpiles or deliveries can also be entered as information, so that an up-to-date picture of the stockpile inventory in the storage yard is always recorded. Historical stockpiles are stored in a database and are thus archived. In the dashboard, it is then possible to filter by time period or information and, for example, display only certain stocks in a time period or with a linked information. In this way, it is possible to determine how long which stockpile has been at the storage location. A daily PDF log can then be created from this.
Inventory at any time
In times of raw material shortages, buyers are not infrequently faced with the challenge of ordering raw materials. The problems often consist of material shortages and supply bottlenecks. It often turns out that an unplanned order for raw material can sometimes have significant consequences for production and sales. It is therefore all the more important to know how much raw material is still available in the flat stores. This is especially true when it comes to high-priced materials or when delivery times are very difficult to predict. To counteract this problem, the Owl Eye system from Sachtleben Technology GmbH can be used to precisely record and evaluate bulk material stocks in flat stores. However, the system can be used not only for inventory purposes, but also for process optimization and control. For this purpose, the scanning frequency can be increased as desired and, for example, a measurement can be performed every two minutes. In addition, a 3D image is saved for each measurement, so that the measured values and inventory can be optimally tracked in retrospect. Open interfaces allow access to the data within the database via third-party systems such as an ERP system.
Technical specification of the Owl Eye system
The Owl Eye system determines the volume of bulk solids with an accuracy of +- 1% for a good point cloud without measurement shadows. For point clouds with measurement shadows, clever algorithms interpolate the contour and can provide a reliable result even then. The small modern LiDAR sensors have a range of up to 100m and the most widely used sensor has a field of view of about 80° x 70°. The IP 67 classification allows reliable indoor and outdoor use. The clever choice of materials for the sensor housing means that hardly any dust settles on the cover, allowing the sensor to be used in harsh environments.
The Owl Eye system is a hardware independent system and can be used with different sensors from different manufacturers. In principle, it is possible to use different sensors (from different manufacturers) in a single project, thus taking full advantage of the benefits of each sensor. Sachtleben Technology tests and benches the LiDAR market and is thus always at the cutting edge of technology. Accuracy, temperature resistance, measurement sensitivity with different materials and other various quality characteristics are tested. Particularly exciting is the measurement of very dark materials such as coal. Only a few particularly high-quality sensors come into question for this.
Owl Eye System
With the Owl Eye System, Sachtleben Technology has developed a system for permanently, precisely and digitally recording bulk material inventories as volumes. The 3D sensors are installed at the appropriate locations in the warehouse, for example on building walls, building roofs or masts. A network (Ethernet into the company network) and power (230V AC or 24V DC) connection is required. If required, it is also possible to use a radio bridge or even to use the system completely via mobile radio in the Sachtleben Technology Cloud. Installation can be carried out by Sachtleben Technology's own in-house electricians or by external partners. The final assembly and project set-up will ultimately be carried out by Sachtleben Technology. When selecting the sensor positions, the aim is to cover as large an area of the stockpile as possible with a small number of sensors, so that the bulk material piles are reliably detected for all stockpile sizes. The detection of bulk material stockpiles without a boundary wall is also fundamentally possible. In this case, care must be taken to scan the stockpile from different sides. With the help of a modern and intuitive web application, the point clouds captured by the sensors can be processed and evaluated.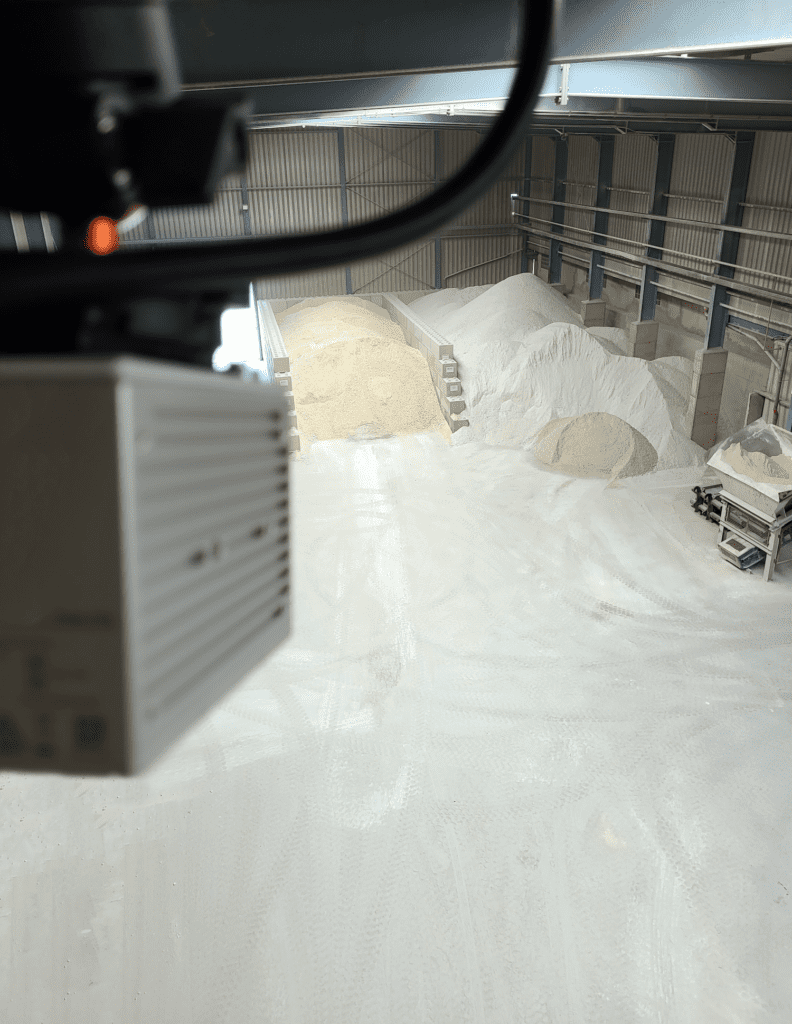 The raw data from the individual 3D LiDAR sensors are georeferenced into a common point cloud. The individual flat bearings are then extracted from the overall point cloud and evaluated separately. The Owl Eye system is equipped with a powerful backend for the analysis of large 3D data and a database for the reliable and secure storage of the measurement data. Results are reported as inventory in cubic meters or tonnage and visualized in the dashboard like a stock price. To determine tonnage from volume, the bulk density must be known or determined in advance. Depending on the installation method, the web interface is either only accessible from the internal company network or can be accessed via the Internet if the system is hosted in the Sachtleben Technology Cloud. If required, the data is also made available to third-party systems (e.g. ERP systems) via common APIs. Measurements can be performed both time-automated and on direct request. The desired time intervals are defined in the so-called project manager. Measurements can be performed as often or as infrequently as desired. For example, every five minutes or once a day. The project manager also includes other functions, such as adding sensors, creating so-called Areas of Interest (storage location, flat storage, bulk stockpiles) or general settings, parameters and information about the project and the marked flat storage.
For each flat stockpile there is a designation, bulk density, the stored material designation and the soil file. The system can be easily expanded continuously, for example, by installing new, additional sensors in the network and then adding them as sensors using the project manager. Each sensor added in the project manager contains name, IP address, host name or broadcast code, sensor type and the transformation matrix describing the georeferencing. This matrix is calculated manually when the sensor is installed. To draw in the individual flat storage areas (AOI – Area Of Interest), the overall point cloud is loaded and the storage areas are drawn in by the user like a polygon and the parameters of the storage area are set. Once the storage area is saved, it is displayed in three dimensions in the project manager. Each storage area has a filter story associated with it. Static objects such as columns or conveyor systems can also be drawn in the filter story. These areas are then excluded from the volume calculation.
This article is published by
We, Sachtleben Technology, are your partner for the digitization of your storage facility. As a family business based in Bad Lauterberg in the Harz Mountains in Germany, we have a strong passion for our projects and services as well as for reliability and customer satisfaction. We rely on state-of-the-art technologies and creativity in our problem-solving. ...