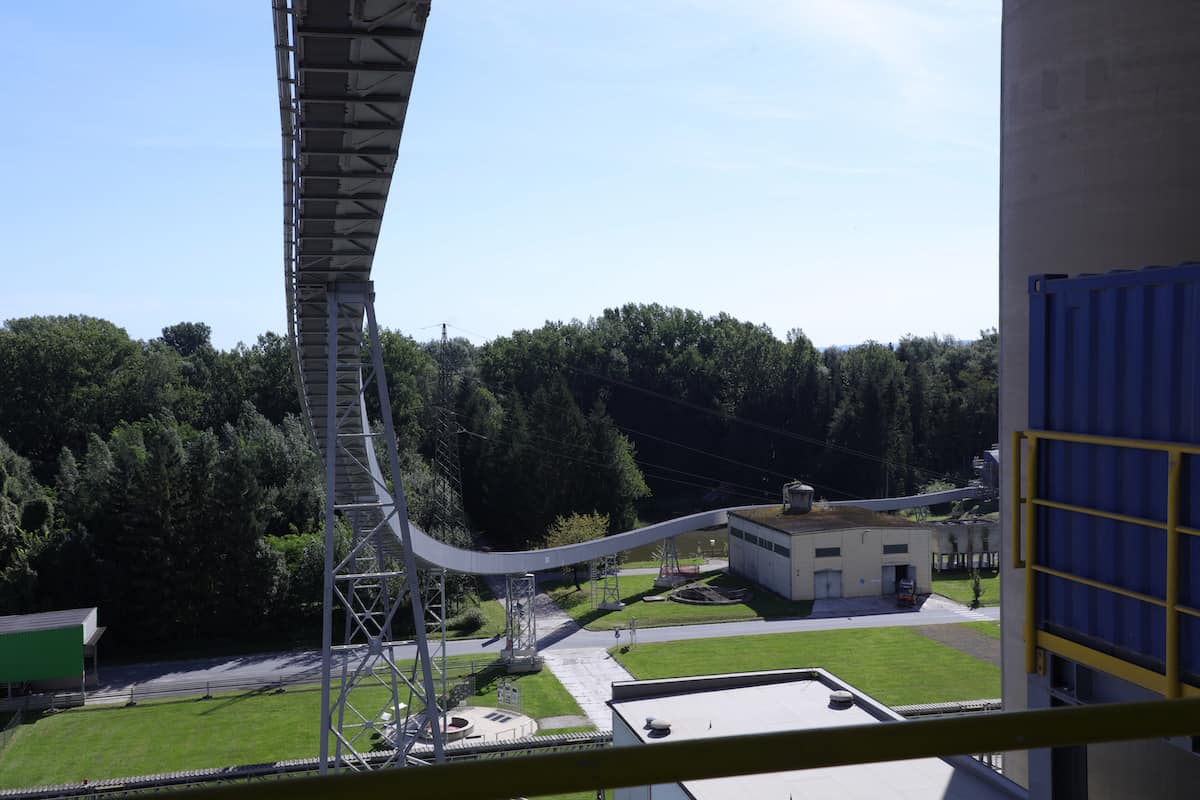 The U-shape conveyor of BEUMER Group enables an environmentally friendly and efficient operation in port terminals. It allows the implementation of narrower curve radii than a troughed belt conveyor and higher mass flows than a pipe conveyor with an extremely dust-free transport. U-shape conveyors are therefore a safe investment, which can be easily integrated in an existing infrastructure.
An ecological and environmentally friendly alternative to truck transport is represented by the belt conveying systems. Owners can automate processes and thus relieve personnel from manual work. This solution also reduces the consumption of energy. A further advantage is that a belt conveyor enables the transport of very different materials to and from the port. At this regard, BEUMER Group offers different solutions depending on the application. The troughed belt conveyors allow high mass flows even in case of heavy and robust materials. Their open design makes them suitable for coarse materials and very large volumes. The pipe conveyors on the contrary present other specific advantages. The idlers form the belt to a closed tube protecting the material transported against external influences and the environment from emissions such as material loss, dust or odours. Partition plates with hexagonal cuts and idlers in staggered arrangement keep the tube shape closed. The pipe conveyors allow the implementation of narrower curve radii and larger angles of inclination than open troughed belt conveyors.
However, requirements are continuously increasing: On the one hand, the quantities of bulk materials are growing and on the other hand, for environmental reasons, they have to reach their destination with little dust and noise. In addition, there is often a complex routing. BEUMER Group has developed the U-shape conveyor for this purpose. In this solution, a special idler configuration brings the belt in a u-shape. Thus, the bulk material reaches the discharge station. An idler configuration similar to that for the troughed belt conveyor is used for opening the belt. Unique feature of this solution: It brings together the advantages of open troughed belt conveyors and closed pipe conveyors. The material conveyed is protected against external influences such as wind, rain or snow and the environment against possible material loss and dust. This conveying solution is suitable for coarse but also for very fine material. BEUMER Group is thus expanding the options for offering the best solution for bulk material transport, depending on the project.
This article is published by
Customized material handling systems from BEUMER Group
BEUMER Group
is an international manufacturing leader in intralogistics in the fields of conveying, loading, palletising, packaging, sortation and distribution technology. BEUMER Group offers the right solution for almost every logistic challenge.
A ...