Fully Automated Ingredient Handling System With Daxner Container Systems DCS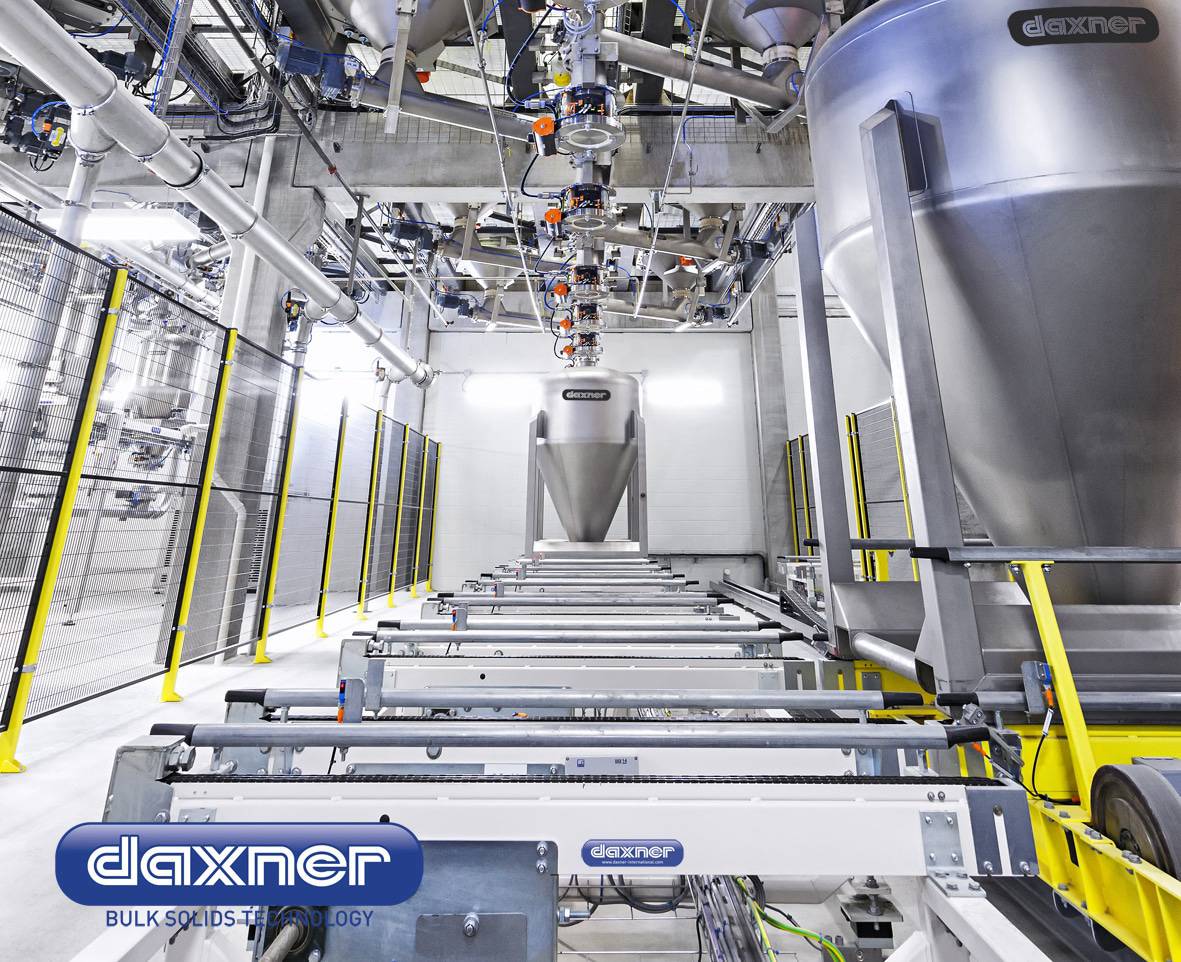 Daxner has designed a flexible, automated mixing and dosing system for the production of various ready-made ingredient mixes, which consist of a very large number of different ingredients.
These ingredients are handled without any contaminations and mixed homogenously, such as flour, crystal sugar, for example, salt, spices & seasonings, etc.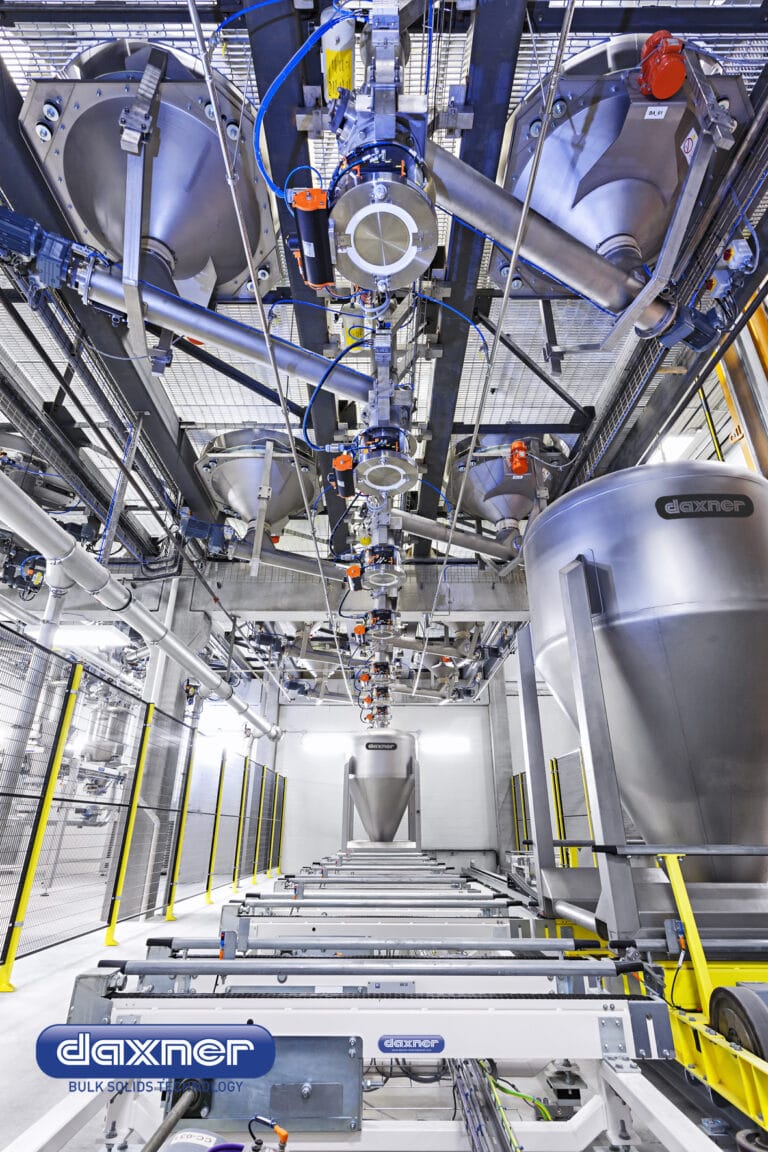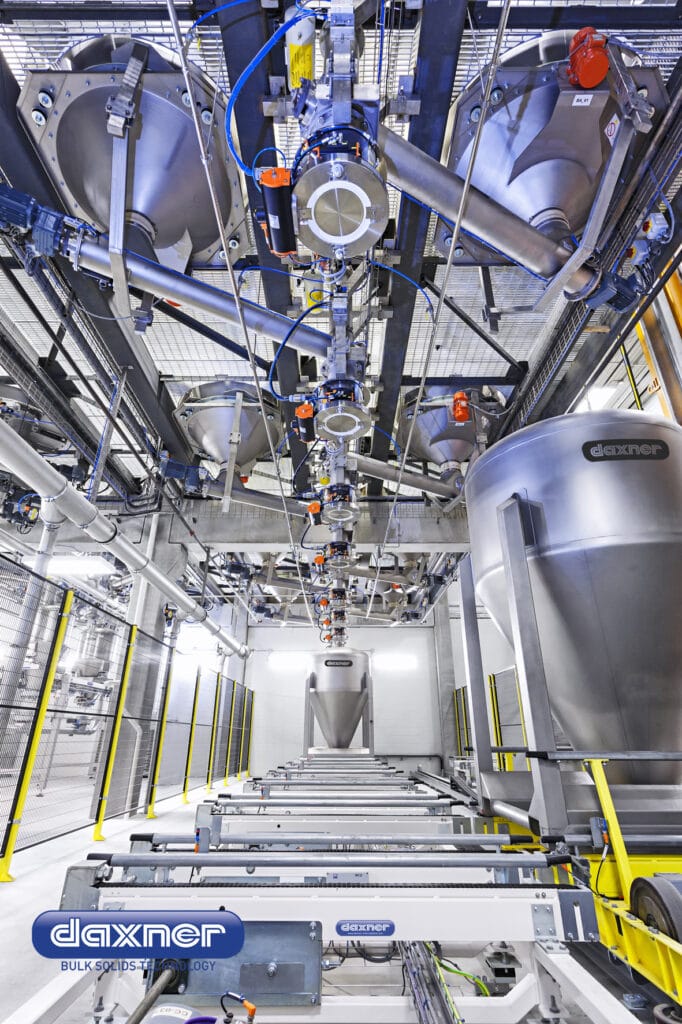 Daxner developed an innovative system with due regard to easy cleaning in compliance with the regulations of COP (Cleaning out of place), dry-cleaning and CIP-cleaning, dust-free powder handling, and prevention of cross contaminations (contamination-free production below 10 ppm) in order to exclude reciprocal contaminations. A decisive criterion is the strict separation of components, which contain allergens from those products that are allergen-free.
Minor ingredients are dosed and weighed out of the daily silos directly into the below-positioned container or IBC (Intermediate Bulk Container) by the means of a dosing screw conveyor with rough and fine dosing which is connected to the silo discharge device. A highly precise active and passive valve system enables the fully automated connection to the filling opening of the IBCs and contamination-free handling of the ingredients to be collected in order to comply with the highest hygienic requirements.
A 3D-container transport system, which consists of an automated storage and retrieval system in combination with chain conveyors and a shuttle-system, conveys the IBCs in hygienic design fully automated to all collecting points (minor and micro ingredients), subsequently to the mixing line and finally to the discharge of the collected product batches.
This system also includes a fully-automated CIP wet and dry cleaning station for IBCs and the complete mixing tower as well.
This article is published by
Daxner Bulk Solids Technology is recognized as a leader when it comes to solids handling technology. Daxner Bulk Solids Technology engages in process-engineering solutions for plants handling powders and bulk goods.
For more than 30 years we are supporting our partners in the food & beverage-, animal feed- and ...