Bulk Bag Dischargers: Eliminate Material Waste and Dust-related Clean-up and Cross-contamination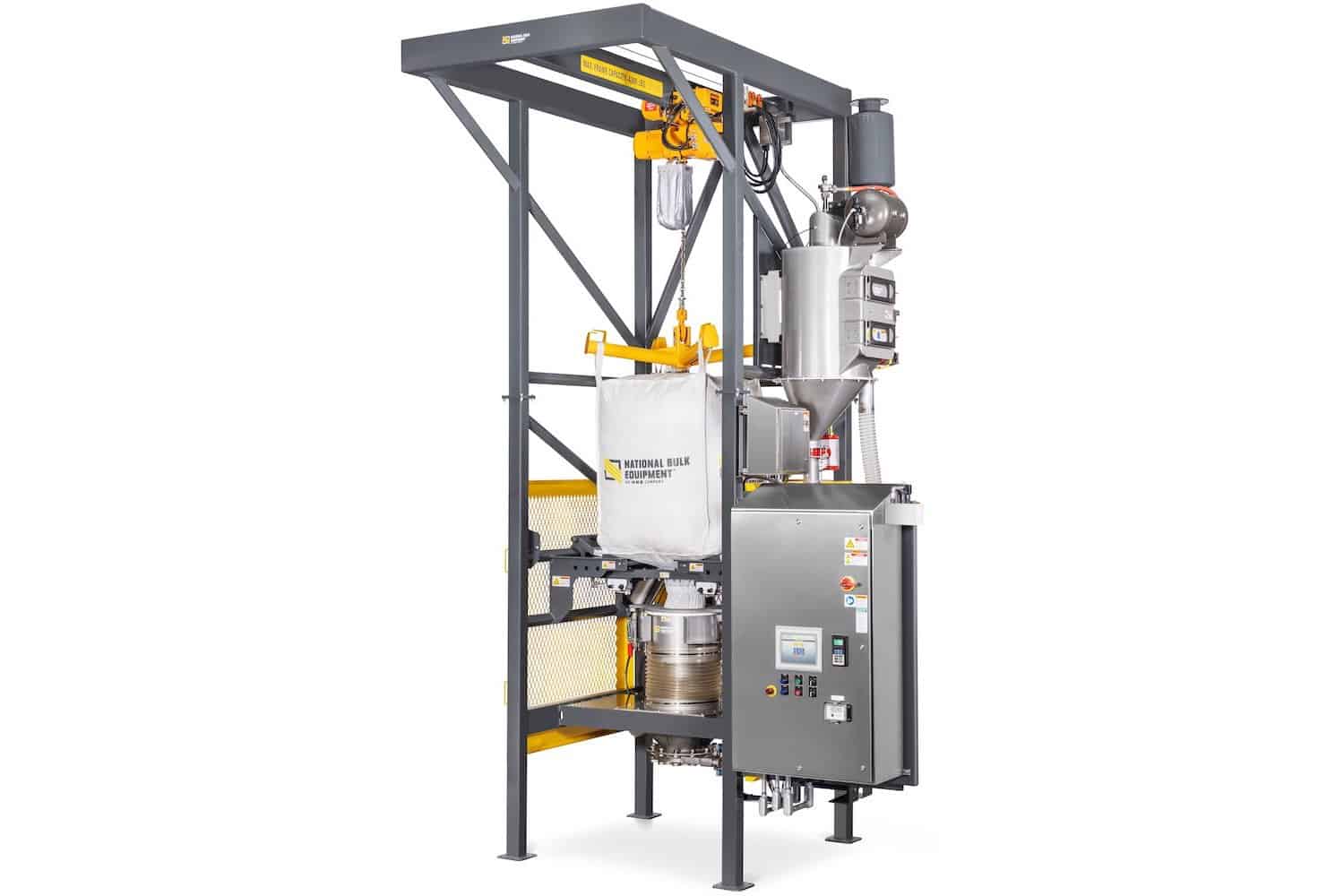 National Bulk Equipment [NBE] bulk bag dischargers, with integrated dust recovery systems, are engineered and manufactured to provide optimal TCO contribution by enabling optimal run times, eliminating material waste, and reducing dust-related clean-up and cross contamination.
Performance-proven Equipment
Engineered to the specific process requirements of each baking application, NBE bulk bag dischargers bring performance advantages to bulk material processing applications. No matter the complexities of the application, despite challenging process material characteristics, and regardless of upstream or downstream integrations. NBE bulk bag discharging equipment enables project owners, plant operations, and production personnel to run production at designed rates without concern for unplanned downtime, inaccurate discharging, or excess labor costs common with under-performing systems.
NBE Fullstream Advantage
From raw material discharging to finished-product packaging, NBE bulk material handling equipment spans the fullstream of processing and packaging applications. Leverage the full portfolio of NBE equipment to bring optimal process performance to your bakery production operation.
Engineered-to-Application
Move beyond the constraints of build-to-order and engineer-to-order machine manufacturers. Avoid settling for application guidance that falls short and project resources too limited to keep pace. NBE engineered-to-application project delivery leverages the NBE equipment and systems portfolio and NBE fullstream applications expertise to ensure each project achieves optimal performance for the project owner, operations management, and production personnel.
Visit NBE at IBIE
Visit NBE during IBIE at booth number 6837 where you can see bulk bag discharging equipment and meet with an NBE team member to discuss bulk material handling project needs.
This article is published by
National Bulk Equipment (NBE) designs, engineers, manufactures, installs, and commissions equipment, systems, and fullstream projects for processing of dry and liquid bulk materials. NBE bulk material handling applications include: discharging, filling, conveying, mixing, storage, packaged-product ...