VAC-U-MAX's Activator™ bulk bag discharge system features four pneumatically operated actuator paddles that massage the lower portion of the bulk bag in an alternating side pattern, promoting maximized material flow toward the center of the bulk bag.
The Activator uses lubrication-free pneumatic lifters that consume 50% less compressed-air than air-cylinders, with lower operating costs. For maximum discharge, the Activator also features a "chisel bottom" screw discharger with dust-tight cover and cantilevered 6-inch (150mm) open flight auger that provides consistent and controlled flow of material into the convey line. A NEMA 4X control panel and level controls activate the massage feature only when material is needed. The bag access door is capped for dust collection during bulk bag discharge. All VAC-U-MAX bulk bag discharge systems offer a wide variety of options that meet specific bag sizes, bag handling requirements, and bulk material characteristics. Systems are specifically designed to provide an easy, clean, and economical way to discharge the entire contents of bulk bags especially when the bulk material is less than free flowing. Systems feature heavy-duty construction, lift off guards to protect plant personnel, variable frequency drives, and augers designed specifically for the application.
Discharge options include screw discharger, rotary valve, or standard pick-up adapter. Screw dischargers are ideal for applications requiring weighing or when the bulk material is less then free flowing. Rotary valve discharge assists with direct charging process vessels, feeding a positive pressure convey line as a metered feed.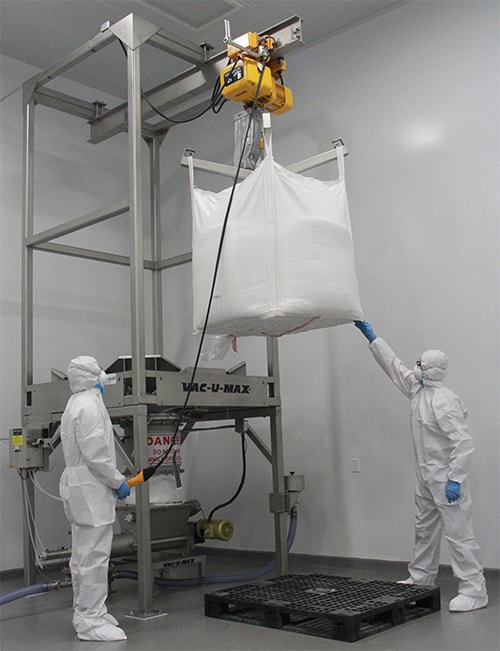 This article is published by
VAC-U-MAX specializes in the design and manufacture of pneumatic conveying components, systems, controls, and support equipment for vacuum conveying, batching, and weighing of bulk materials. With a VAC-U-MAX pneumatic conveying system on site, bulk materials move gently and quickly from point to point, with nothing in the way to impede the efficiency ...