MF Tecno Launches a New Vacuum-packing System for Medium and Big Size Bags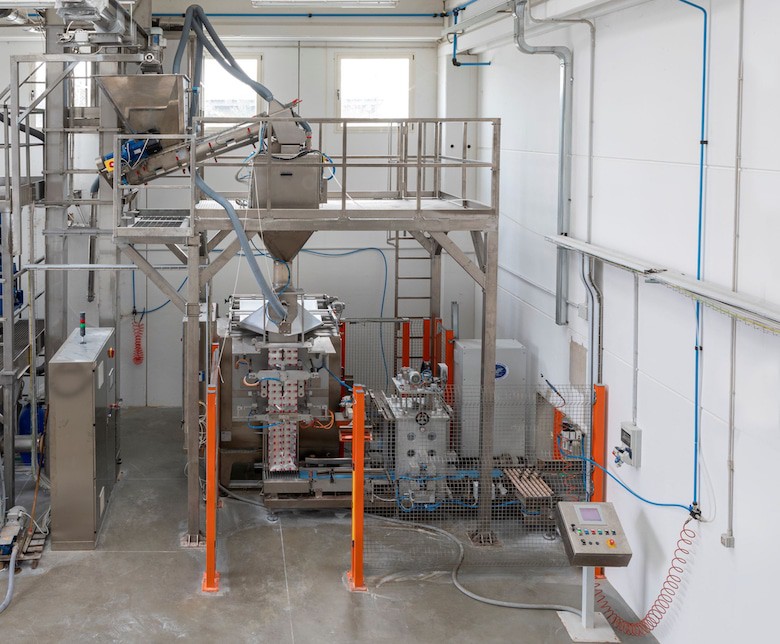 ASSISI -  MF TECNO launched in the market an innovative solution for the vacuum-packing of bulk products into bags.  The fully-automatic solution concerns specifically the medium-large size of bags up to 40 L volume.
MF Tecno created an outstanding vacuum-module, fully automatic, that can be integrated both in the VFFS bagging system and Pre-Formed Open Mouth bagging systems. This module allows performing a vacuum-sealing closure to medium-large size bags for extending the product shelf-life and preserving longer its organoleptic and functional properties.
The module consists of a special vacuum chamber placed downstream of the bagging line exit. The control and functioning are automatic and managed through an intuitive control panel on the dedicated HMI.
How does it work?
After the bag is filled, a special sealing bar closes partially the bag upper edge (semi-sealed); then the bag it is released from the bagging line (VFFS or pre-made bag filler) and it is automatically conveyed (upright) toward the vacuum chamber that automatically opens the inlet door. Once the bag (or two bags, in case of smaller formats) is inside, the door closes and a bespoke clamp grabs the bag edges and stretches them out for a perfect alignment. At the same time, a compacting system is activated: metal flaps driven by brushless motors come close to the bag creating a formwork all around, which fix its final squared shape. Then a negative pressure is applied into the chamber and vacuum is created inside the bag, up to the value of -0,95 bar.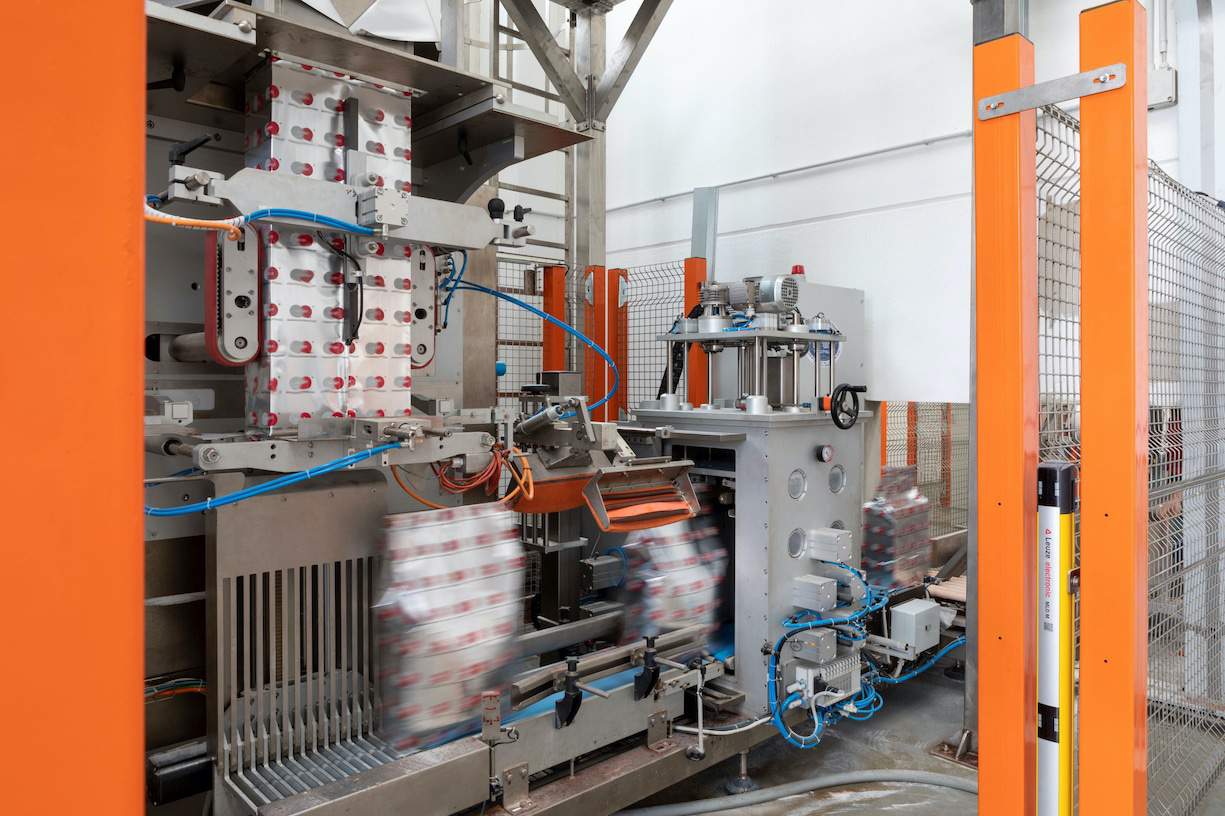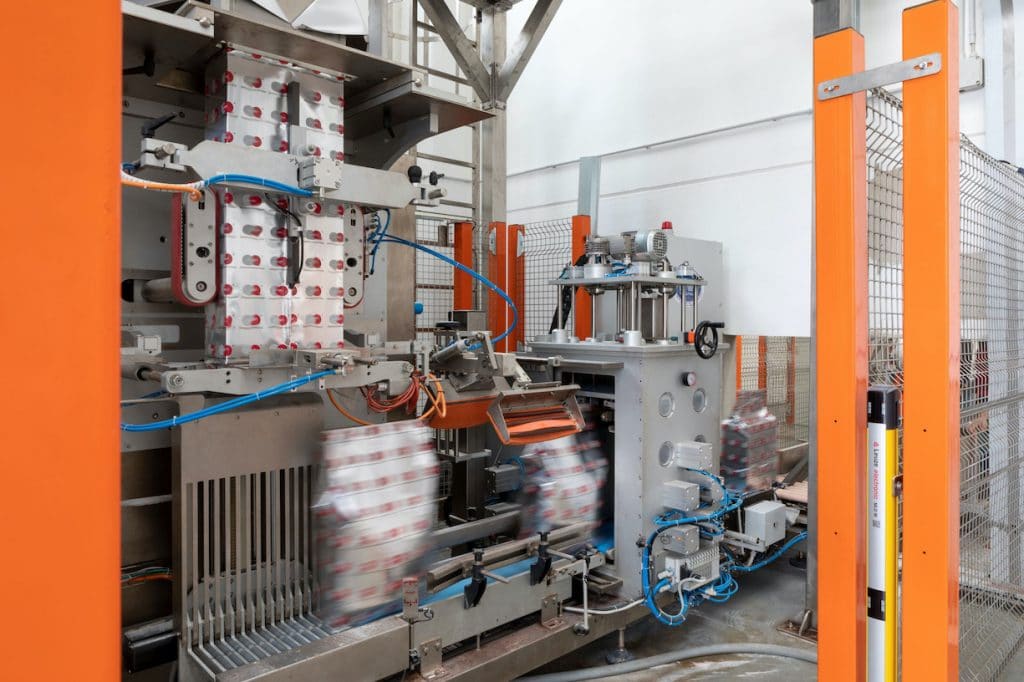 After reaching the set value of vacuum, the final closure is completed by constant-heat sealing bars.
Alternatively, or in addition, a GAS FLUSHING procedure can be enabled inside the chamber, allowing to inject inert gasses and then to achieve a MAP packing application, with the lowest Residual Oxygen values (RO < 1%).
Once the bag is definitely vacuum-sealed it is released: the exit door opens and a motorized belt conveyor moves out the bag toward the "Pick&Place" station and /or to the final palettization.
Applying vacuum to the bags or removing oxygen from the package and replacing with inert gas, ensure 3 main advantages:
Shelf-life is extended.
Flavors, Colours, Properties of the product are maintained over a longer period.
Tamper-Proof Seal: the Vacuum features (if lost) immediately alerts that the bag has tampered.
About the specific project where the new vacuum-module has been installed, Marco Bastianini, Export Area Manager at MF TECNO, explains: "Our Customer is producing feed-additives, in particular, homeopathic antibiotics, of the highest quality and then in the high-price bracket. These products, in 5 kg and 20 kg formats, are immediately packed into an AL/PA/PE barrier foil package, as soon after they exit from the mixer in order to preserve their properties. Customer is exporting worldwide and then products could travel all around the world for several weeks (months) before being used. For these reasons, the vacuum-seal package was the right choice. The request for a vacuum-sealed bag of 20 kg (not usual in automatic packing system), push us to develop a completely new concept of a vacuuming system. We thought to create an independent module that wouldn't have affected the design of the main bagging line. We arrived to this independent automatic station: it can automatically handle big size bags and still, it can be integrated in every type of bagging process. Such application is of extreme interest for many markets: flours, pre-mixes for bakery and pastry, dry fruits, integrators, etc. ".
In the above-mentioned project, the vacuum-chamber has been included in a turn-key plant. MF Tecno supplied its VFFS mod. MF58 (starting from a foil reel) equipped with a NET WEIGHT scale fed by a Double Auger dosing. Fully Manufactured in Stainless Steel AISI 316 (additives are corrosive salt-base powders). Just by changing the forming tube (and the reel of foil) the production of vacuum-sealed bags can switch between 5 and 20 kg. The production throughput can reach 500 bags/hour in vacuum-seal mode. Once the vacuum-bags are vacuumed and sealed they are moved on a conveyor belt to the palletizing station based on a Telescopic-Cartesian PCA 700 with automatic empty-pallet feeder and automatic insertion of cardboard sheet. At the end of the line, the full pallet is automatically wrapped and secured by an automatic Rotating-Table Stretch film Wrapper mod. MF 35 WRAP.
This article is published by
MF Tecno designs and manufactures bag filling machinery and provide wide-ranging turnkey packing systems.
We serve the food, chemicals, flours, fertilizer, aggregate, building materials and plastics industries world-wide. Our range of equipment comprises high performance Form Fill Seal machinery (VFFS) for 5g to 50kg bags, automatic bagging ...