The production process of many manufacturers is confronted with a recurring challenge: "How to simplify the size reduction of large, agglomerated bulk solids to micron-scale fine powder?" Until today, this challenge has been addressed in a piece-meal manner, by using a combination of size reduction machines, each providing a certain sizing reduction.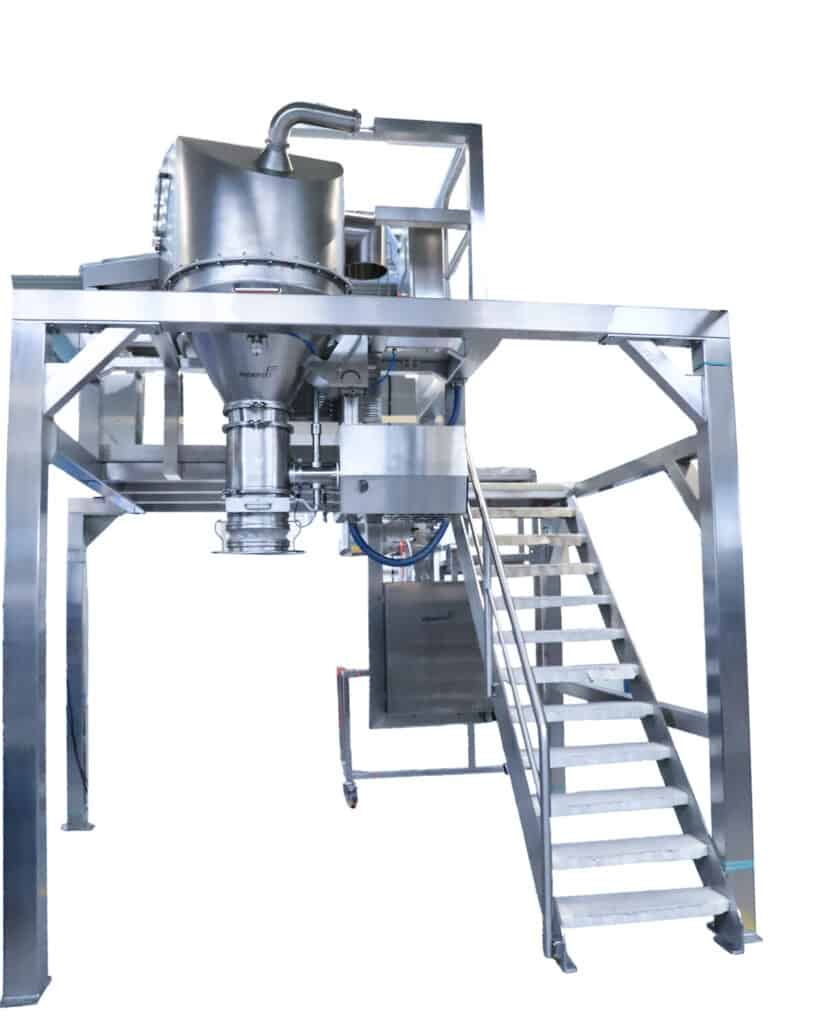 Many manufactures are still using a multiple machine, multi-step, multi-intervention approach with a large installation footprint, and low throughput. Typically, the large bulk solids are partially fractured by bag massagers or drum crushers before being fed into a crusher. This creates a throughput issue as the hardened blocks often spin on the rotating crusher spindles, slowing down production. Once crushed, the product, often still too large for a powder transfer system, must be manually transferred to a milling system for calibration. Three machines, three footprints, multiple operators. This approach is far from optimal in terms of costs, throughput, and non-aseptic.
At Frewitt we have met a major industry need by increasing efficiency, providing a closed, one-step, cGMP process, while ensuring the highest quality and hygienic standards. Moreover, the Frewitt solution reduces the capital equipment investment, accelerating the Return on Investment, while lowering the Cost of Ownership.
But what is this solution?
The patented Frewitt Solution is called the PowerMill DW-250. The DW-250 is a compact unit that provides: Flexibility, Efficiency, Modularity, Simplicity, and an easy Washing in Place (WIP) or Cleaning-in-Place (CIP). Frewitt eliminates the need of pre-conditioning large bulk solids with a large inlet, and an innovative multi-blade and stator crusher system, that breaks the blocks into a size that is immediately milled to the desired particle size, in an uninterrupted, enclosed, in-line process. One machine platform, one footprint, one operator.  Fast, safe, and efficient, the DW-250 multiplies the productivity of users to the point that several of our repeat customers have stated that the RoI of our equipment is met within several months! 
This continual, two-stage, crushing and calibrated milling unit allows for a constantly reliable particle size reduction result. In addition to providing the highest throughput on the market, DW-250 has zero risk of contamination due to its enclosed process.
You ask yourself: "Can I use DW-250 at my site? My physical plant is already set in stone!
Yes, you can! Our PowerMill DW-250 is available in mobile and stationary versions, as well as an in-line design for integration in larger turn-key installations. Ensuring your powder solutions conform to your safety norms, our DW-250 installations have been successfully implemented in ATEX, NEC, as well as UL execution.  Depending on the customer's methodology of the large bulk solid feeding, the inlet can be modified to adapt to the available space and the manner in which the customer decides to feed his bulk material into the DW-250.
Downstream processes are also not an issue. The DW-250 at the exit can fill drums, bags, and IBC's. In addition, the DW-250 can be easily connected to all makes powder transfer systems, gravity feeds and weighing stations. The equipment can also connect to a plant PLC for centralized control!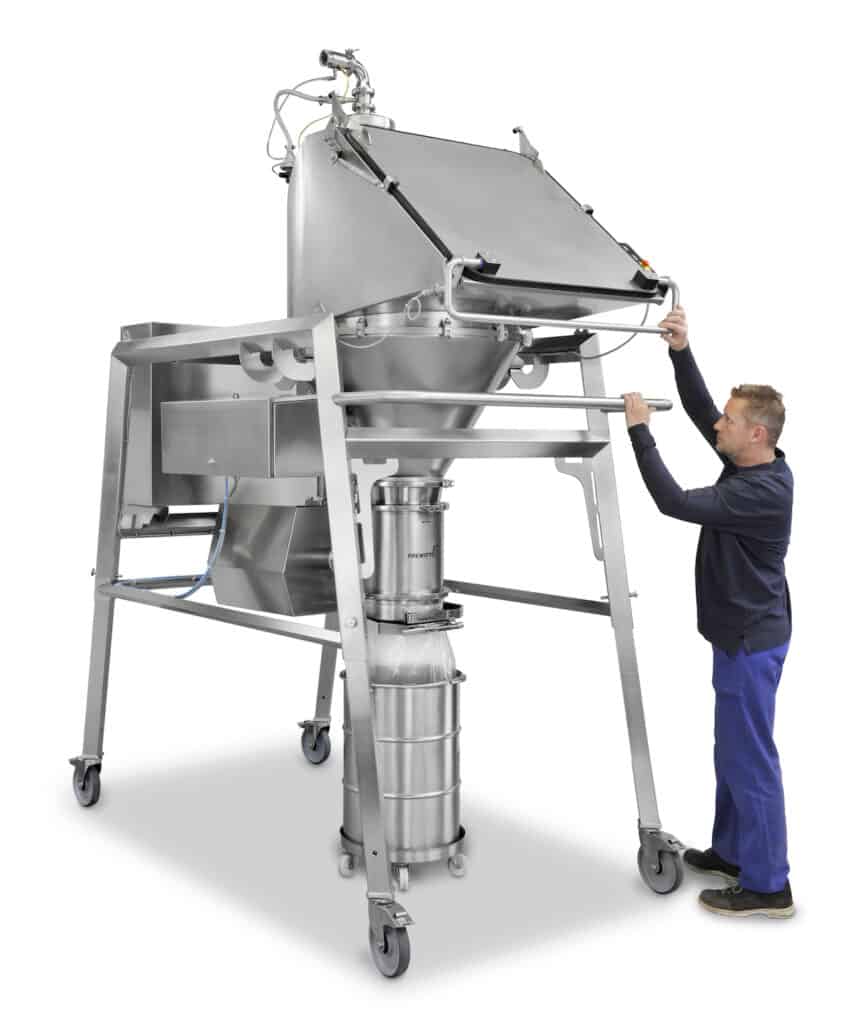 As hygienists and safety staff know, dust can also be an issue when breaking down large bulk solids.  This is why the ProFi-Clean 250, de-dusting module is a standard feature of the DW-250.  Equipped with an H13 filtering system, the ProFi-Clean 250 can be used to filter the process air, ensuring that the air exits the process cleaner than when entering, protecting the users. In order to ensure plant integration, if required, the ProFi-Clean 250 can also be connected to the user's internal exhaust system.  Adding additional value to the process, the ProFi-Clean 250 has a blowback process, eliminating product retention and returning the valuable products to the production line.
The ability of Frewitt to combine its expertise in powder milling, powder handling, and engineering means for the customers that we can provide turn-key solutions tailored to unique customer objectives, which can be customized to the customer's physical plant.
Your solid bulk products deserve an enclosed, controlled, dust-free, repeatable, crushing-milling process in a single unit, aseptic, requiring no human interaction, that has been tried and proven by many of the world's leading pharmaceutical and API manufacturers. 
The choice is easy, the choice is Frewitt!