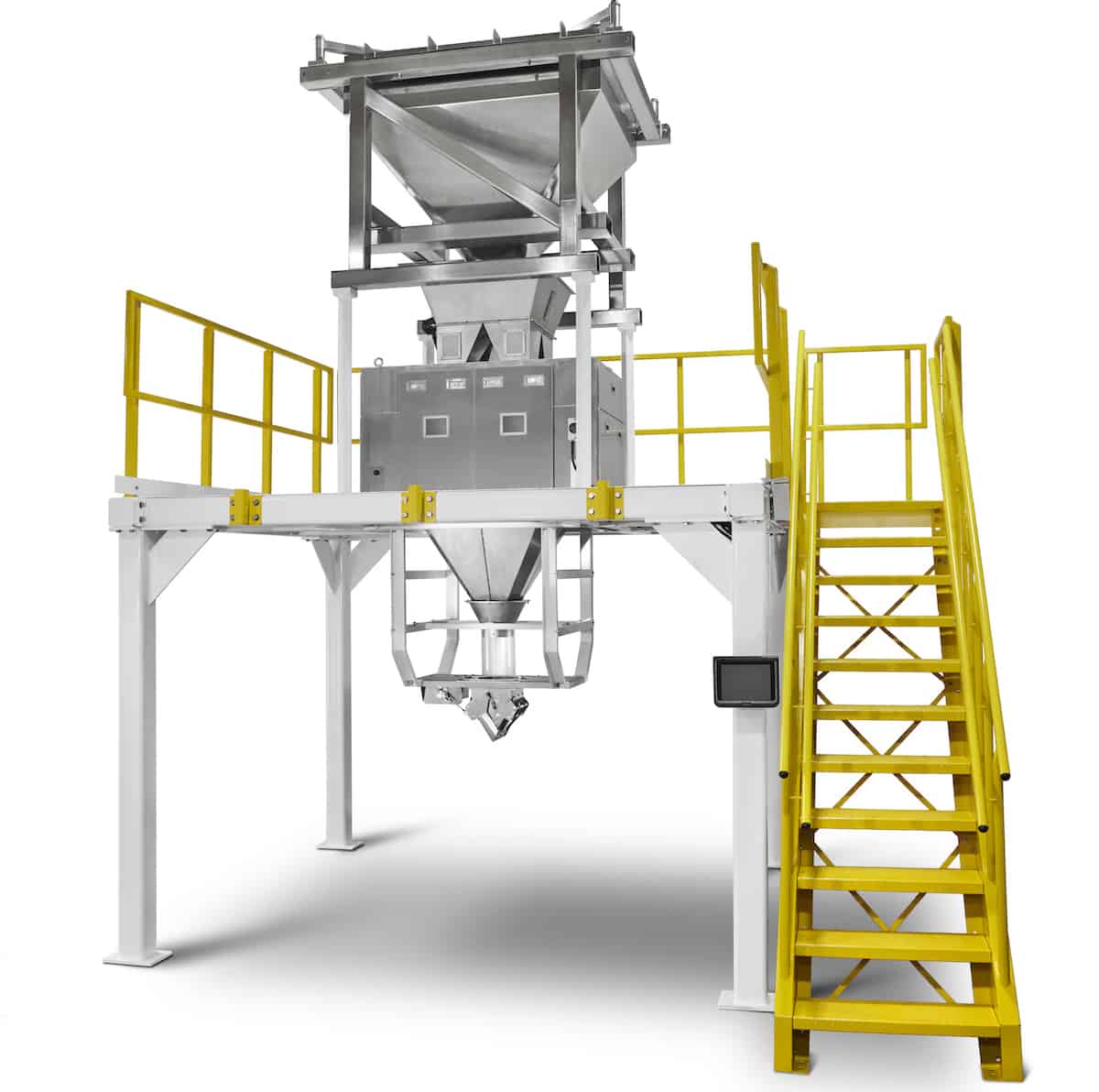 Weigh a variety of dry, free-flowing grains, granules, and powders into bags, boxes, gaylords, and totes of all sizes with the Yamato Gravimetric Flex Weigher (GFW). The GFW was designed with flexibility in mind
This bulk weigher features four weigh heads to support target weights that range between 5kg to 20kg (11lb to 44lb). The Yamato GFW-1104CC scale offers high speed with supreme accuracy. At 5kg(11lb), this scale can operate at up to 60 weighments per minute, ±5g(0.2oz).
To support a range of target weights, this scale can operate in single, double, or quattro mode. In single mode, this scale can support 5kg(11lb) target weights at up to 60 weighments per minute. In double shift, the scale can run 10kg(22lb) target weights, up to 30 weighments per minute. In quattro mode, the scale can support 20kg(44lb) target weights at 15 weighments per minute.
This high-speed industrial bulk scale is ideal for weighing rice, dried beans, quinoa, corn, coffee beans, wood pellets, bird seed, pet food, sugar, powdered detergent, and more. A stepper motor seamlessly controls the cut gate on each weigh bucket and a variety of weigh buckets are available based on product specifications.
This machine features tool-less removal and attachment of internal equipment for easy cleaning. It is IP65 equivalent and can be washed with water. The GFW features a 10.4-inch color touch screen. The intuitive user interface allows for up to 50 stored recipes, making this machine even more flexible and ideal for all bulk weighing needs.
This article is published by
Yamato Corporation is the leading provider of automatic, commercial, and industrial weighing solutions in North, Central, and South America. We offer scales that provide you with supreme accuracy for whatever you want to weigh. Yamato Corporation is a subsidiary of Yamato Scale Co., Ltd., headquartered in Akashi, Japan. Founded in 1920, Yamato Scale ...