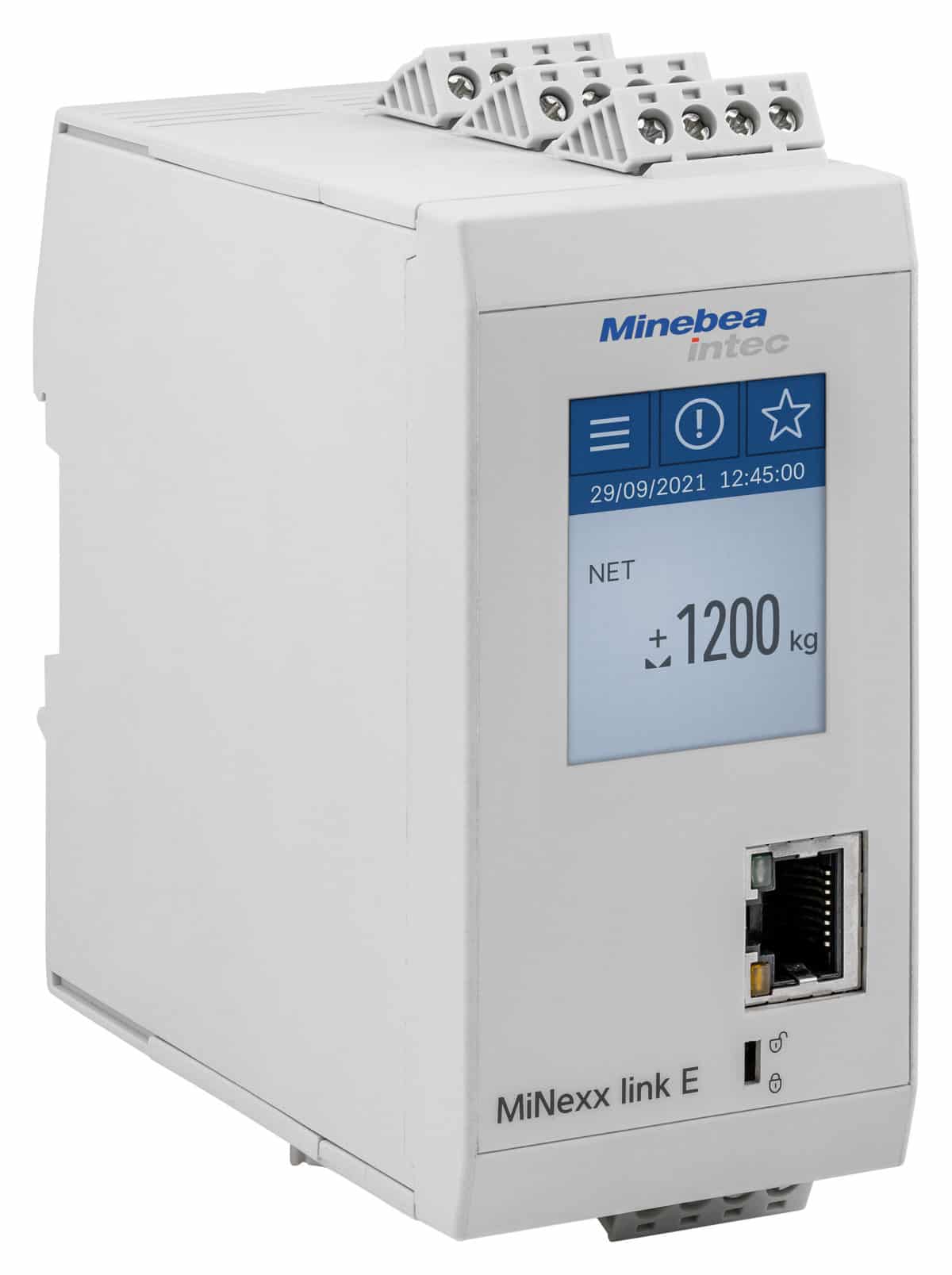 Minebea Intec, leading manufacturer of weighing and inspection solutions introduces its new range of weight transmitters. Featuring a touch display for the first time and an even wider selection of interfaces for all applications. The Link E can be easily, intuitively and quickly installed directly in the web browser via the network.
Weight transmitters are crucial pieces of equipment in the world of analogue weighing. They are used to calculate reliable weight values and automatically pass these on to control or software systems for further processing. With the Link E, Minebea Intec is now presenting its new fully overhauled series of weight transmitters. The development focussed on easy process integration, intuitive operation and precision at a good price.
Unique touch display and simple configuration
The new Link E is currently the only product on the market with a high-contrast touch display that allows users to read the status and all functions directly. All information and settings are visible at all times and the status of the scale can be checked quickly on the integrated display. The Link E can be easily configured via a standard web browser by entering the IP address and without the need to install any further software. This data is password-protected and can also be saved on the PC for security reasons. The familiar 'Smart Calibration' enables adjustment entirely without the need for weights. These functions reduce installation and access times to a minimum and enable mechanical faults to be uncovered.
Extensive range of interfaces
The wide range of interfaces is another new feature of the Link E. No fewer than nine standard interfaces and field buses – including, for example, Profibus, ProfiNet, DeviceNet or Ethernet/IP – are available for easy integration into automation systems, so that all users worldwide can find the right connection for their production processes. For integrators and plant constructors, this provides the benefit of not having to switch manufacturer and constantly having to learn to use other weighing systems. This guarantees fast and direct integration into higher-level systems and prevents errors. There are three digital inputs and outputs available for simple control tasks.
Wide range of applications
The wide variety of interfaces, in particular, makes the Link E a good option for a wide range of industrial sectors. From plant engineering through to logistics, users benefit from easy integration and flexibility. Examples of applications include storage tank monitoring, process vessel control and weight transmission to operator terminals for software systems.
"Our weight transmitters need to simplify our customers' processes. The new, intuitive Minebea Intec design for the Link E combines modern functionality in the first ever touch display on the market with a simultaneous focus on what's necessary at an extremely attractive price-performance ratio", affirms Holger Nichelmann, Manager Product Management. "In the future, all customers, wherever they are in the world, will have access to the right interface for their specific production processes with the Link E."
This article is published by
Minebea Intec is a leading manufacturer of industrial weighing and inspection technologies. Our mission is to increase the reliability, safety and efficiency of our customers' production processes. To do this, we provide high-quality products, solutions and services that ensure a high level of safety. Minebea Intec's excellent performance is ...