External factors can have a major influence on the results of weighing or foreign object detection. While seismic forces, air pressure or temperature fluctuations during weighing can falsify the result, influences during the detection of foreign objects lead to a different product effect, which makes metal detection more difficult. Minebea Intec, as a leading supplier of weighing and inspection solutions, offers numerous options to ensure reliable weighing and foreign object detection nevertheless.
When temperature differences make no difference: Metal detection with reliable results
In production environments, accuracy and immunity to interference are important parameters for metal detection. But extreme or changing weather conditions make detection a real challenge. This is what happened at TCDRI, a construction company that builds cement factories around the world. A plant in the Caucasus Mountains, Russia, had to contend with particularly harsh temperature variations: ambient temperatures ranging from -45 °C in winter to +20 °C which are not uncommon in this region. Such temperature fluctuations lead to a stronger product effect and make reliable metal detection more difficult. Products in the Secus series are therefore equipped with a learning function that adapts to ambient conditions by compensating for the product effect. Secus metal detectors work reliably and without false alarms even at low temperatures, strong wind or vibrations in the environment.
Weighing in earthquake-prone areas
But temperature fluctuations are not the only challenge for weighing or control solutions. Minebea Intec developed the three platform scales of different sizes required to weigh tanks of raw and waste materials at a polypropylene plant in the US. The challenges were the weather conditions in the Houston area and the size and weight of the contents to be weighed. Weighing equipment must be able to function properly and without problems after events such as heavy rain, hurricanes, frost, earthquakes or even in potentially explosive (Ex) areas. Due to the difficult environmental conditions and the loads to be weighed, standard platform scales could not be used. Instead, PR 6201 load cells were used in the customised weighing solution for container weighing. The hazardous area load cells not only offer maximum safety, but also high accuracy.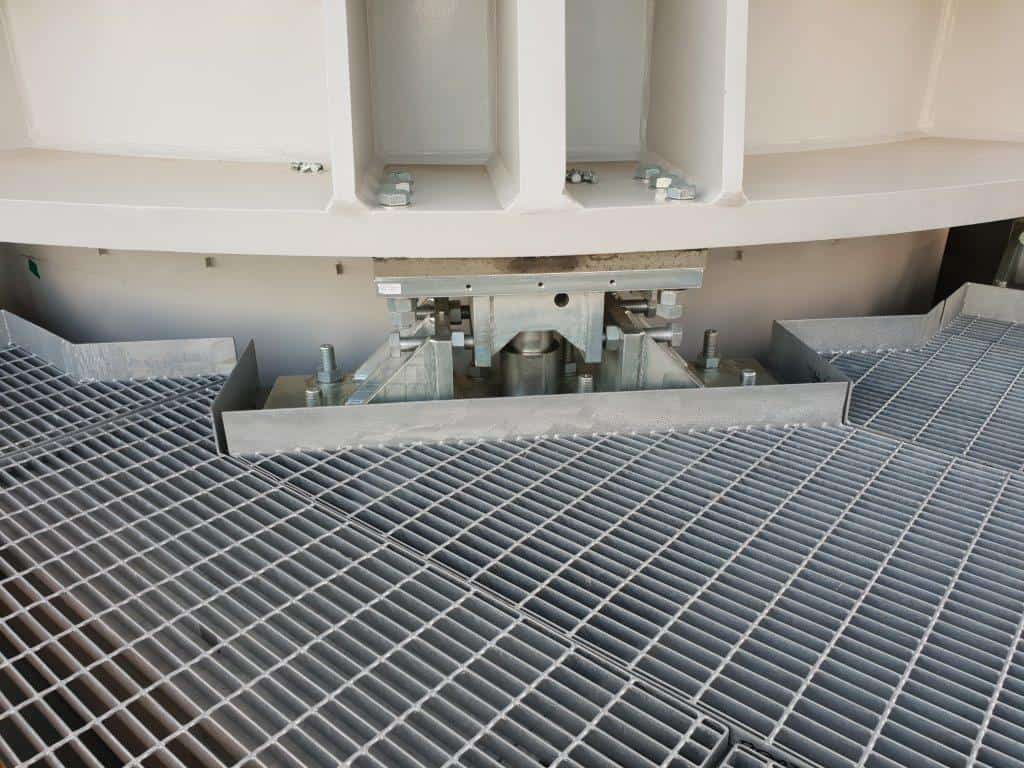 In the subsequent production process, an emptying container must be weighed. The container consists of several chambers into which the granulate is let in one after the other in order to clean the material from certain substances. For this, Minebea Intec used eight load cells under the support ring of the container. Two groups of four load cells were connected to two specially designed cable boxes with knife disconnect terminals for the signal wires coming from the load cell. The terminals allowed the signal from each load cell to be measured. The cells, in turn, are installed in special PR 6144 series mounting kits, which are designed to meet the stringent requirements of earthquake-prone areas, thus guaranteeing maximum safety, even with extremely high lateral forces. "The project at Braskem in Houston demonstrates the strengths of our R&D department: in addition to the custom-built platform solutions, the well thought-out details also convinced the customer" explains Larissa Minch, Project Management Global Solutions Department: "For example, the Maxxis 5 weighing controllers used were mounted in a heatable housing (for use in the specified Ex area) to guarantee the optimum operating temperature and the required Ex protection of the controller."
Ex solutions: Certified weighing and inspection solutions
Industries such as chemical, pharmaceutical, food and building materials often face challenging production environments with explosion hazards. With versatile and reliable product solutions for hazardous areas, Minebea Intec is one of the market leaders in this field and sets the highest standards with its "German Quality" feature. The load cells, weighing controllers as well as high-resolution industrial scales have national approvals such as ATEX, NEPSI, TIS and NEC and the international approval IECEx; in addition, the company offers high quality consultation in order to design complex production processes according to individual requirements and safety standards.
For example, Minebea Intec helped a leading aerospace company meet new standards for a manual batching plant with two ATEX-certified platform scales and weighing indicators. Minebea Intec was able to supply not only the new equipment, but also a complete solution consisting of hardware and software. This not only met the customer's immediate requirements (compliance with current health and safety guidelines), but also optimised the connectivity and efficiency of Avio's manual dosing system.
The requirements of a customer in the petrochemical industry were similarly demanding: In addition to ATEX-certified load cells for use in hazardous areas, a system for the rapid transfer of weighing data to the safe area was also required. This was achieved by means of a transmitter connected to the load cells via a 6-wire connection. However, it is not only production facilities in outdoor areas that face difficult challenges – production halls do too
Drafts and electrostatic charges: How intelligent checkweigher features eliminate disruptive influences
In the production of plastic toy parts, for example, heat, draughts and electrostatic charges are constant companions. This poses a challenge to production equipment such as checkweighers used for quality control of injection-moulded parts. Minebea Intec has solutions specifically designed to meet these requirements. "The WK+ checkweigher has a protective cover that ensures draught-free weighing processes, especially in the demanding production environments of the plastics industry," explains Willy-Sebastian Metzger, Director Business Development & Marketing at Minebea Intec. "The load cells of our checkweighers also have integrated temperature compensation, which automatically optimises the weighing process. At the same time, the WK+ is optionally available with an ioniser to minimise electrostatic charging. All these options together effectively shield the weighing process from interfering factors". The pleasing results for manufacturers: less production waste, fewer risks, less downtime and significant savings in labour and operating costs.
Global Solutions Department: Equipped for any eventuality
With a wide range of weighing and inspection solutions, Minebea Intec has a product for almost every application. But sometimes that's not enough – that's when the knowledge gained from over 150 years of experience in the weighing industry pays off. Minebea Intec finds the right solution for special requirements, even if this means developing a new product for an application. "We make sure that the customer gets a tailor-made solution," says Aaron Hinkofer, Manager Sales Commercial Project Management, Gobal Solutions Department, highlights the added value of such projects. "We pride ourselves on the fact that one-off customer projects often result in a long-lasting product." This means that the original customised solutions can be offered to other customers in the future – fulfilling Minebea Intec's goal of putting the customer first.