Magnattack® Global has recently supplied a client in the dairy industry with three Self-Cleaning Automatic Mag-Rams® in an application requiring USDA compliant, dairy standard equipment.
The dairy manufacturer was searching for a solution which would allow them to reduce the risk of metal contaminants in their dairy powder product and easily clean their magnetic separators without potential risk of compromising the sensitive hygiene requirements in the particular application.
It is this type of application that the Mag-Ram® Self Cleaning Separator truly excels in.
Having the programable ability to clean itself whenever desirable, the Mag-Ram is the perfect solution for applications where sanitary cleaning without human intervention or stopping the process is vital.
There are many advantages which have made this machine a key component in many dairy facilities globally.
The Mag-Ram®:
Reduces risks to final product security by HACCP compliant magnetics and the ability to clean quickly, thoroughly, and frequently
Prevents damage to critical processing equipment
Increases efficiency in operator cleaning schedules and reduces OSHA issues caused from cleaning heavy magnets
Reduces downtime
Extremely hygienic and sanitary than regular magnetic separators
Fits many applications and is custom designed for each application
Dairy-product safe – USDA Accepted
Minimal build-up and blockage
In-built abrasive wear contingency
Powered by proven ultra-high energy RE80® & RE80®HT Magnetics
In conformance with current food safety standards
Low, economical, and simple maintenance
Eliminates leakage/wastage of product
Continuous extraction capabilities ensure zero downtime during production for cleaning
Easy collection of metal contaminants for analysis
Improves purity and value of your product
Eliminates operator cleaning errors
Eliminates human intervention for cleaning (potential hygiene risks)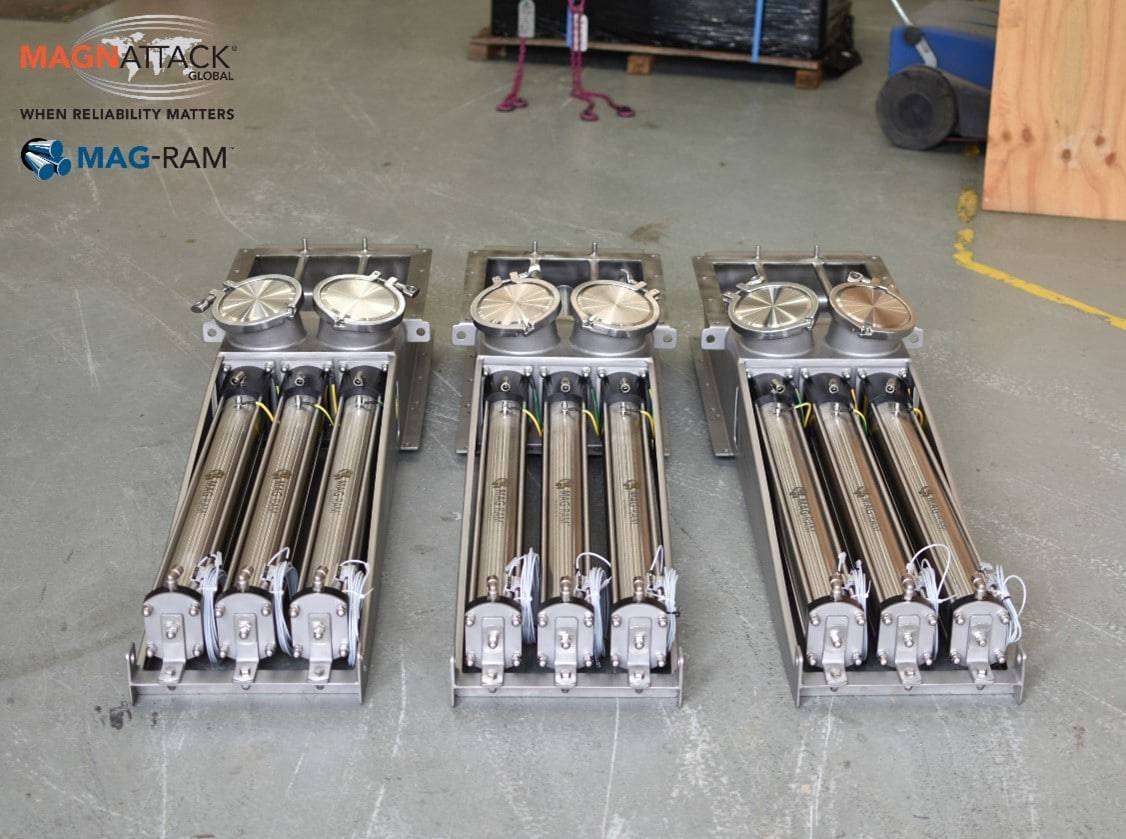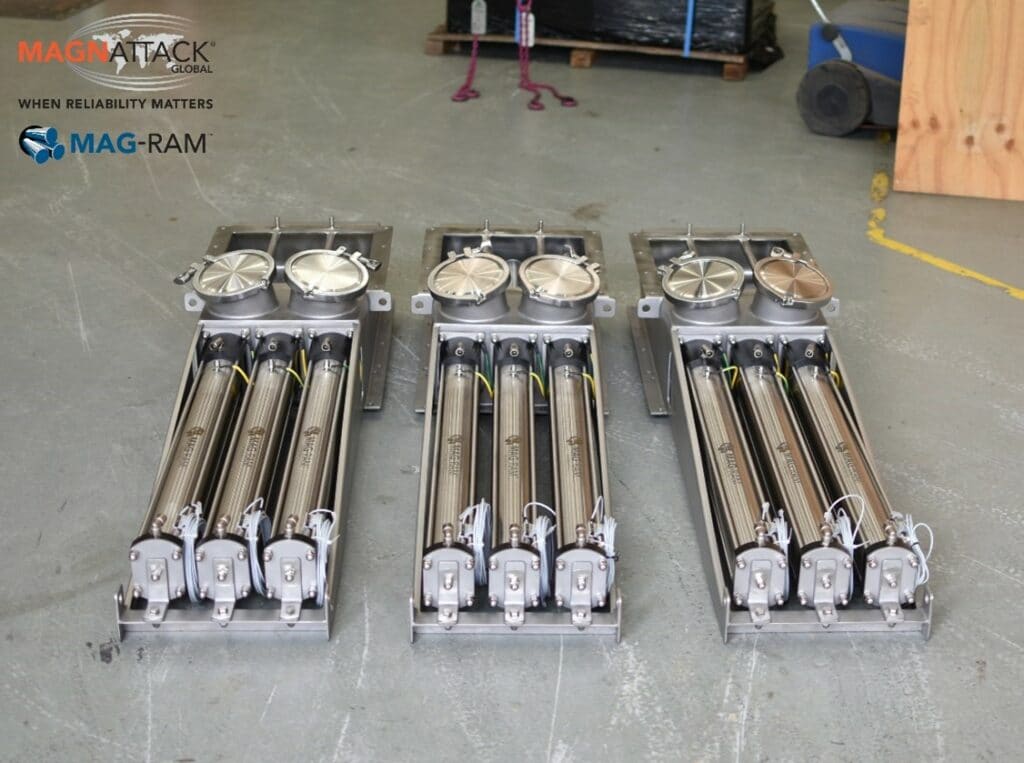 Magnattack® Global designed the Mag-Ram® to overcome issues with conventional grate magnet designs.
Each magnet is the Ram of a pneumatic cylinder. This means no 'walking' or 'jamming' when attempting to clean multiple bars simultaneously, as is the case with conventional designs attempting to coordinate two air cylinders to pull a bank of magnet bars through a common wiper.
The conventional cleaning method has always been troublesome and difficult to achieve ongoing and lasting success. The Mag-Ram® design, however, permits the use of tight wiper seals which ensures the greatest versatility of control and highly efficient magnet cleaning is achieved.
The Mag-Ram® is also extremely hygienic, due to the absence of stainless-steel sleeves which inherently build up with unclean product residue.
Magnattack® Global has a team of qualified and highly trained technicians available to assist you in achieving efficient and hygienic magnetic separation in your sensitive powder lines.
The Mag-Ram® system is protected by several extensive patents.