Sand that has been stored for a long period in the silo gets moisture due to humidity, and bridging phenomenon occurs in the silo. Therefore, when producing ready mixed concrete, the discharging work from sand stored silo was not performed properly. Production line system errors frequently, and production capacity was not stable. For the discharging work, three or four operators had to poke with a metal rod from inspection door or poke from the top of silo to eliminate the clogging inside silo. Since the poking work with metal rod is a heavy labor and quite dangerous work, this ready mixed concrete factory was considering improvement.
Solution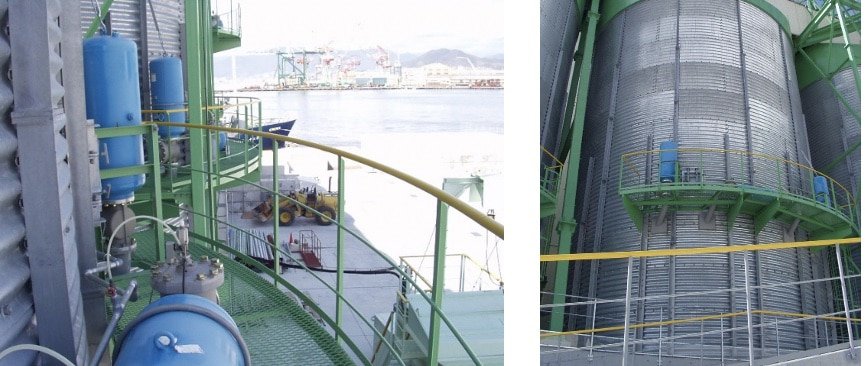 The sales representative of EXEN was consulted by this ready mixed concrete factory to solve a clogging problem immediately. EXEN proposed and installed total 6 direct blasters, including a timer control panel for one large silo with a diameter 6.5 meter and height 10 meter.
The direct blaster accumulates supplied air from compressor in the blaster tank and blasts into the silo through the nozzle by operating a solenoid valve. Since large volume of air is blasted like a blank shot, clogging inside silo can be cleared effectively.
EXEN suggested that blast interval is set to 1 minute using a dedicated operation panel. The blast interval is shortened or lengthened according to the condition of clogging and supply air. Since the twin blaster has blast valve on the left and right of the tank, it is possible to blast widely with one blaster. Furthermore, initial cost can be also reduced.
Result


After installing the blaster, clogging of the sand inside silo was dramatically discharged. Especially, even during the rainy season when clogging occurs frequently, sand inside silo can be discharged smoothly by operating the blaster.
Accordingly, user could eliminate the work of dangerous poking work with metal rod.
User also have succeeded in reducing labor costs and significantly improving the work environment through discharge work.
The sand in the silo can be discharged smoothly, factory downtime due to frequent equipment errors has been eliminated, and then production capacity could be stabilized.
We provide the best solution for your clogging problem with EXEN wide range blaster models including control panel, installation position according to the each conditions.
For more information, please visit EXEN website:
Single valve type blaster
https://www.exen.co.jp/english/industry/prevention_blaster/EDB/index.php
Twin valve type blaster
https://www.exen.co.jp/english/industry/prevention_blaster/EDB-T/index.php