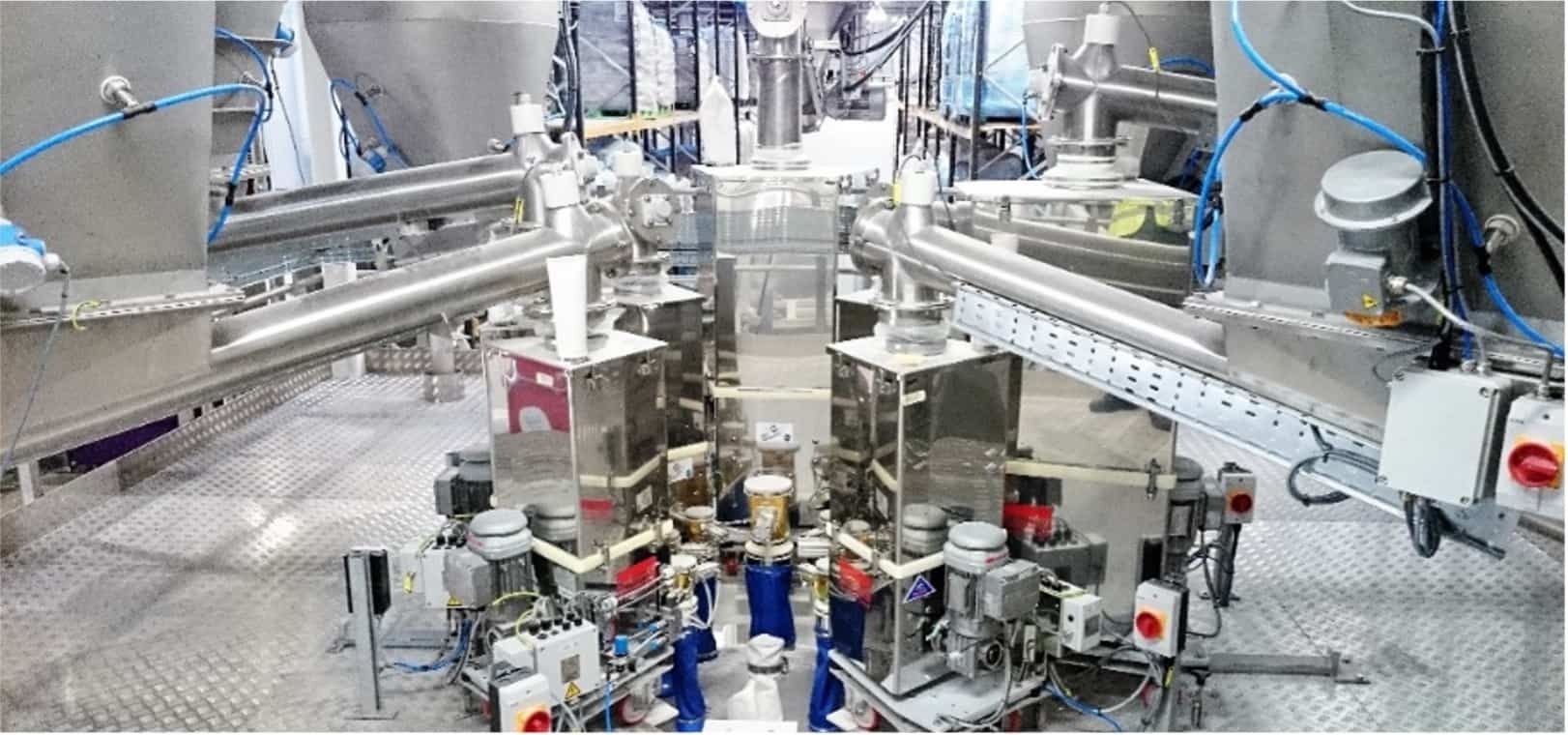 Multiple dry ingredient; high speed; batch weighing; and pneumatic transfer systems.
Ingredient Batching Systems have designed, installed and commissioned a multiple dry powder additions system for a leading UK based bakery, at their new site in Manchester.
This includes the provision of 80Te bulk storage silos for plain white and brown flour Major additions; FIBC big bag handling systems for Minor additions; and sack tip handling systems for Micro powder additions.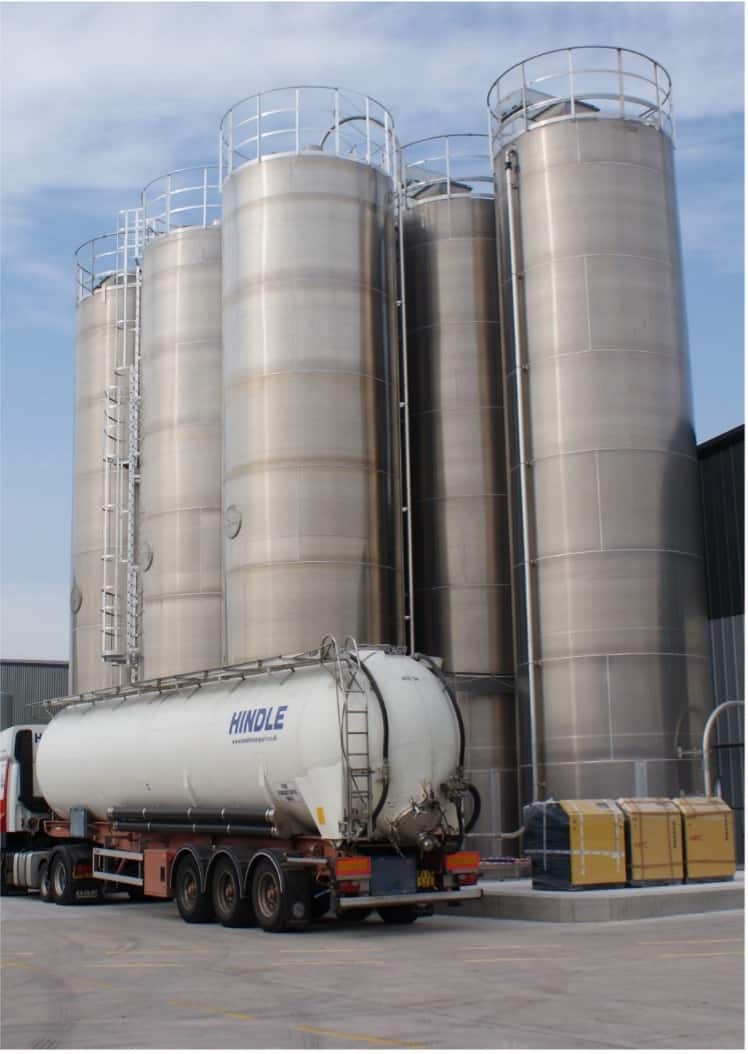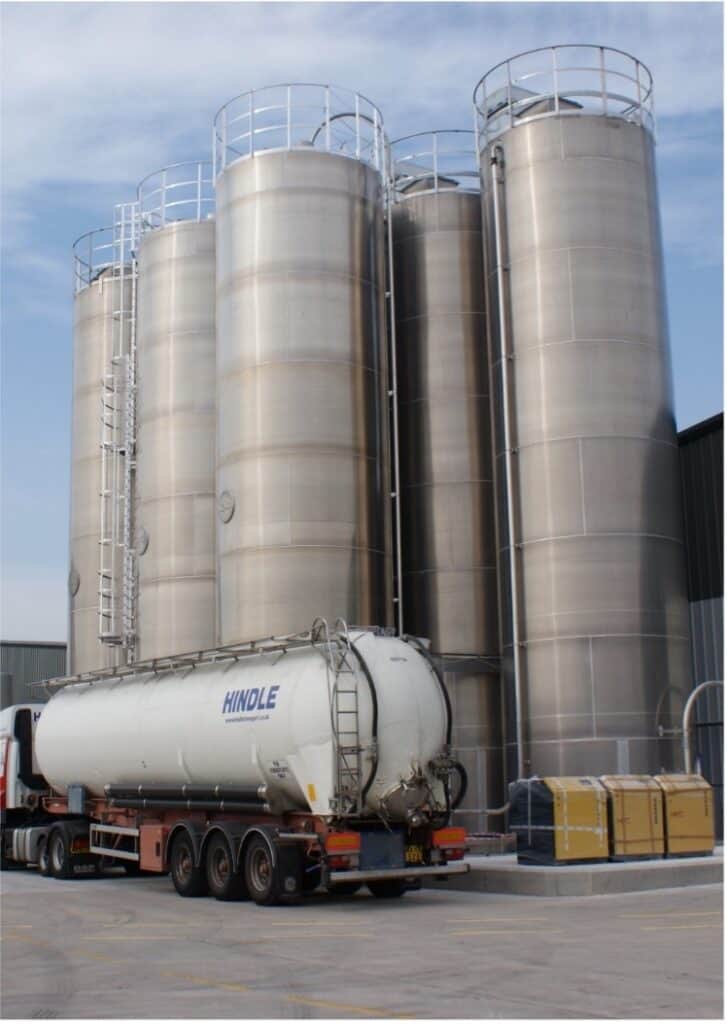 This is a high-speed system with 10Te/hour pneumatic transfer lines from the bulk storage silos to four separate mixing lines. The pneumatic transfer system is designed to enable any silo to deliver flours to any mixer. The Minor and Micro powder additions are installed in two discreet batching areas, weighing individual ingredients separately and simultaneously. They are then entrained into pneumatic conveying lines from the silos. All conveying lines are complete with in-line continuous sieve screening to suit the current leading supermarket specifications and easy clean magnets.
Our systems Minor and Micro additions are decanted from big bags or sacks into batch day hoppers, before screw feeding into loss in weight batch weigh feeders. Our batch weigh feeders are arranged in a carousel framework. They individually weigh additions into a central check weigh hopper before entering the conveying lines. The high speed of our pneumatic transfer lines, combined with the simultaneously weighed Minor and Micro additions allows our system to achieve 44 batches/hour i.e. one batch every 81 seconds. Bulk flour additions ranging from 200-250Kgs/batch with Minor and Micro additions ranging from 100 grams to 20 Kgs with high accuracy and repeatability.


Project Lead Time (Order to Commissioning): 16 weeks
Technical Elements
High Speed Transfer
Multiple Ingredients
Batch Weighing
Bulk Storage
Big Bag Handling
25kg Sack Handling
This article is published by
Optimise your dry ingredient production process Specialist's in handling dry ingredients such as flour, sugar, cereal and grains. From raw material intake through to mixing and packaging. Whether you are looking to increase throughput, enhance efficiency, control dust, or solve powder process issues. Fully and semi-automated systems to enhance ...