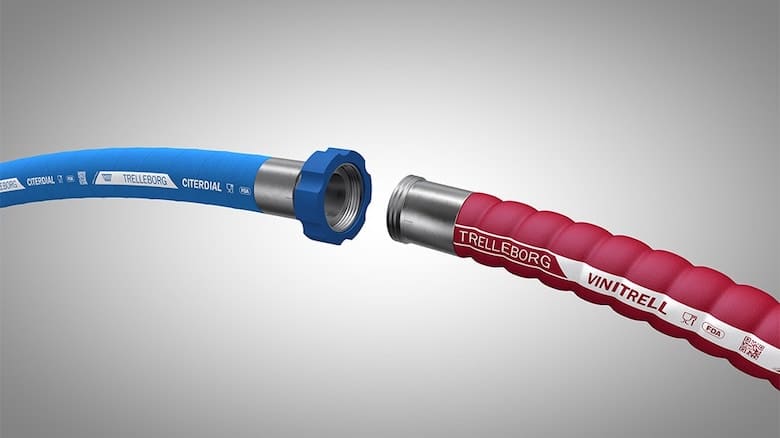 TRELLEBORG - Trelleborg's industrial hose operation launches the Performer AL EC and Trellvac AL EC hoses, which are designed to prevent the dangerous buildup of static electricity in a hose during the pneumatic conveying of powders. Uniquely, these hoses can now provide an electrically conductive option in applications where it is mandatory to use a white hose as opposed to a black one.
Ludovic Dumoulin, Segment Manager for Industrial Hoses, says: "Many of our customers face safety issues when they need to convey powders pneumatically through a white hose. Traditionally, white hoses have been electrically insulated and cannot convey static electricity safely. Potentially, this can spark fires and explosions. As experts in polymer engineering, we have developed a new kind of rubber with electrical properties that resolves this dilemma."
Three years in development, Performer AL EC and Trellvac AL EC hoses are based on the latest innovation in technology and chemistry. Meeting industries' needs, the hoses are compliant for conveying powder in all ATEX areas according to the technical specification CEI/TS 60079-32-1, Explosive atmospheres – Electrostatic hazards, guidance.
The hoses are suitable for a wide variety of industries and applications that are conveying powder pneumatically, in particular those that require white hoses. This includes those conveying PVC granulates, pigments, lime or other colored powders, as well as dry mix mortar, pulp and paper. Both hoses are food-approved according to the latest regulations and can be used to convey food powders, such as milk powders, sugar, flour, cocoa powders or rice.
This article is published by
Trelleborg is a world leader in engineered polymer solutions that seal, damp and protect critical applications in demanding environments. Its innovative engineered solutions accelerate performance for customers in a sustainable way. The Trelleborg Group has annual sales of about SEK 34 billion and operations in about 50 countries. The ...