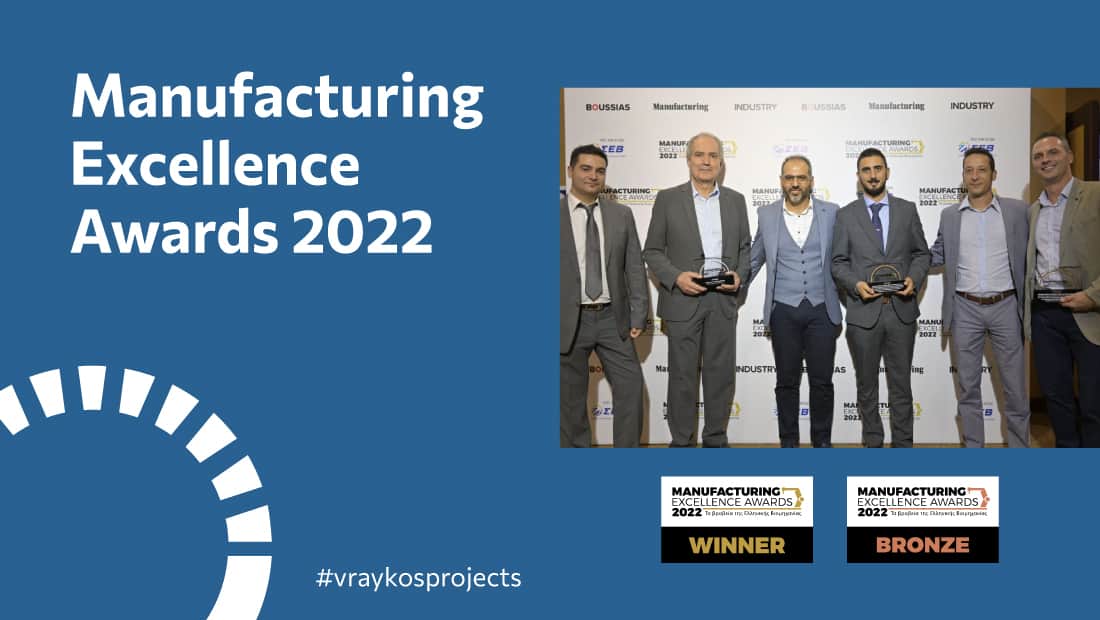 Vraykos implemented one of the most innovative projects in the Greek Food Industry, which involved the production of Espresso coffee beans and the release of the product to the growing Greek coffee market.
The high-level electromechanical equipment that was studied, designed and implemented by Vraykos, includes the intake, storage and mechanical conveying of roasted coffee beans. The production process of the referred system was designed and manufactured by using the lowest possible energy footprint. The storage system includes a multi-compartment silo for different varieties of coffee beans, the mechanical conveying system was achieved through Cablevey Conveyor's Systems that minimize the breakage of the beans, and the automation system communicated perfectly with the factory's existing automation and ERP system.
Bronze Award – Environmental and Energy Policy
Vraykos also won the Bronze Award, along with Ravago Hellas, in the category ''Environmental and Energy Policy'', for a new project undertaken in the Ravago factory in Katerini Pieria. The project concerns the automation of the production process of the factory, by increasing its capacity through the integration of storage silos and a pneumatic conveying system.
The major need of the Katerini factory was the automation of the intake of polysterene granules, the storing, and the feeding of the two production lines of the factory.
The project was completed with tremendous success, ensuring not only the reduced use of plastic, which was until then used to pack bags of raw materials, but also a reduced consumption of forklift fuel, due to the minimization of feeding routes. Last but not least, reduction of manual work of shift managers and more favorable and efficient working conditions were achieved.
This article is published by
VRAYKOS is a global provider of industrial solutions specializing in the Engineering and Construction of complex bulk handling projects in the Food Industry, Snacks and Bakery, Coffee Industry, Flour Mills and Plastics and Chemicals. We design, construct and operate integrated installations for all the processing stages of bulk material handling all ...