Alvibra® manufactures vibratory sifters in many different executions depending on the purpose. Custom sifters or standard sifters – it is all about quality sifting!
Sifter Cleanability and Functionality
Other than superb sifting, hygiene and cleanability are a must. Execution is all stainless steel high food-grade level for dairy industry and similar. Large diameter corners and polished product zone ensures optimum hygienic design. Full access from above by easily openable gas-spring supported lids. No level design – self-draining.
Green – Smooth – Silent – VibraDrive™
Noise and vibration restrictions increase demands for the integration of new machines in plants around the world. Machines must have smaller environmental footprints, make less noise and send less dynamic loads into the framework, floor or platform structures. Lower build heights. No uncontrolled or sideways movements during starts and stops. No need for shock absorbers. Instant start and stop. The Alvibra® VibraDrive™ system ensures all of this in one.
Continuous Mesh Cleaning Balldeck®
Sticky products and small mesh openings sometimes require continuous cleaning during operation – to keep capacity up. Food grade balls bounce up and down hitting the mesh and gently knocks of powder build-up. An adjustable product leveler increases the efficiency and capacity of the sifter.
CIP Cleaning
CIP nozzles are chosen depending on the requirements and Alvibra, therefore, works with several different models. First and foremost retractable CIP nozzles must be durable to resist vibrations during operation and have superior spray patterns during the cleaning process.
Food Grade Key Points: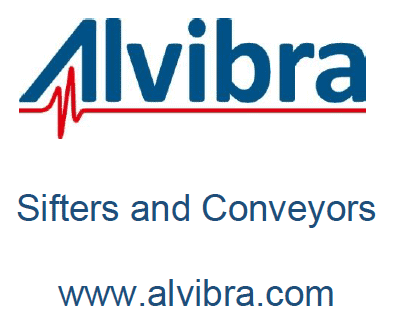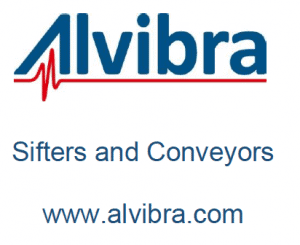 No-level surface design / self-draining
100% stainless steel
All corners rounded for easy cleaning
Polished product contact zones
Design meeting FDA, EHEDG, USDA
Manufactured according to GMP
Material certificates documentation
Sanitation guidelines
CIP-able solutions – several versions
Open profile framework – no closed or hollow areas
This article is published by
Alvibra A/S has many years of experience as well as many patents in vibration technology, which among other features reduces energy consumption significantly, and at the same time the technology is very quiet in relation to conventional vibration technologies.
Strong Financial Owner
Alvibra A/S is a wholly-owned company of the group Grundtvig ...