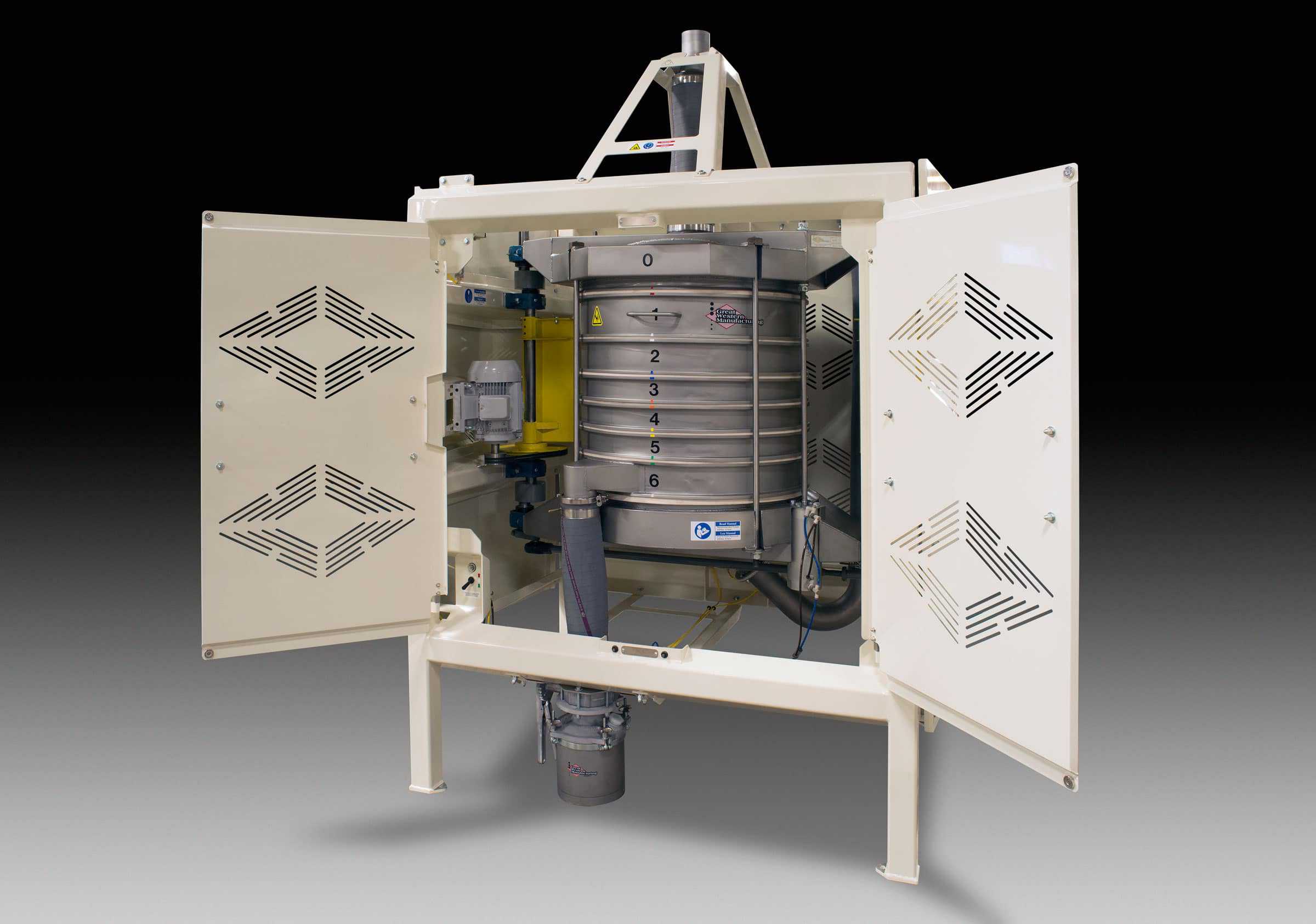 Quality Assurance In-Line Tru-Balance sifters are intended, first and foremost, for quality assurance applications, however; they not only improve quality control, but also improve overall costs, simplify your operations, and offer an all stainless steel contact surface for increased sanitation.
In-Line sifters are precision built machines for the removal of oversized impurities from product. They work like gravity flow sifters, except are directly inserted into a pressure or vacuum pneumatic conveying line. This ability to be directly inserted into conveying lines eliminates the need for additional equipment such as blowers, filter receivers, airlocks, and surge hoppers. Thus, not only is the initial system investment and installation cost substantially lower, but the ongoing operation, maintenance, and sanitation expenses over the life of the system are also reduced.
Usually constructed for floor mounting with a top inlet and top discharge, custom configurations for downward directed discharges and multiple floor layouts are easily accommodated. The In-Line concept gives you the ability to place the sifting protection as close to the finished product as possible, minimizing the amount of equipment after the sifter which could be a source of contamination.
Four sizes are customizable to meet your capacity and installation needs. The In-Line's compact, space-saving design, with light weight components, enables quick and easy dismantlement for inspection, maintenance, and cleaning. And the Tru-Balance drive eliminates the need for massive foundation requirements. Since our sifters use multiple sieves stacked one above the other, large amounts of sifting surface with a minimum floor area can be obtained.
The drive mechanism is the reason for the sifter's name…because it is a drive that is "Truly Balanced". The precision machined frame supports a pair of fixed crankshafts which determine the sifters circle and include counterweights to off-set the forces of the rotating sieve sifter body plus the normal product load. The result is a smooth running and reliable mechanism.
This unique drive mechanism provides other advantages. With the power transferred to the top and bottom of the sieve stack the inertial lag experienced with typical mono-case sifters with bottom up drives is greatly reduced. Complicated clamping mechanisms that, in the end, are poor at keeping the sieves held in place are eliminated. The extensive corner brackets and tightening rods often found on competitors machines are evidence of this issue.
Our sifters produce a horizontal gyratory sifting action which is ideal for scalping, grading, or fines removal from dry free-flowing powders. This sifting motion retains material longer, has a slower and gentler sieving action, and minimizes vertical agitation. These attributes keep the fine material in contact with the screen longer, leading to more accurate separations.
For sieve compression we offer our innovative pneumatic sieve compression system. This provides constant sieve compression reducing the possibility of leakage, reducing sieve and gasket wear while providing ample space for sieve removal. Additional benefits include ease of operation for quick & easy access for sieve removal and replacement as well as a visual indication that the sieves are properly compressed
The sieve rings and screen trays interlock and stack one on top of the other on the lower dome. The product, conveying rate, airflow volume, and screen mesh size for each application determine the model size and number of sieves needed.
Along with the all stainless steel construction of all product contact areas, In-Line sifters have very few weldments, snap-on food grade gaskets, and lift-out screen frames with glued-on screens to assure sanitary operations.
This article is published by