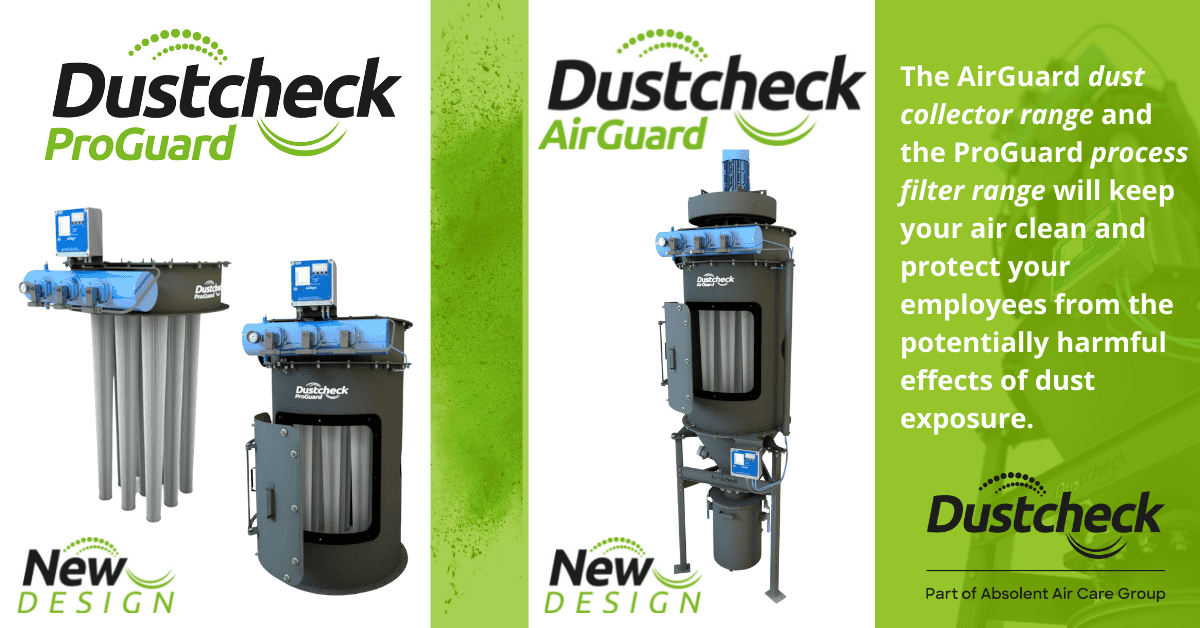 Two of the most popular products in the Dustcheck product range have been redesigned with new and improved features.
AirGuard – small to medium dust collector range (previously known as the Compact 120 Dust Series) and ProGuard – process filter range (formally the Ventmatic 120 Series) has been renamed to reflect their primary functions in keeping air clean and protecting your employees from the potentially harmful effects of dust exposure.
There have been many enhancements to what are already class-leading products. Existing rectangular and circular ranges have been consolidated into a single circular design which includes improved electronic control, easier access and maintenance, better more ergonomic HMI considerations, and importantly, a modular design concept across all families and models.
Circular construction
Moving to a standardized circular construction provides high strength for vacuum conveying systems and hygienic design for food applications which will, in turn, meet the needs of all other industries too. Our modular approach has enabled us to continue to provide full flexibility in terms of orientations and features including a flange adapter for clients that prefer a square interface
All units are available with DSR (dirty side removal) and CSR (clean side removal) filter elements with a screw thread interface meaning elements can be removed and replaced tool-free.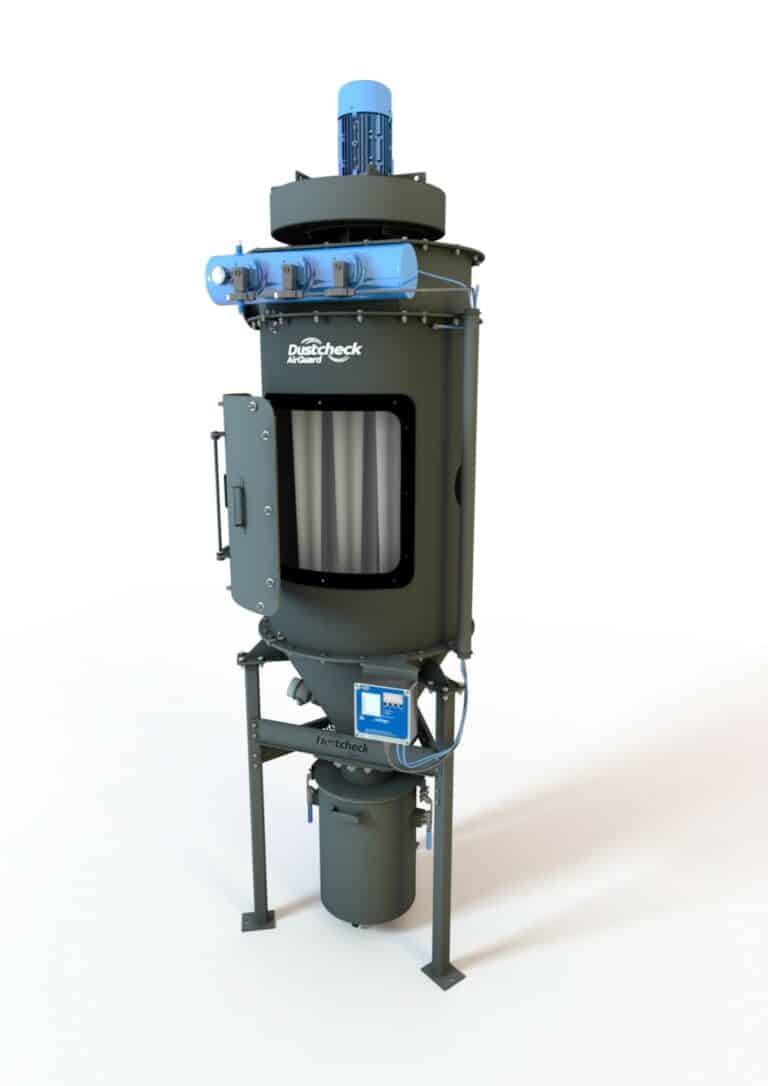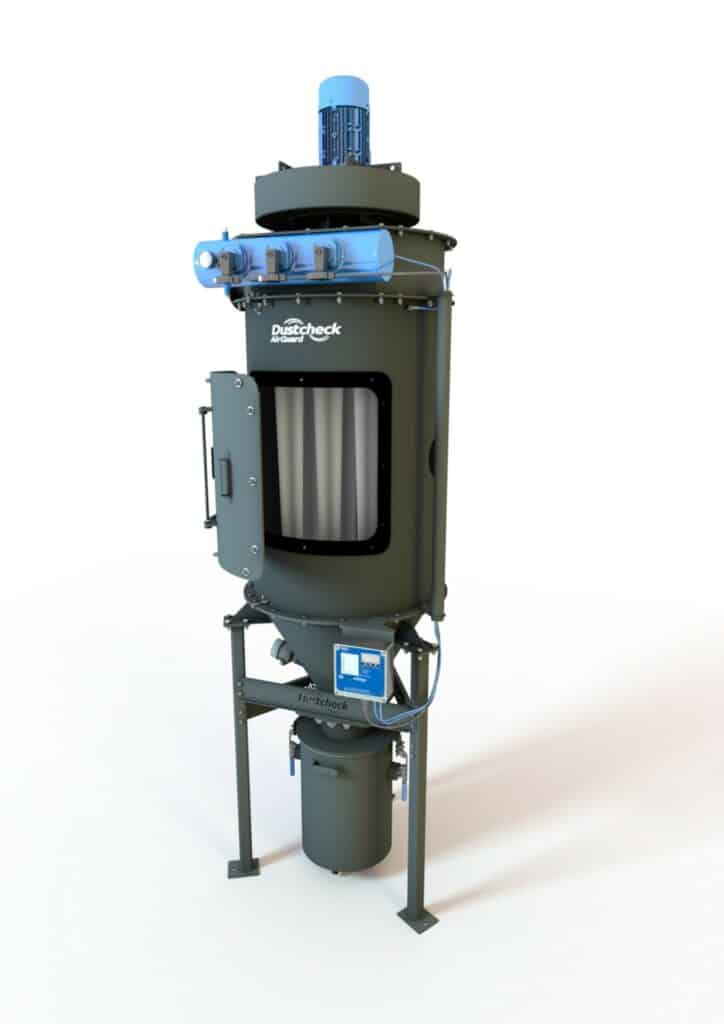 Explosion protection
AirGuard bodies are available with a horizontal explosion panel, vertical explosion panel and flameless explosion device for indoor use and to meet ATEX and DSEAR standards and regulations. All ST1 and ST2 dusts are catered for as standard (max KST = 299 Bar m/s).
Horizontal explosion panels can have ducts added to enable venting the unit through a wall (duct length varies by unit size and KST rating).
The previous design included a bolted, lift-off access door which has now been replaced with a hybrid door, hinged for ease of access but which can still be lifted off in tight spaces.
Improved electronic controller
The new and improved controllers are available as sequence type and differential pressure (DP) type for the ProGuard and DP type only on the AirGuard range.
The DP controllers have a high-level alarm and now come with a 4-20ma output signal as standard.
On the AirGuard range, the wiring and DP tubing is run in a conduit along the side of the unit for neater aesthetics and matrix wiring is now included as standard – with a single cable 'daisy chained' to each solenoid valve and simple push-in / screw lock into the controller.
The controllers and solenoid valves are all ATEX Zone 22 rated as standard.
Construction Material
Units in both ranges are available in both carbon steel painted and 304 stainless steel contact (anything above the filter cell plate is carbon steel painted). Optional construction, stainless grades and finishes will be available on request.
The new Dustcheck brand colour scheme, launched with these redesigned products, is a dark grey matt finish (RAL7043) with gloss blue accents (compressed air manifold, fan motor, bin handles, controller face).
The Dustcheck paint standard is now shot-blasted and powder coated to the BS EN ISO 12944-2 C3 standard (weatherproof, urban and industrial atmospheres) with option for C5 (coastal areas with high salinity).
The new ranges also offer:
Multiple inlet / outlet / explosion relief / fan orientations available for complete site flexibility
Fans provided with silencers where required to meet 80dBA @ 1m free field
Standard control panels for dust collectors available either loose supply or fitted and wired to unit
Units now with visible, external earthing links across each section
Flanged safety grid module available which can be placed on bottom of filter body
Serviceable joints i.e. access door & bin seal are now provided with food safe gaskets as standard
Non serviceable joints i.e. between section flanges etc. are provided with food safe liquid gaskets as standard
Plugged socket provided in hopper for optional level probe (bin overfill)
Lifting points provided on clean section flange as standard
Square flange adapter for each size venting filter unit available for flexibility of equipment interface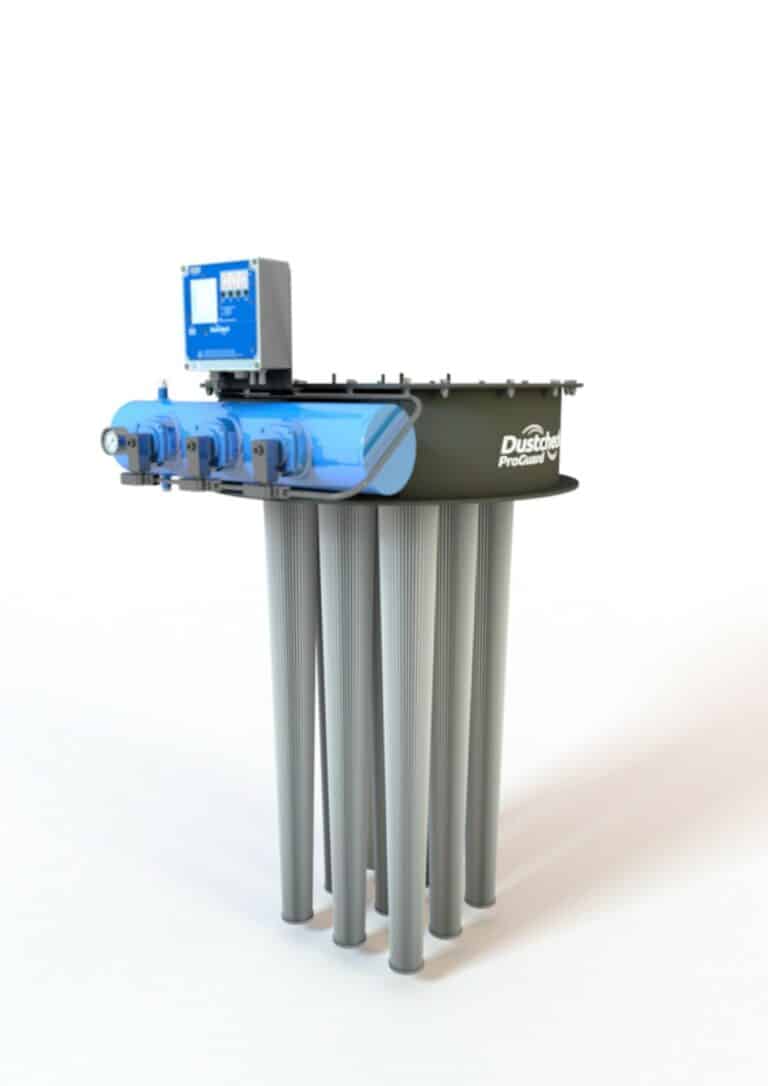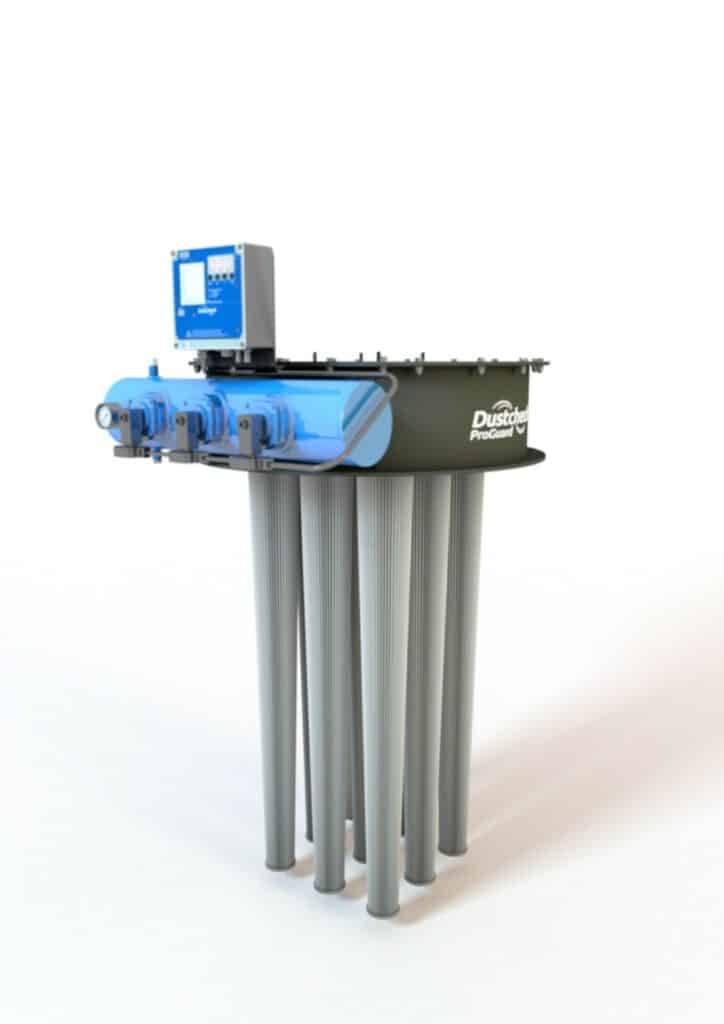 Modular Construction
The modular design will enable improved stock-holding capabilities and should help to lower lead times for our customers. It also means we can offer increased flexibility without the sacrifice of extended engineering and manufacturing times.
Our group-wide modular design concept will, in the near future, be applied to the other products within our portfolio such as large cartridge dust collectors and tubular bag filters.
Manufactured by Filtermist International
Filtermist International Limited manufactures dust control equipment that utilizes either media-based filtration or liquid separation under the Dustcheck brand – one of very few UK manufacturers that can offer both solutions. This means we are not restricted by a limited product range and are able to specify the optimal solution for any application.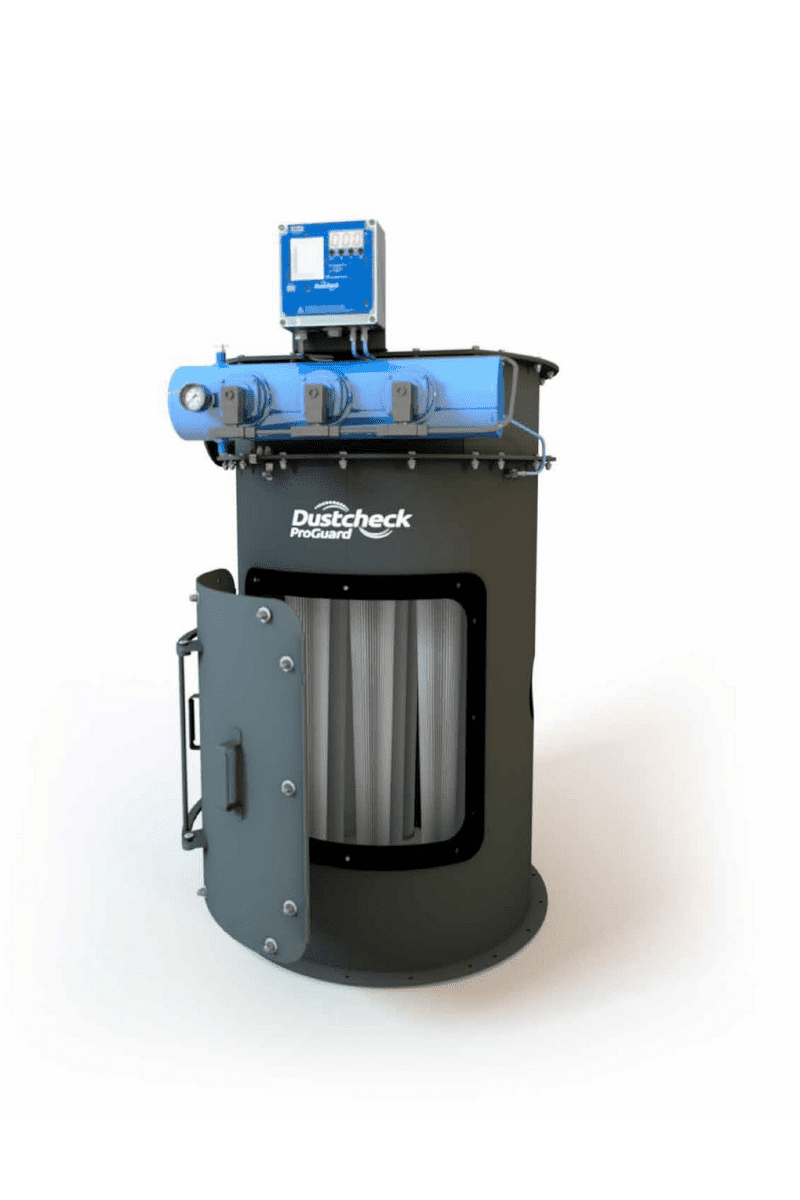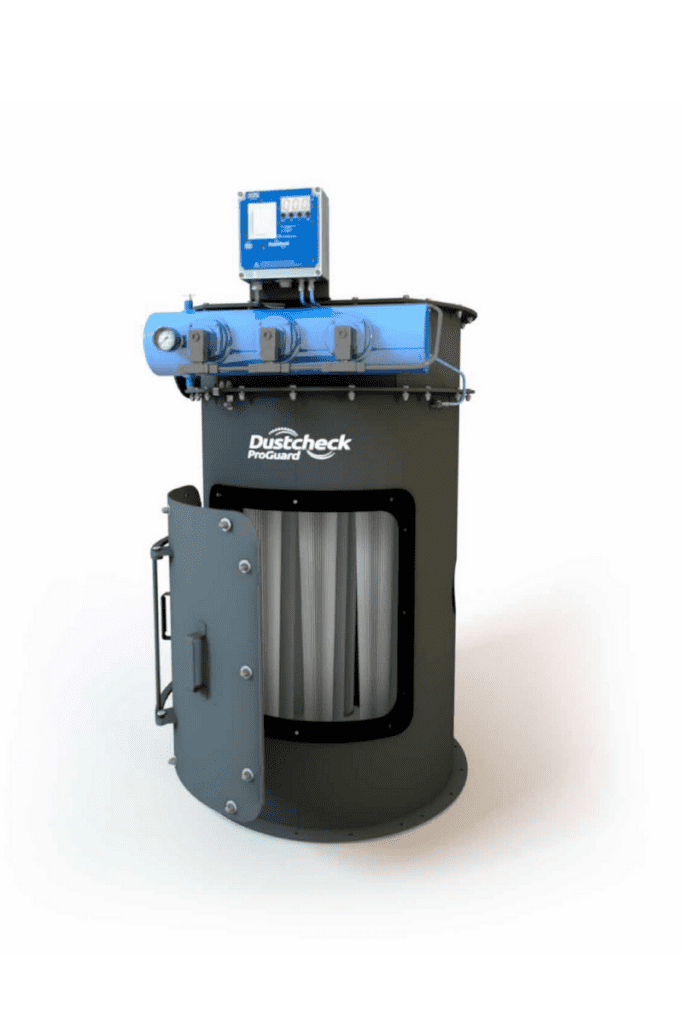 COSHH (Control of Substances Hazardous to Health) regulations require all employers to protect employees from the potentially harmful effects of certain dust in the workplace.
Dust that is produced in many processes can also have serious effects on the health of your employees. Exposure to dust can cause serious skin conditions and occupational respiratory illness.
Many manufacturing processes require dust removal; correctly designed dust control units help ensure working environments are kept clean and safe which protects operators from the potentially harmful effects of dust inhalation in compliance with COSHH regulations and other relevant legislation.
Dust control is vital in any manufacturing industry. A well-built, fit-for-purpose dust control system will:
Protect people from dust related health hazards
Prevent explosions
Reduce housekeeping
Minimise machine breakdowns
Improve product quality by preventing cross contamination
Protect the environment
Installed by Filtermist Systems
Filtermist Systems Limited's experienced team has safely delivered customized air handling and pollution control systems to ensure clean air in working environments for more than 30 years.
This article is published by
Cleaner, safer, more productive workshops
Established in Shropshire in 1969, Filtermist's ethos is to protect people by ensuring cleaner, safer, more productive workshops. The company, part of the Swedish Absolent Air Care Group, designs, manufactures and installs industrial air extraction and filtration solutions, including the provision ...