This cutting-edge product development is realized with the Mid-Size SDx™ Series affording effective, reliable, efficient & scalable powder processing technology.
State-of-the-Art Equipment:
Flexible and easy to migrate from the lab, this model of the SDx™ Series provides the easiest path from research & development through to full production – sitting between the SLS – Scalable Lab System™ and the Production-Scale SDx™ Series powder milling & screening platforms. The new platform is also ideal for customers who have smaller-scale production runs. The Mid-Size SDx™ Series complements the existing range of Fitzpatrick and Quadro's milling & screening platforms, all of which offer exchangeable heads to reduce bottlenecks and increase capacity for maximum processing efficiency. With optimized particle size distributions, the Mid-Size SDx™ improves on-target PSDs by 30 – 50% over similar technologies. It is the first conical mill and security screener with a greaseless gearbox in the pharmaceutical milling industry that safeguards batches for enhanced operator and product safety. Proprietary Comil® screen designs can improve processing efficiencies over comparable equipment. And now, with the introduction of the patented high-efficiency screens – capacity throughput can be increased by up to 50% and milling temperatures lowered by as much as 30%, depending on product and equipment set-up.
SMARTdetect™ Technology:
All the platforms enable the user to easily navigate between the various heads, as SMARTdetect™ technology instantly recognizes the head being installed and automatically makes the necessary RPM modifications, ensuring the mill operates within the pre-set minimum and maximum RPM for each specific technology.
Reduced Capital Investment & Cost of Ownership:
Providing exceptional investment value, the SLS – Scalable Lab System™, Mid-Size SDx™ Series, and Production-Scale SDx™ Series each afford multiple functionalities on a single common drive platform, offering the lowest long-standing cost when compared to the purchase of individual units.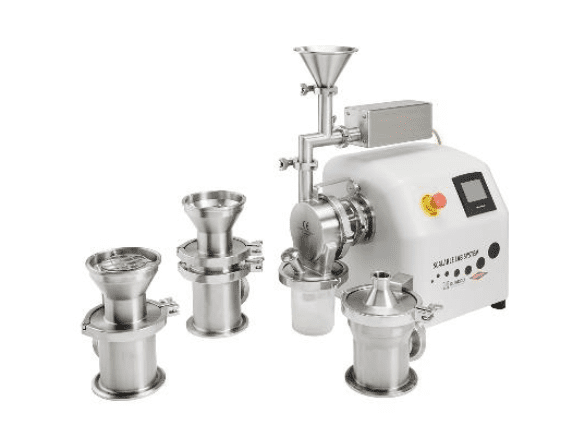 The SLS – Scalable Lab System™ is a unique benchtop powder milling & screening platform that provides five powder processing solutions for effective laboratory-scale milling.
Once again, SMART-Detect™ technology enables the milling & screening heads to be exchanged quickly, with no set-up required. This is an ideal platform for reliable and repeatable testing, as well as for research within an R&D lab or start-up.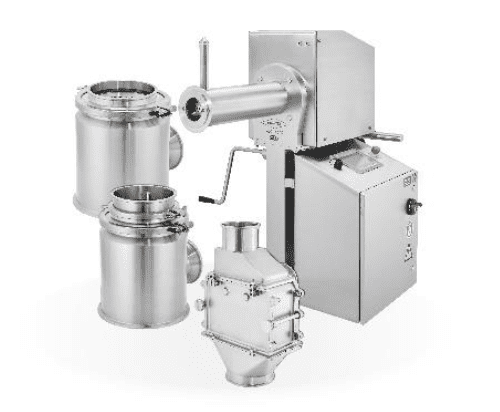 The Production-Scale SDx™ Series platform offers three distinct powder processing solutions with SMARTdetect™ technology providing the ability to easily transfer between conical milling, security screening and hammer milling.
Head recognition and RPM range adjustments are easily made, enabling you to change heads as & when required, thereby improving production efficiency.
The Fitzpatrick Company and Quadro Engineering Corp. are both Business Units of IDEX MPT, Inc., and have been the trusted partners of the majority of the world's top pharmaceutical, chemical & food ingredient processing customers. Together, they are celebrating 125+ years of powder processing innovation excellence. Co-located in Waterloo, ON, Canada.
To learn more, visit www.fitzpatrick-mpt.com, e-mail: fitzinfo@idexcorp.com and www.quadro-mpt.com, e-mail: quadrosales@idexcorp.com.