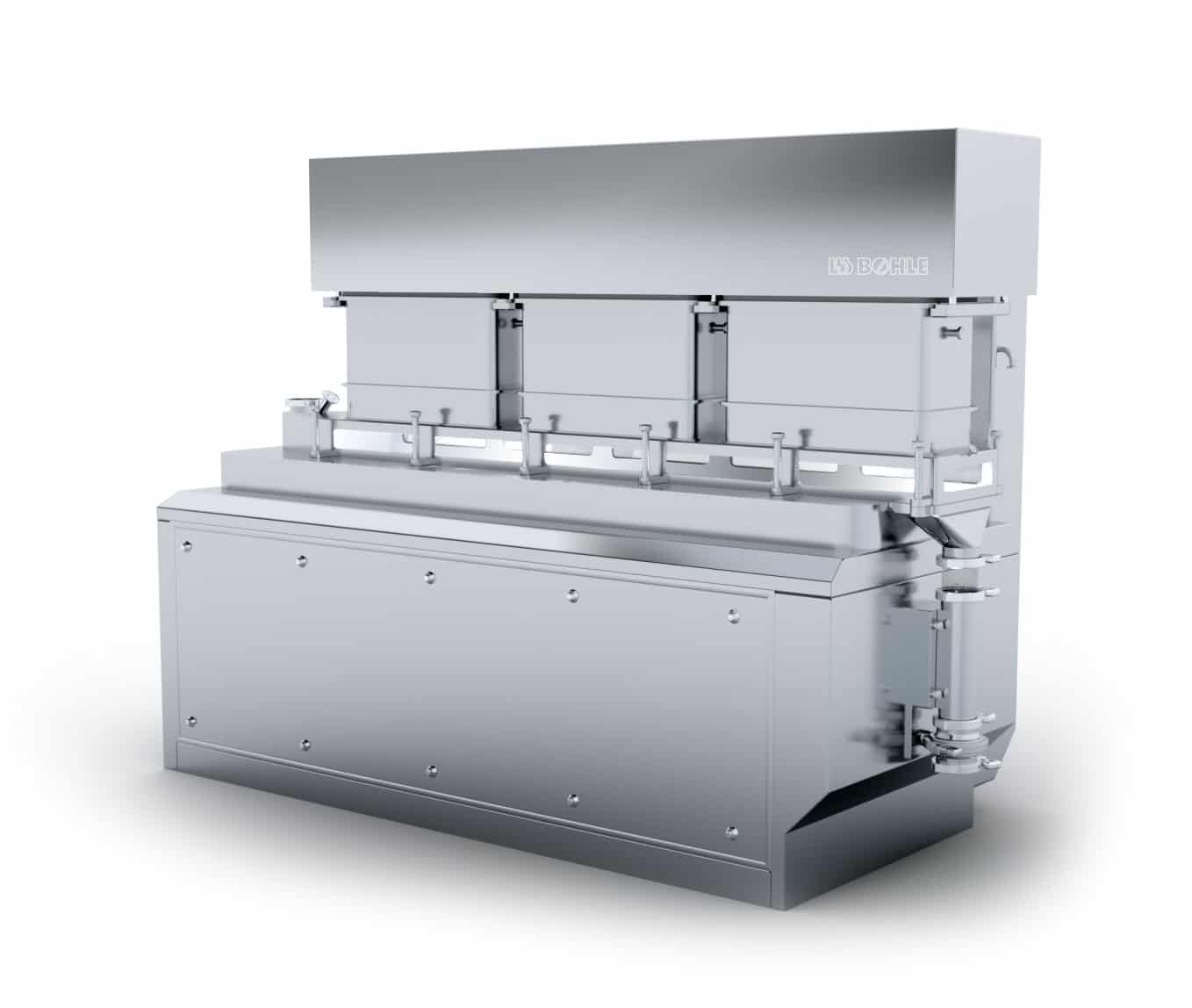 Constant and continuous drying must be guaranteed to seamlessly connect to continuous wet granulation. With the BCD continuous fluid bed dryer, L.B. Bohle now enables the continuous drying of granules for the first time.
Until now, dryers only existed on the market that did not meet the requirements of continuous drying. They only form sub-batches. However, in the BCD, L.B. Bohle implements a truly continuous process without interruptions. The results from the laboratory scale are also easily scalable to production size.
Continuously produced wet granules fall gravimetrically into the dryer without any further necessary transport steps and are then dried in a continuous process. The constant conveying of the wet granules from the dryer inlet towards its outlet is achieved by a controllable movement. This ensures gentle and very uniform drying. The movement is so gentle that there is almost no resulting back-mixing and all granules (even in different particle sizes) are dried for the same length of time. Innovative product filters guarantee service lives of days without having to interrupt the continuous granulation process. As a result, there is no loss of quality, even with finely micronized drugs.
The BCD fluid bed dryer is the ideal tool for the continuous manufacturing of high-quality products on a laboratory and production scale. The implementation of Process Analytical Technology (PAT), for example for the constant in-line determination of the granule moisture content and for feedback control of the process, also ensures process and product quality. The BCD can be used within the QbCon® 1 laboratory machine for throughputs of 0.25-2.5 kg/h or for production sizes up to 25 kg/h. It is available in different sizes to make production more efficient and of higher quality.
Advantages of the BCD continuous fluid bed dryer:
Fully continuous drying without the formation of sub-batches for the first time
Simple set-up and convenient operation
Very long service life of the product filters without the need to interrupt the process
PAT probes only in contact with dry product – no unwanted product adhesion
Very short mean residence times and narrow residence time distributions
Small in-process volume
Selective rejection of "bad product" possible
Four degrees of freedom to control the drying process
Uniform drying across all particle sizes
Gentle drying process: No formation of fines in the process, even for highly porous granules
Extremely fast execution of experimental designs with minimum product expenditure for rapid product development
This article is published by
L.B. Bohle is the leading supplier of special process machines for the pharmaceutical industry and always focuses on finding the optimum solution for its customers. Our thirty years of partnership have been based on high quality, safe and environmentally-friendly machines and methods. We not only aim to satisfy our customers, we want to inspire them! Recognizing ...