In the cosmetics and personal care industry, manufacturers often rely on skilled contract manufacturers to supply blended powders that are key ingredients in the products they produce. Whether small 55-gallon drum batches once a year, or several thousand metric tons multiple times a year, contract manufacturers serve as a critical extension of manufacturing capabilities.
Although some manufacturers have the in-house capabilities that allow them to blend or dry their own powders, many – including boutique operations and start-ups – lack the capital, equipment, or technical expertise for production.
However, even with standard equipment, manufacturers often lack the precision needed to accurately and reliably produce sophisticated powder blends. The challenge is even greater when developing new products, dealing with sub-micron particles and trace elements, or handling hazardous or sensitive materials including solvents, alcohols or gases that may need to be recovered for safe disposal.
When this occurs, contract manufacturing graduates from an extension of manufacturing to consultative problem-solving. Resolving difficult development or production issues also requires a contract manufacturer that can provide a unique combination of sophisticated, precise blending and drying equipment along with deep expertise about powder types, sizes, and interactions.
"Most customers come to a contract manufacturer for additional production capacity, but when the task is more challenging, they are also looking for guidance," says George Paffendorf, Director of Operations at Advanced Powder Solutions (APS). "Often it is a question of feasibility – the customer knows what they want to do, but not how to achieve it. And sometimes it is development, where they know it can be done, but want help figuring out how to accomplish it faster and cheaper."
Problem Solving
Whatever the product or production goal, development and problem-solving begins with an in-depth analysis of the powders and raw materials involved.
"To achieve the desired end result, you need to understand the characteristics and properties of the raw powders and materials, and how they will interact when blended," says Paffendorf. "This can include powder size, density, lubricity and moisture content, among other factors."
When greater understanding and specificity is required to improve technical development or production factors, a contract manufacturer like APS can provide needed testing and expertise. This can include, for example, moisture balance or oven analysis to determine product moisture content, or laser refractive particle size analysis to evaluate particle size.
"We usually start by looking at the cosmetic or personal care manufacturer's raw materials because they need a good foundation for a good blend," explains Paffendorf. "We look at how the powders behave and work to resolve their development and production problems. So, they are not only getting better products but also better process knowledge as well."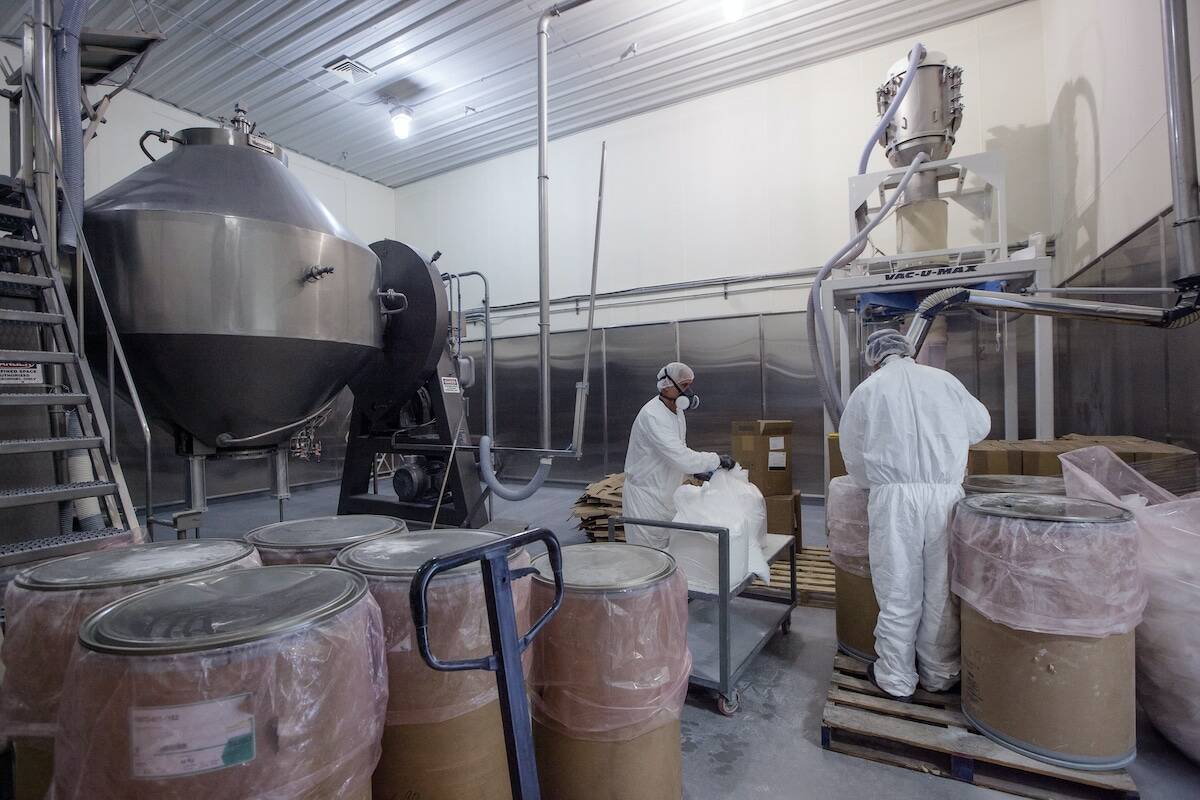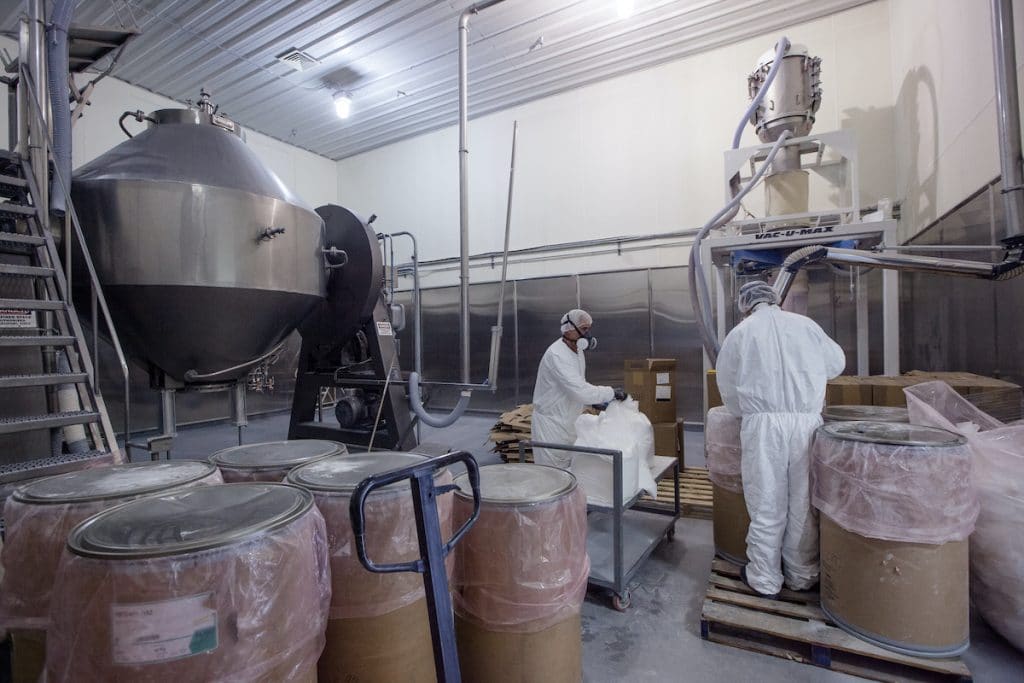 Specialized Blending/Drying
Of particular importance to cosmetics and personal care product manufacturers, working with an expert contract manufacturer can also help to more effectively and cost-efficiently achieve superior hydrophobic (waterproof) and other material properties, along with better distribution of active ingredients.
Having specialized equipment available is also critical to effectively blend powder and enrobe it in a hydrophobic coating.  While hydrophobic materials are not new in the cosmetics and personal care industry, optimizing the process is important to a wide range to create high-performance, powder-based products ranging from makeup and mascara to sunblock.
Unfortunately, traditional equipment such as plow, ribbon, and paddle mixers, which use blades or paddles to push material, often are limited to moving the material within the confines of their active area. The mechanics force the material bed outward, leaving dead spots inside the vessel where material moves more slowly or remains stationary.
"When the only particles that move are in front of the spinning blades, only some particles will be coated and others not – which will result in product fallout and failure," says Paffendorf.
According to Paffendorf, this challenge can often be resolved by utilizing either liquid enrobing or powder enrobing, along with special tumble blending equipment.
"We do a lot of liquid enrobing to create a hydrophobic powder for waterproof makeup and sunscreen," says Paffendorf. "We might use a solvent carrier to enrobe the powder, which essentially puts a waterproof shell around it."
For such contract manufacturing, APS has end-to-end equipment capable of delivering product in quantities from 2 kilos to 4,000 kilos per batch. The contract manufacturer is the in-house testing/engineering arm of GEMCO, a leading manufacturer of tumble blending and vacuum tumble drying equipment.
In contrast to traditional mixing, GEMCO tumble blenders apply even turbulence in all corners of the mix through a combination of macro and micro blending that produces a better distribution of active ingredients.
Macro blending is achieved by rotating the shaped vessel, allowing the material bed to fall away from the vessel's walls. The blender moves at a precise speed, with the vessel wall at a precise angle, so that the material cascades over itself. There is no additional force from paddles, plows, or spiral ribbons – just gravity.
While this occurs, micro mixing (if needed) simultaneously proceeds via agitator blades located in the mixing zone center of the vessel, where fine processing in the material transpires. Together, the macro and micro mixing evenly expose each particle to six times more active blending per revolution than traditional mixers.
"To manufacture cosmetic products, we utilize a tumble blender with an agitator to basically fluidize the entire bed," says Paffendorf. "We can atomize the coating solution to achieve a perfectly even distribution or enrobing of the powder particle, whether it is zinc oxide or titanium dioxide."
In developing or producing specialized cosmetic or personal care products, precision drying is often required as well. In this case, drying is required to remove the solvents and solutions used in the enrobing.
"As potentially hazardous materials, drying equipment must also include systems capable of recovering solutions used as carriers, such as solvents, which cannot be released into the environment," says Paffendorf.
When powder enrobing is called for, this is available too. The process, which enables a powder coating to accumulate as it contacts other particles in a controlled process, is also referred to as enrobing by agglomeration.
"We might put in a certain percentage of liquid to moisten the powder in the tumble blender, and then add powder which accumulates on the outside of the existing powder coating," says Paffendorf. "This continues until the desired coating is achieved."
In terms of contract manufacturing, the enrobing process can be used separately or in conjunction with other processes to achieve certain enhanced material properties, such hydrophobicity, smoothness, durability, and even time-release.
Although it is not technically enrobing, a process that infuses particles with a fragrance such as for body powders can also be accomplished by a skilled contract manufacturer.
Regardless of the specify type of blending or drying required, cosmetic and personal care product manufacturers that do not have the expertise or specialized equipment can benefit from outsourcing more challenging powder blends to skilled contract manufacturers that can assist with development, then scale up to full production.
For more info, call 800-654-3626 in the U.S.; Fax 732-733-1175; email sales@okgemco.com; visit okgemco.com; or write to Advanced Powder Solutions at 301 Smalley Ave, Middlesex, NJ 08846 USA.