As the lifeline of your brewing operation, inefficient or unreliable transport of products anywhere throughout the brewing process can leave you at a standstill. This holds especially true at the front-end of operations with grain and bulk ingredient handling.
Unlike commonly used flex-augers and screw conveyors, tubular drag conveyors can transport products both horizontally and vertically within a single system.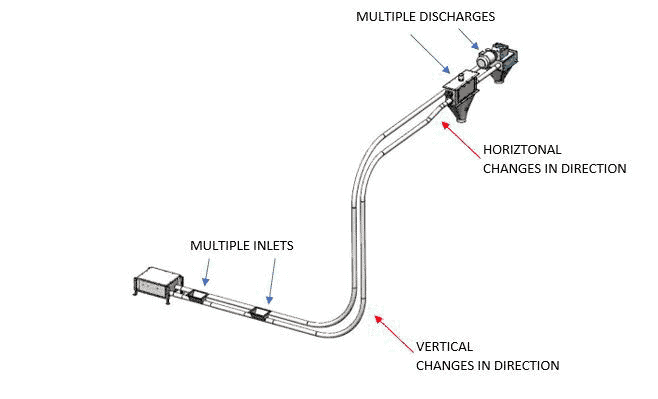 What used to take a series of unreliable screw style conveyors or expensive vacuum systems can now be replaced with a single, robust and reliable system.
With a small footprint and flexible design capabilities, a tubular drag conveyor allows you to maximize space utilization while simultaneously increasing operational efficiency.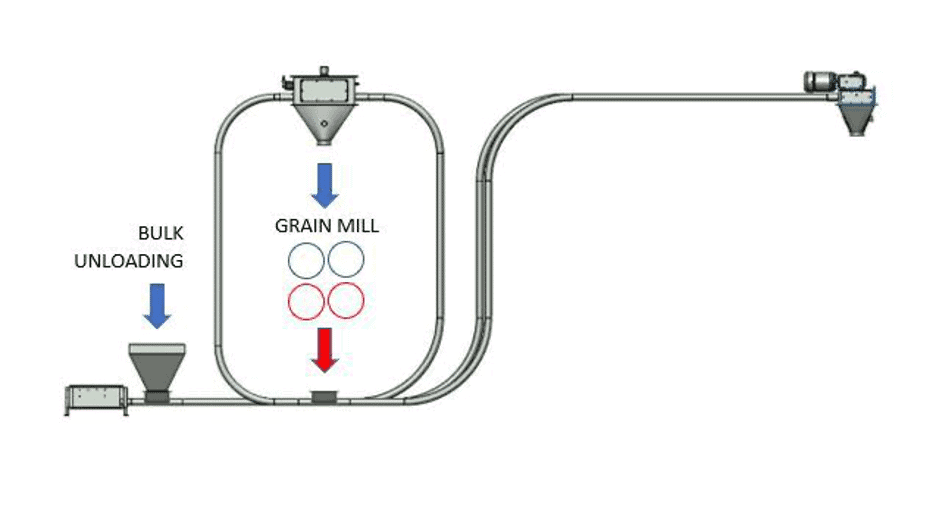 One tubular drag conveyor, called the Chain-Vey, is made of all FDA approved materials. Its modular design allows you to streamline bulk ingredient processing without wasting valuable floor space or interfering with aisleways. Custom elbows are available in several radii and degrees (5°-90°) providing seemingly limitless routing options making snaking around corners, avoiding existing equipment and structures, or going to the other side of the facility, a simple task.
The fully enclosed tubular drag conveyor is easy to operate and requires nearly zero annual spare parts or maintenance. The ultra high-strength chain allows the system to be started and stopped under full product load further increasing production flexibility.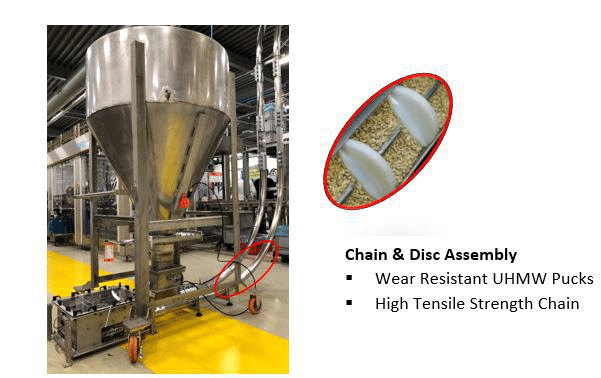 A tubular drag conveyor's self-cleaning design with multiple inlets and discharge capabilities make it perfect for unloading both base and specialty malts with no concern for cross-contamination between batches.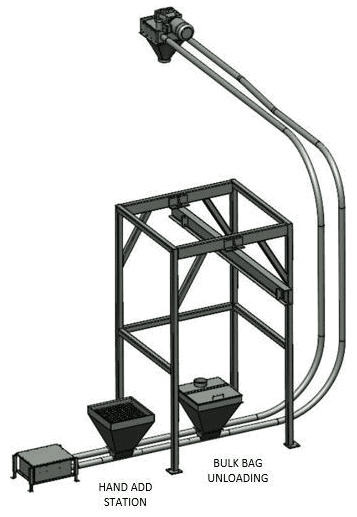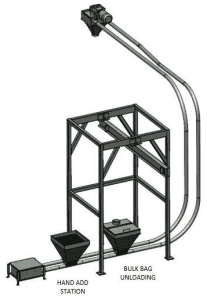 The low-profile design allows for the integration of ergonomic unloading stations and functional bulk bag unloaders when head height is at a minimum.
The modular design of the system also allows the system to be field retrofitted/modified to expand with your brewery as your volume increases. Whether increasing bulk unloading capabilities or adding an additional grist case, extending or re-routing a tubular drag conveyor is an extremely easy process.
Reach out to an MPE Sales Engineer to further discuss tubular drag conveyors and how you can maximize space and plan for sustainable growth using these quality conveyance systems.