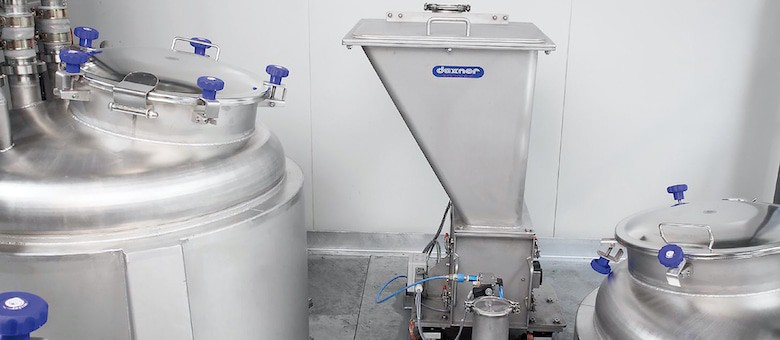 Dosing screw conveyors are used for dosing the exact component quantity into a weighing bin.
The material enters the dosing screw conveyor through the product inlet and is then gently conveyed through the screw conveyor by the helix blades. A variable frequency drive controls the throughput. Different speeds for coarse and fine dosing combine a high throughput volume and exact measuring.
Various design implementations yield optimized solutions for various customer requirements. Examples are fast and easy cleaning features, air purge fittings for meeting the highest hygienic standards, and the usage of the fit material and surface finish for the corresponding application at hand.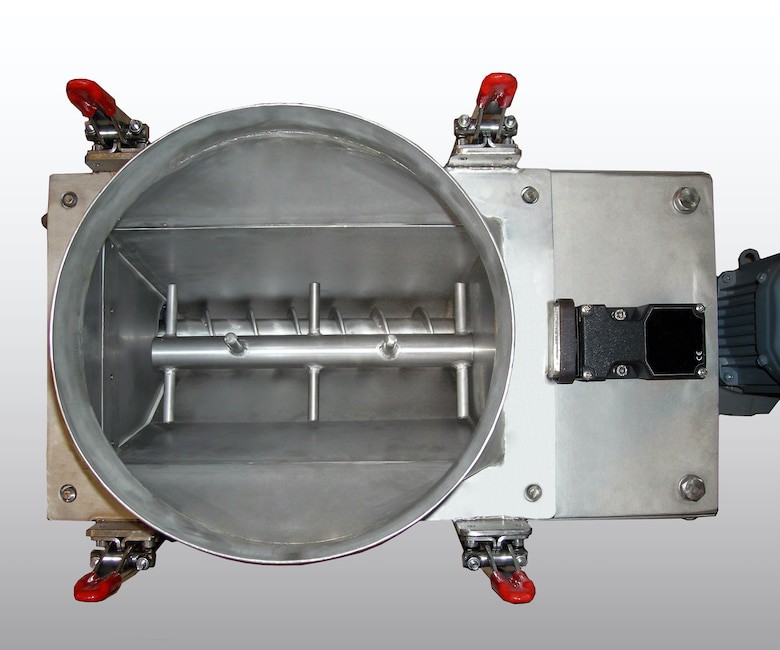 Optional fast disassembly features allow for quick cleaning and inspection without the use of tools.
Daxner´s loss-in-weight feeders are implemented for the continuous dosing of floury and granular materials. The dosing capacity reaches from 20 up to 200 l/h.
Material is loaded into the inlet hopper. Paddles provide a continuous discharge into the dosing screw conveyor. A variable frequency drive regulates the speed of this high precision dosing screw. After the flow is prevented by a flow stop flap at the discharge end.
The easy cleaning, slide out design allows for a fast cleaning of the entire device without the use of tools.
Special advantages:
Continuous, safe material dosing
Fast & easy cleaning by the slide-out design of the faceplate and
This article is published by
Daxner GmbH is an Austrian family-owned company with headquarters in Wels/Austria. From its beginnings in 1984, Daxner has developed into a global player in the bulk solids industry. Daxner supports its partners in the food & beverage-, animal feed- and chemical industry. Combined with a strong network of international subsidiaries, such as ...