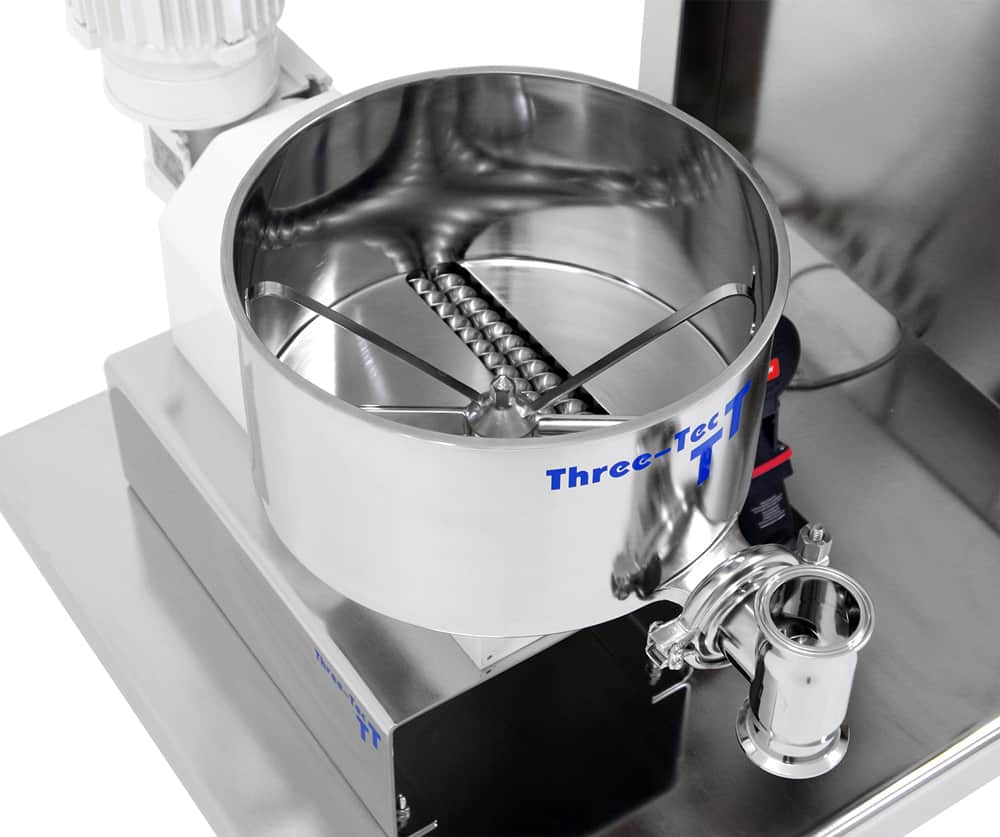 For poorly flowing materials and for maximum utilisation of the material to be fed, Three-Tec offers feeders with flat-trays. The flat-tray feeders convince with up to ten times less residual quantity remaining in the hopper.
Three-Tec's flat-tray feeders guarantee precise volumetric and gravimetric feeding of good to poor-flowing, moist or bridging products with flowabilities of ffc 1-5. We often use flat-tray feeders, especially for projects in the pharmaceutical and food industries, because they often work with poor-flowing powders, have high cleaning requirements, and only a minimum of material should remain in the hopper.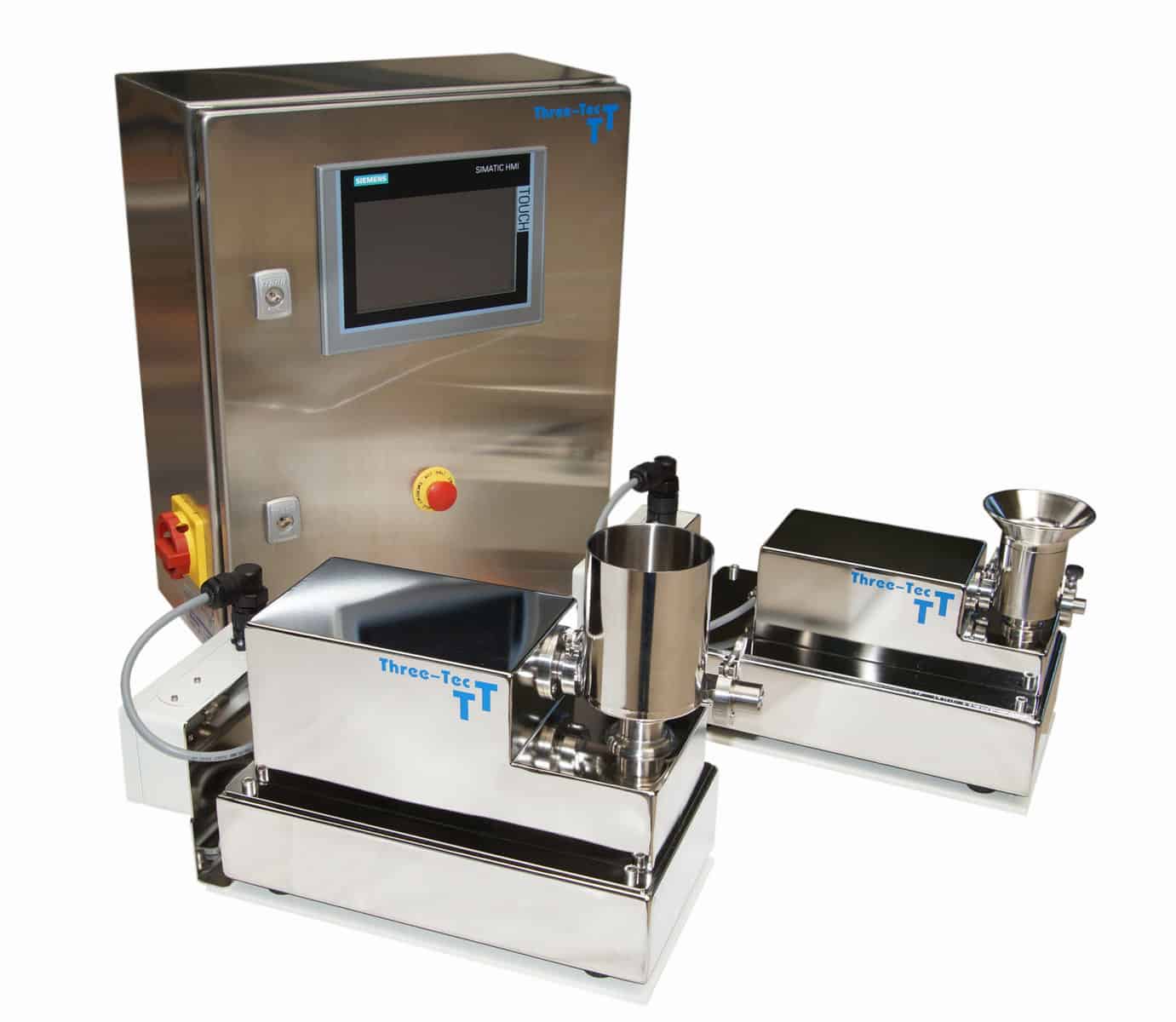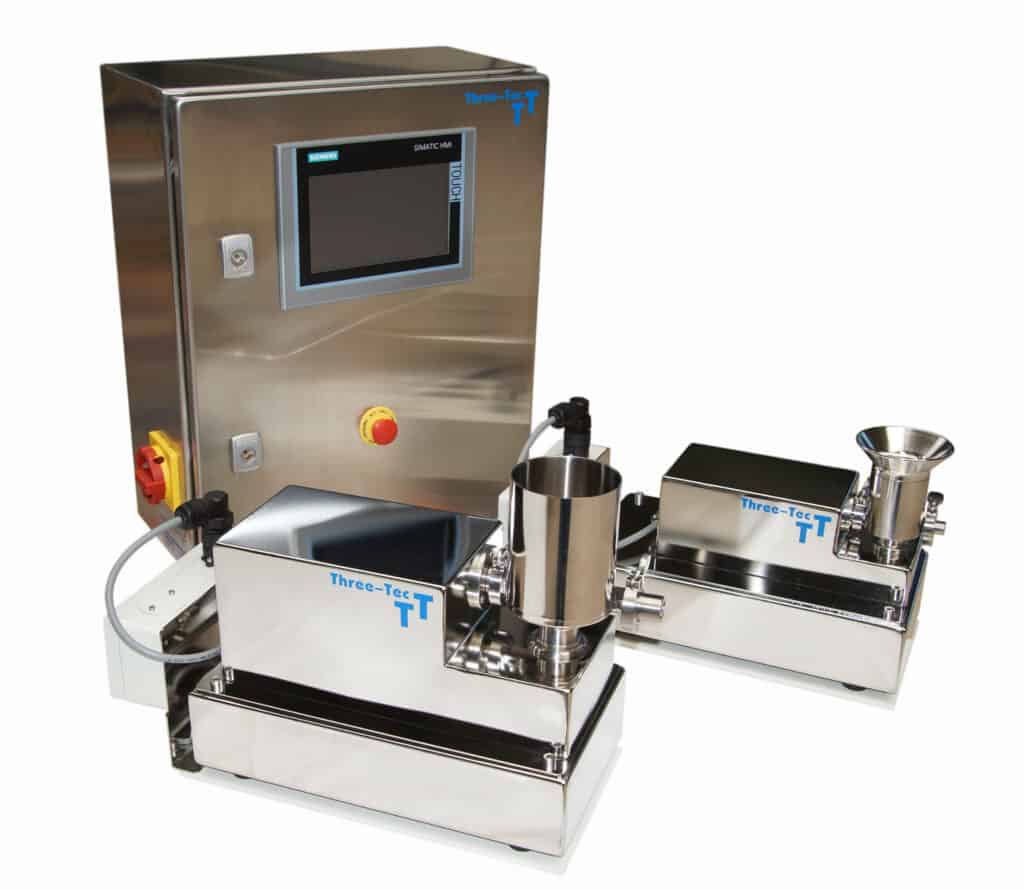 In tests in our internal test laboratory with poorly flowing micronized paracetamol, for example, the residual quantity in a normal hopper was 540 g, whereas in a device with a flat-tray with the same product and the same hopper volume and base, it was only 48 g. Thanks to the flat-tray, around ten times less material remained in the hopper. This difference is particularly decisive for feeding applications with expensive active ingredients.
Other features of flat-tray feeders:
precise feeding even with complex product behavior
extension with scale and control possible at any time
easily exchangeable feeding tools
various feeding tools such as solid-blade, concave or spiral screws facilitate adaptation to the product to be fed
very easy to clean
stable feeding thanks to gentle transport of the bulk material
feeding screws easy to replace thanks to bayonet fasteners
tray scrapers can be designed and manufactured according to customer requirements
very uniform feeding thanks to wide-open screw channel and constant filling through bottom scraper
For free-flowing products such as granules or free-flowing powders such as sugar or semolina, our feeders with standard hoppers can also be used.
Are you unsure which hopper is suitable for your dosing application? In the know-how section on our website you will find an overview of the different hoppers and their suitability for the nature of the product to be fed. We would also be happy to provide you with further information in person. We look forward to hearing from you!
This article is published by
Three-Tec is specialized in manufacturing small feeders and extruders for laboratory use, but also for the production of huge amounts. In addition to our standard products to feed on granules to very sticky powders, we are also capable of building customer-specific equipment. In our test lab, we are available to find specific solutions. Extruders: ...