Say goodbye to traditional auger fillers….
The all-new Kinematics' Model 5500/TX, rotary shuttle, vacuum/volumetric, powder filling machine has landed…
The ideal dry products filler for use in laboratory or small scale production…
Now, the world has serious bench-top powder filler with the capability of cleanly and accurately delivering repeatable small doses of dry powders in amounts of from approximately 1gm. to 180 gm., at fill rates of up to 25 fills/minute, often with Six-Sigma levels of repeat accuracy.
The filling principle employed in the Model 5500/TX is the key to its dose accuracy. Simply stated,
"If we fill a fixed-volume chamber with the dry powdered product, and compact it to a controlled even density, then fully discharge it, the weights of consecutive doses will be extremely close and repeatable."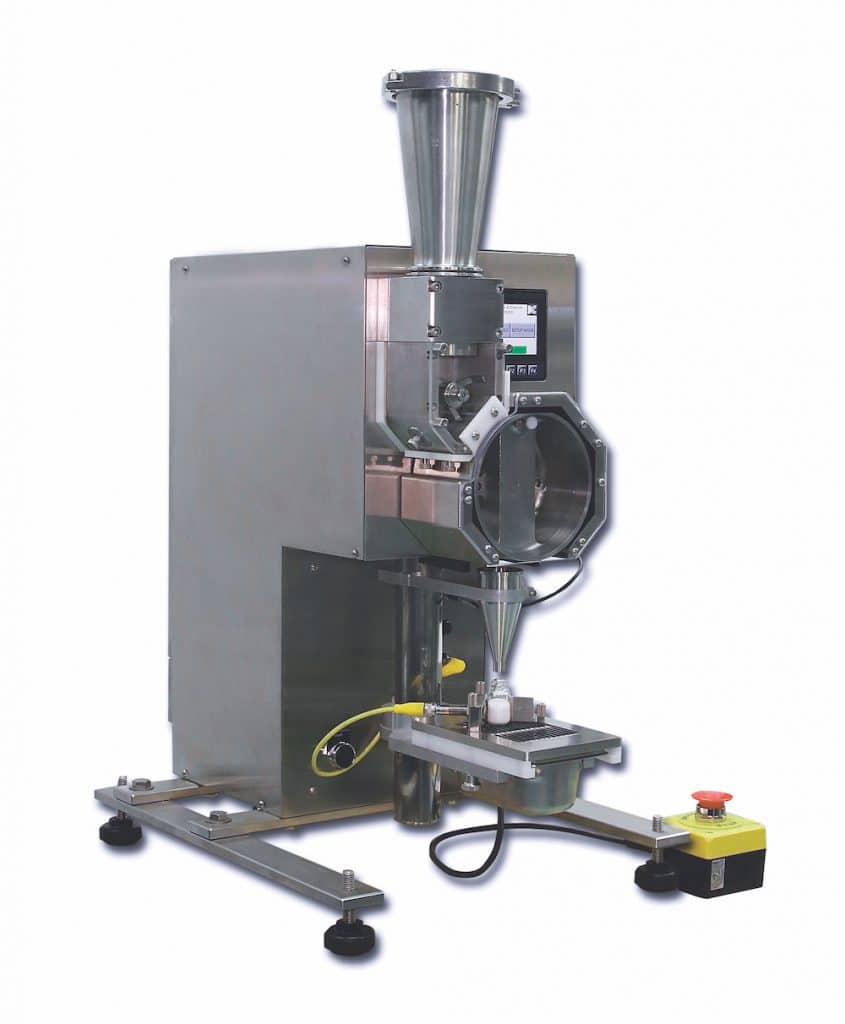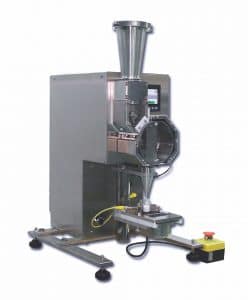 The use of a constant vacuum force to compress the powders to a uniform even density is the key to achieving the high level of repeat dose accuracy.
Everything on the Model 5500/TX is directly driven. The Ø6.0" O.D. shuttle disk is driven directly by a programmed stepper motor drive. The product agitator shaft is driven directly by a small A.C. induction gear motor. Absent are the clutches, brakes, belts, pulleys, bearings, and gears that were part of earlier designs. In a sense, you might compare the design technology of the Model 5500/TX to that of the "fly-by-wire" technology that is now employed in many of today's modern jet aircraft.
We have also taken all of the control relays out of the P.L.C. With no integral mechanical components, the life expectancy of the P.L.C. is significantly extended. Furthermore, there will never be any need to replace an entire, expensive P.L.C. because of an inherent mechanical relay failure. The control relays in the Model 5500/TX are robust, solid-state plug-ins, mounted on easily accessible DIN rail segments. If a relay fails, simply unplug it and replace it.
There are also no mechanical switches to foul. Solid-state sensors are employed throughout for all sensing, i.e., "container-presence", "product-drop" and "low-hopper-level".
A front-panel-mounted, full-color, touch-screen HMI allows the user to field-configure its operation by selecting any offie (5) pre-programmed modes of operation. These modes are described as follows.
Auto Cycle (Paced Delivery Mode.) In this mode, powder doses are automatically & repeatedly dropped from the shuttle disk on a fixed time interval. The user selects the rate at which the product is to be delivered. Once the sequence is started, the machine will continue to drop repetitive doses regardless of whether or not there is a container in place to receive the delivered dose. Filling in this manner does carry some risk of spilling the product.
Foot Pedal Actuate (Single or Multi-Shot Fill Cycle) In this mode, a footswitch closure initiates each dose cycle. The filler will deliver a single dose or multiple doses (if selected) with a single depression of the footswitch without regard to whether or not there is a container present at the fill station. This is an ideal model for filling hand-held pouches.
Foot Pedal Actuate w/Container "Present" Confirmation (Single or Multi-Shot Fill Cycle) In this mode, a footswitch closure is used to initiate each dose cycle. However, the machine controls will not allow delivery of a dose if there is no confirmation that a container is "present" at the fill station. The container "present" sensor must be actuated before a fill cycle is allowed to be initiated. In multi-shot mode, the container is held in place against the sensor until the programmed number of doses is dispensed. Once a cycle is completed, the filled container is removed and a new empty container is put into a position to await another footswitch actuation. Used for filling rigid containers placed on the container platform & filled either directly or through the funnel assembly.
Container Actuate (Single or Multi-Shot Fill Cycle) No footswitch signal is required. In this mode, the container "present" sensor alone initiates the filling cycle. A single powder dose or multiple doses (if selected.) is delivered each time that a container is placed in a position to receive powder against the container-present sensor. The container is held in position under the dosing wheel until the total number of shots selected for the cycle is dropped. Removing the container resets the P.L.C. for the next fill cycle. Ideal for quickly filling rigid containers placed on the container platform & filled either directly or through the funnel assembly.
Handshaking Mode (Integrated Automatic Fill Station) When the Model 5500/RS filler is integrated into a larger, fully-automatic filling system, it operates in a symbiotic "hand-shaking" mode with the host system's PLC. The host PLC starts each fill cycle with a switch closure. The dose is then delivered and the Model 5500 filler's PLC/HMI actuates a relay that signals back to the host PLC that the cycle has been completed. A "product-dropped" sensor is also included to provide a signal verifying that the product has actually been dropped. A successfully completed cycle comprises a verified, full up-and-down index of the shuttle disk as well as verification that the powder charge was actually dropped. The host PLC will retain the responsibility for integrating these independent signals. Also, in this mode, the filler's program will not be looking for a container-present signal to allow cycling. Again, the host system will be responsible for verifying container presence before it sends a start-cycle signal to the filler.
Configure your 5500/TX purchase the way you need it… All with 2-year Factory Warranty.
Choose only the features you need in your filler…
Base Machine, Model 5500/TX. (This component is essential and is always required.)
It includes:
(1) Model 5500/RS rotary shuttle fill mechanism with heavy-duty, stainless-steel mounting base;
(1) Model 4400/VC vacuum console unit with accessory footswitch;
(1) Small product hopper;
(1) A.C. power cable;
(2) I/O signal cables for interconnecting the 5500/RS with the 4400/VC unit;
(1) Vacuum/pressure line;
(1) An externally accessible CAT-5 communications port; (For direct or remote communication with the PLC.)
(1) 4-Pin, 12 mm. output signal cable;
(1) "Product-Dropped" sensor with mating cable.
Since there is no "container-present" sensor included in this basic configuration, the filling cycle is initiated solely by footswitch actuation.
All product contact parts are certified to be made of 316 stainless steel. Full documentation is included. Required tooling is sold as a separate item. (This element plus tooling is all that is needed for filling small pouches or bags.)
At least one set of tooling, comprising a custom Ø6" Shuttle Disk Assembly, is needed to complete the basic filler. The fill chamber is bored and honed to meet the customer's specific fill weight requirement. Dose weight is fully adjustable over a wide range within the specific chamber size for the tool.
Container Platform Assembly.
This option Includes the container platform with integral grating assembly; slide-in waste pan; container centering blocks; container present sensor and sensor cable. (This option is normally used for filling rigid containers and requires the column assembly option for mounting.)
This assembly is usedfor filling narrow-mouthed containers or bags with doses of free-flowing powder. (Its use requires the column assembly option for mounting.)
This assembly provides the means for supporting and adjusting the height of both the container platform assembly and the funnel assembly.
Large Product Hopper replaces small product hopper, allowing for fewer hopper refills when doing larger size doses.
Low Product Level Sensor. Adapts to either small or large product hopper for detecting low product levels. Relay contact closure allows for activation of external audio/visual alert or actuation of an automatic refill means.