Allied Hygiene, a world class manufacturer of wet and dry wipes to major market sectors, needed a UK packaging and automation manufacturer who could offer a short lead time for production line equipment. A key part of this requirement was the availability of local service engineers for operator training, spares and consumables replacements, as well as ongoing and future service cover. With RMGroup's expertise in automated packaging machinery systems, backed by exceptional service and after sales support, they were the perfect partner.
Given space constraints on Allied's flowpack production line, RMGroup installed their RMGPPC-1200 robotic pick and place cell, designed to allow ease of maintenance and clean down, whilst utilising minimal floor space. The robust 6 axis robot, which allows flexible and versatile packing, provides a cost effective, safe and high-speed solution. The pick and place cell solution included a Lantech C-1000 case erector and a Lantech CS-300 case sealer, both of which have throughputs of 30 cases a minute. Lantech's partnership with RMGroup, announced in July 2020, provides end-users with safe, reliable and configurable automation, along with experienced system integration to develop an effective and flexible production line.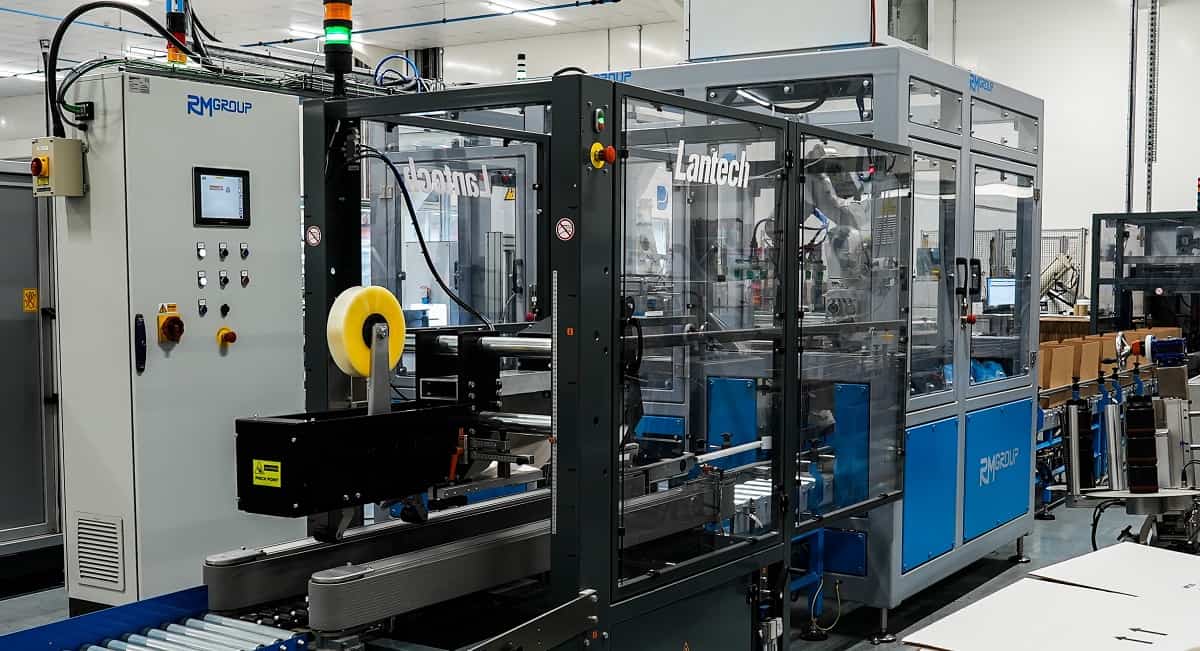 Andy Phippen, a director at Allied Hygiene, said: "This was the first equipment we have sourced from RMGroup and, given our time constraints, they fully met our brief. The pick and place cell rapidly improved our efficiencies and outputs by 40%, helping to reduce labour costs and allowing us to be more competitive for our flowpack range of products. Our working relationship with RMGroup was very good during a challenging period time wise, and although we have no immediate plans for further installations, any future expansion plans will certainly entail cooperation with RMGroup."
"We are delighted that we were able to provide an effective automation solution for Allied in the short timeframe given. Between the robotic pick and place cell from ourselves and the case handling equipment from Lantech, we are confident that Allied has the best possible packaging line solution available, providing them with a range of production benefits," added RMGroup's sales director, Ed Pugh.