Why protective screening?
Protective screenings are used to remove foreign objects and impurities from bulk materials. This can be remainings from packagings or metallic parts such as screws. These objects contaminate the product, but also damage the production equipment leading to expensive repairs and production downtimes. For end customers, the purity of products is important. So protection screens play an important role in maintaining a high product quality – until the products are finally packaged and sent to the client.
Where are protective screenings used?
Protective screens are used when the safety of a production process or the quality of a product could be endangered by contamination. This is possible at any point in the process. Typical use cases are:
1. Delivery of raw materials
Screenings ensure that impurities and coarse particles do not even enter the production process or the warehouses. If the bulk material is delivered via tanker trucks, protection screens are installed in the conveying line between silo and truck. If the raw materials are delivered in containers or big bags, the products are usually screened for protection directly when the containers are emptied.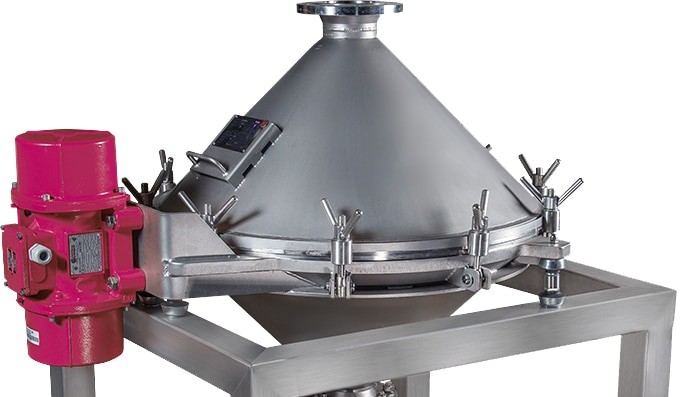 2. Within production processes
Sieves can also be found within the production process. Parts of machinery components can come loose during operation or maintenance work and fall into the product stream. To ensure the product quality needed, protective screens are used in particular at sensitive interfaces between processing steps: e.g. before the product enters mixers, agitators or intermediate vessels. The sieves often work in conjunction with other safety mechanisms, such as magnetic separators.
3. Before packaging the final product
Before the product is packaged for sale, it must be ensured that it is free of all unwanted components. Impurities that remain undetected have a direct impact on the quality at the customer's side. Protective screening machines are therefore an important safety anchor in the final quality assurance and contribute to customer satisfaction.
What characterises a good protective screening sieve?
1. Compact construction, small footprint
Even though their function is important, protective sieves are rarely the heart of a plant. They represent one of many process steps and should be integrated in the most space-saving way possible. To meet this, the JEL Fix II by Engelsmann, for example, has a compact design. With a screening surface of 0.5m², the complete screen housing has a height of only 27 cm. So the sieve fits in seamlessly as part of emptying, filling or mixing processes.
2. High throughput
The throughput of a sieve mainly depends on the size of the screening surface, the mesh size and screen settings like screen inclination and the type of movement generated by the drive. Ideally, all settings can be adapted to the flow properties of the bulk solids materials.
Another factor is the formation of plug-in grains. That describes product particles that stuck in the openings of the mesh during the screening process. Special mesh cleaning systems avoid a decreasing throughput. With the JEL Fix II, for example, you can choose between ball, triangular or ultrasonic cleaning for particularly fine powders.
3. Simple operability
Everything should be designed in a way the operator can work intuitively and without tools. It is also helpful that the machine can be dismantled in just a few steps. For example, the lid and the lower part of the sieve housing must be easy to separate from each other. This is also important when changing screen inserts. Quick-action clamping systems or star grips have proven to be the best solution.
4. Cleanability and hygiene
Many industries place high hygiene requirements on the production equipment used. The avoidance of product storage areas and dead spaces as well as good accessibility to all parts is therefore a top priority.
Frame racks made of stainless steel, extended radii, various surface treatments and roughness depths are only one part of a comprehensive hygiene concept. Base frames made of round tubes, for example, are less susceptible to product deposits than square profiles. The inside of the sieve trough must be hygienic too: profile seals in plug-in design can simply be pulled off during cleaning and then reinserted. Ideally, they are made of materials according to FDA or EC 1935/2004 standards.