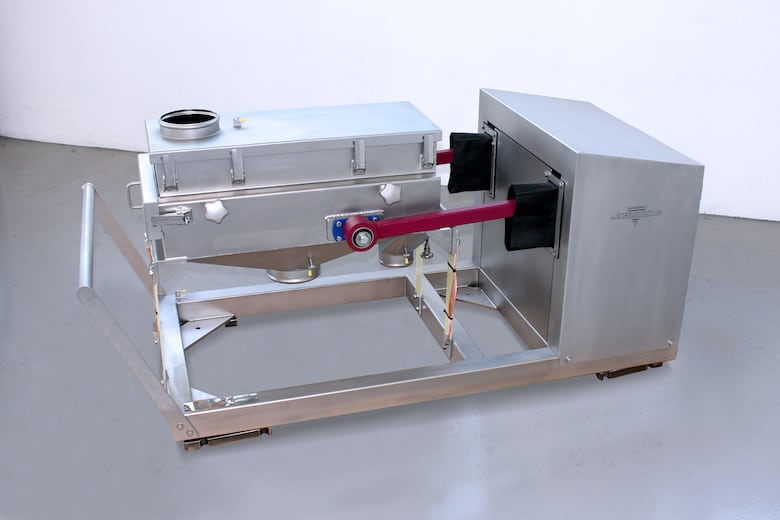 LUDWIGSHAFEN/RHEIN - Regardless of whether you are mixing, conveying, or dosing - when it comes to handling fragile bulk solids, sensitivity is required. This particularly applies to screening machines, as the back and forth movement on the screen surface places a relatively high mechanical stress on the screening product.
If this aspect is not taken into consideration when choosing and designing your screening machine, it can lead to an unwanted breakdown of grains which then results in an increased number of over- and undersized particles in the product, causing it to be no longer fit for purpose. A screening process that is gentle to the product is therefore a decisive criteria for many facility operators when it comes to choosing the right screening machine.
An additional issue that screening machine suppliers have to face – aside from ensuring the quality of the screening product – is the demand for a machine handling that is as simple as possible. This requirement is commonly put in place in combination with flexible customization options. As if a variety of different products need to be screened with the same machine, the handling of the processing technology used needs to be simple so that it can be quickly adjusted to different conditions. In addition, the growing demand for high-quality screening machines for the food and pharmaceutical industries, as well as generally increasing hygiene requirements, means that ease of cleaning is becoming more decisive criteria.
Engelsmann has combined all of these key aspects in a new long-stroke variation of the JEL Konti II screening machine, which was actually originally designed as a standard vibration screening machine. The new Long-Stroke Konti combines the gentle product screening process of a long-stroke screening machine with simple handling, varied adjustment options, and easy cleaning of a JEL Konti II.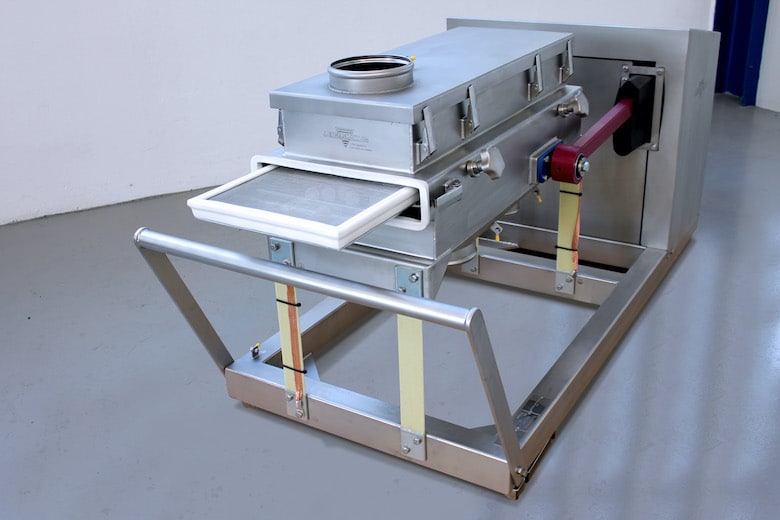 Gentle screening through long-stroke movements
Whether a product is gently screened or not is (along with the individual configuration of the screening parameters) largely determined by the screen movement: The more gentle the screen movement, the more gentle the screening process. The use of long-stroke screening machines has proven to be particularly effective for the screening of fragile products. With this type of screening machine, a momentum drive moves the screen housing horizontally, whereas, with vibration screening machines, the screen also moves vertically. This means that the product has a tendency to bounce up and down on the screen, which is exactly what should be avoided when dealing with fragile bulk solids. In addition, long-stroke screening machines swing with a larger amplitude which means that they have a lower acceleration effect on the screening product than vibration screening machines. The result? A particularly gentle screening process. The new Long-Stroke Konti has this exact advantage. With this new screening machine, the JEL Konti II housing is not mounted on springs and driven by a vibration motor as usual but is instead built into a swing frame driven by a momentum drive which is much more typical of long-stroke screening machines. In principle, the product is moved on the screen more slowly and gently thanks to the long-stroke movements. As long-stroke screening machines have a significantly longer stroke than vibration screening machines, they are capable of achieving an optimal conveying and screening movement with less acceleration. Thanks to this, an unwanted breakdown of grains and the resulting increase of over- and undersized particles are prevented – Particularly with high-quality bulk solids, the reduction of over- and undersized particles, and the resulting improvement in product quality, means that the investment that you have made in the machine pays off quickly.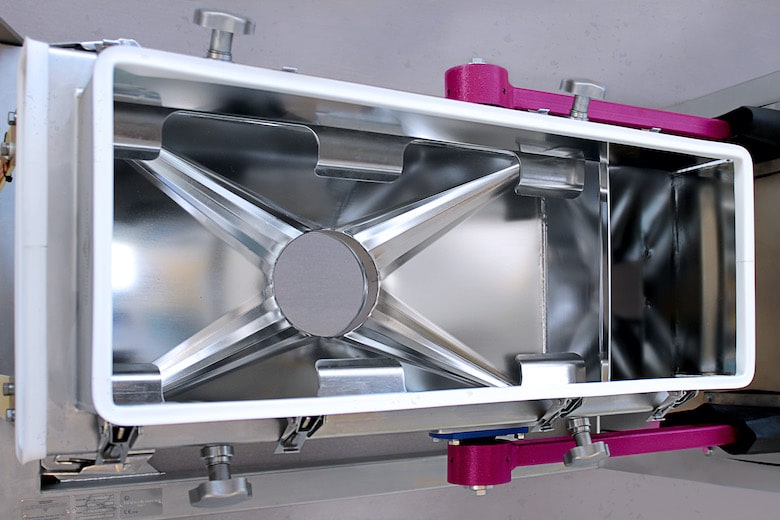 Screen change in just 30 seconds
Easy access to the screen inserts of a machine is not only interesting if they need to be changed frequently. It's also an advantage if operators can easily reach the screen insert – ideally without any tools and extensive dismantling being needed – for inspection and cleaning purposes. The screen housing of the Long-Stroke Konti provides the perfect solution for this requirement with its special drawer system. To change a screen insert, you simply need to loosen two quick-release clamps on the front of the machine cover. The small cover can then be removed and the screen insert can be pulled out of the machine housing like a drawer. The screen doesn't need to be disconnected from the product feed and discharge units, let alone be dismantled, unlike with many other screening machines. As a result, with the Long-Stroke Konti, the whole process doesn't take longer than 30 seconds. In addition, all closure mechanisms are designed as quick-release closures or star grips so that the machine can be operated comfortably and largely without tools.
Suitable for use anywhere – even for products with high hygiene requirements
Every bulk solid has its own specific properties. Moisture content, break sensitivity, particle size, and flow properties are just a few of the factors that influence the design of a screening machine and the screening result. In order to achieve an optimum result, even for products with more unfavorable properties, and to be able to screen a variety of products using just one machine, many of the Long-Stroke Konti's parameters can also be retroactively adjusted. You can quickly adjust the screen to the screening product by regulating the screen inclination and oscillation amplitude. This means that the Long-Stroke Konti can also be used to screen a variety of different products or products whose properties may change from batch to batch.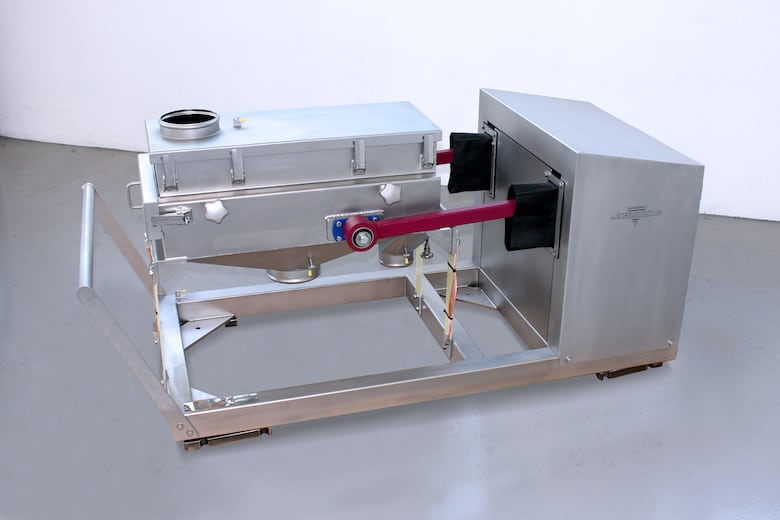 Despite having a rectangular screen housing, the Long-Stroke Konti is perfect for operations that have high hygiene requirements as thanks to the large radii, the whole of the interior trough is easily accessible for cleaning purposes and has no dead space. The interior seals are food-safe plug-in seals. They can be easily removed, cleaned, and plugged-in again as needed. The minimalistic design and smooth surfaces of the screen housing also mean that even the long-stroke variation of the JEL Konti can be thoroughly cleaned in a short amount of time.
The bottom line: The new Long-Stroke Konti combines the clever handling of the popular JEL Konti II vibration screening machine with the gentle screening process of a long-stroke screening machine. This screening machine variation is therefore ideal for all facility operators that place great importance on having a screening process that is gentle to products and a screening machine that doesn't cut corners when it comes to the handling or ease of cleaning. The Long-Stroke Konti is available as a single or double-layer screening machine with a screen surface ranging from 0.18 to 1.8 m2. You can also choose to equip it with a cleaning system (either ball or ultrasound cleaning), different types of inlet and outlet sleeves, and even separator sheets.
This article is published by
J. Engelsmann AG disposes of 140 years of experience in developing and realizing solutions for process technology. Our engineers design and construct both process machines and complete plants according to the requirements specified by the customers. Our main customers are leading companies of the chemical, pharmaceutical, plastic processing ...