Last September, Coscollola Engineering successfully completed the commissioning of a three-line barium sulfate (BaSO4) feed system for a manufacturer in northern Spain.
Barium sulfate is an additive widely used by plastic transformers for its flame retardant, acoustic and thermal insulating properties.
It is also a complex product for its proper handling because it has a high bulk density:
it has a high bulk density and between 2.1 and 2.7 kg/dm3 it is abrasive
it is hygroscopic
in its powder form, it has a tendency to compact if stored in large quantities.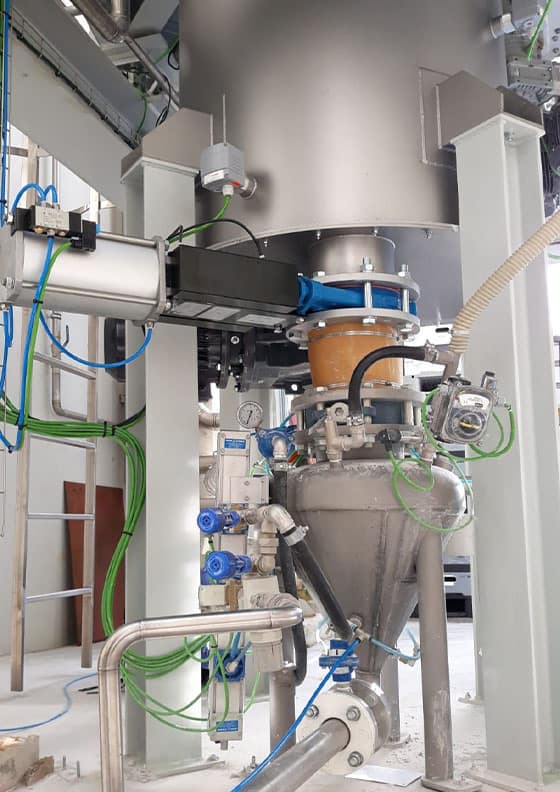 To solve these difficulties, Coscollola Engineering has designed and developed the following:
Storage with a 60 m3 silo and mechanical extraction with a milling cutter extractor.
Pneumatic conveying in dense phase (150 m. approx.) with in-line booster.
Piping and hoppers of reinforced destination with nitro treatment and easy replacement and/or maintenance.
Gravimetric refill hoppers with mechanical extraction, flat bottom and fluidization.
This design allows the customer to work in a completely automated and clean way, since the incoming material is received through tanks, without any manipulation by production personnel.
The high capacities are guaranteed by the robust dense phase pneumatic conveying technology and allow three production lines to be fed.
In this project, the Coscollola Group was also responsible for the supply, assembly and commissioning of KraussMaffei processing machinery, Motan-Colortronic plastic pellet conveying and dosing systems, as well as Frigel cooling equipment.
This article is published by
Coscollola Engineering is part of Coscollola, a solid family business founded in 1948. Our core business is the engineering, development and the implementation of tailored solutions for the solids manipulation, providing huge experience and know-how in: