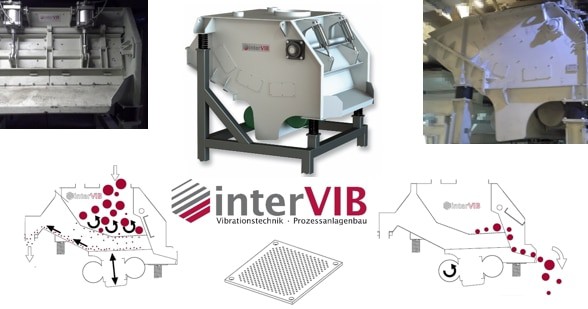 Lump Breaker LB is in operation in foundries for recycling and grating lumped-up molding sand. They are delivered in three standard sizes, but can be customized to the required application.
Essentially the main parts of the interVIB Lump Breaker are the infeed, breaking trough, discharge, and discarding flap for the debris.
Inside the breaking trough, the lumps are pulverized by vibration down to particle sizes for reusing the molding sand. The required particle size is achieved by exchangeable, bolted-in screen plates which include downwards conical boreholes. The graded particles are transported upwards to the discharge. These particles are lead back into the production process.
Advantages interVIB Lump Breaker LB
high operational availability
less wear and energy efficient
easy access to the breaker trough, reducing maintenance time
short term discarding time of debris (< 2 minutes) · no frequency controller needed
standardized parts of worldwide well-known sub-suppliers
robust design with less machine weight
This article is published by
Intervib is a German company offering bulk material conveying solutions in all fields of industry. The highly engineered vibratory machinery conveys, screens, grades, meters, feeds and transfers your conveying good gentle and reliable.Intervib's solutions are customer-focussed in all fields of industry. There are mostly no tasks in bulk material handling ...