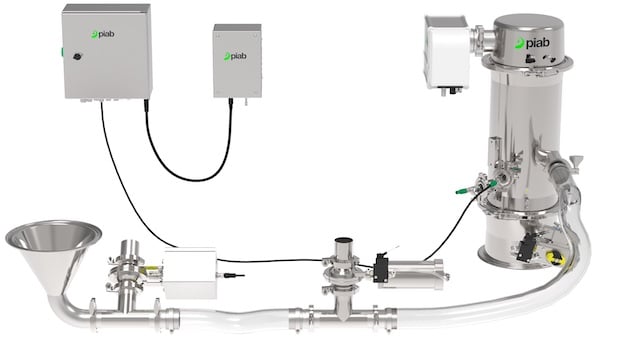 Piab's broad portfolio of lifting and moving solutions ensures that powders and granules provided or packaged in bags can be handled automatically. With piSMART® options included direct measuring, documenting and controlling is possible no matter which size or weight the bag is.
Handling of bags is a constant issue across industrial process chains. Be it the lifting of heavy sacks of ingredients like flour in a bakery to the filling of a nutraceutical powder in small stick packs for direct consumption by the consumer in the food and pharma industry. In the first case the challenge is to support the worker in a way that avoids work related back injuries, in the latter the question is of providing the right dosage of powder and later of packing bags into cartons.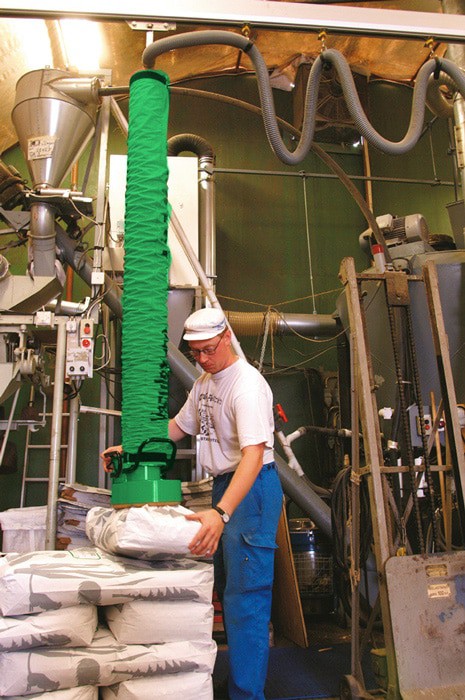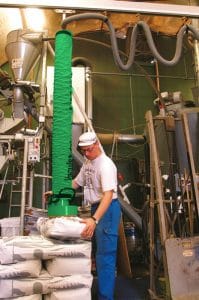 Piabs Vaculex® VL Sack Lifter allows workers to lift heavy sacks with ease. Regardless of what they are made of – paper, plastic, fabric – or what they contain – flour, sand, pharmaceutical ingredients – all sacks are handled with ease with the help of Piab's ergonomic Vaculex® vacuum lifter. No more heavy manual work such as lifting sacks for stacking on pallets, emptying into hoppers/feed stations, or feeding/loading/palletising directly into or from a production line. More than one third of all workplace injuries are caused by manual handling. Yet processing staff are still often expected to lift sacks weighing 25-50 kg, risking developing musculoskeletal disorders (MSDs) such as pain and injuries to spine/back and shoulders, and repetitive strain injuries. Vaculex® – Piab's semi-automated lifters are designed to take the strain off workers. Offering ergonomic and safe working environments, the Vaculex® vacuum-operated lifters also allow for efficiency improvements, elevating the productivity of a plant by enabling a good flow in handling procedures, and guaranteeing high quality of products through damage limitation.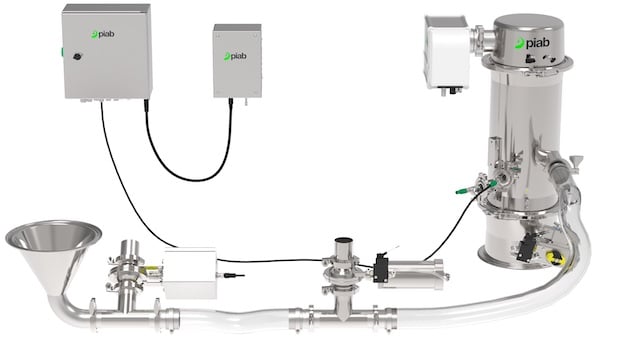 The piFLOW®SMART takes on the powder and based on Piab's vacuum technology conveys it to, for example, a mixing or filling station. Thanks to its smart technology it can now autotune its processes, i.e. adapt the flow rate to the material conveyed automatically. This turns the piFLOW®SMART into a real "Changeover Champion" as it is now possible to switch between different powders or granules without manually resetting the process. Changeover that would take one hour in a conventional vacuum conveyor takes only 10 minutes in the company's new and unique vacuum conveyor. A world first, piFLOW®p SMART is a self-optimising vacuum conveyor targeted primarily at industries handling many different materials and/or those in which frequent changes need to be made. This makes the conveyor ideally suited for producers within the food and pharma sectors, where its full changeover potential will have great impact, saving time and money. With each new conveying cycle, the piFLOW®p SMART will prove its name, using machine learning to automatically tune the process by configuring and optimising a flawless flow of materials, set at the correct rate.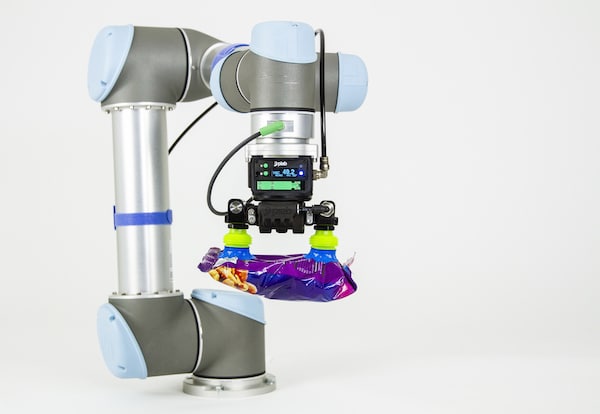 Packaging small bags in cartons is the specialty of Piab's piGRIP®suction cups that have specifically soft lips to hold on to the changing surface of a bag. They allow secure and quick moves to enable fast automated processes. Attached to the piCOBOT® they can be used with any cobot as a plug and play unit optimized for its energy consumption and equipped with flexible arms to fit every bag size. piCOBOT® builds on the idea of safe and flexible human-robot workplace interaction, found to be much more productive than either of them working on their own. Soft design lines guarantee that no one is injured if colliding with piCOBOT®.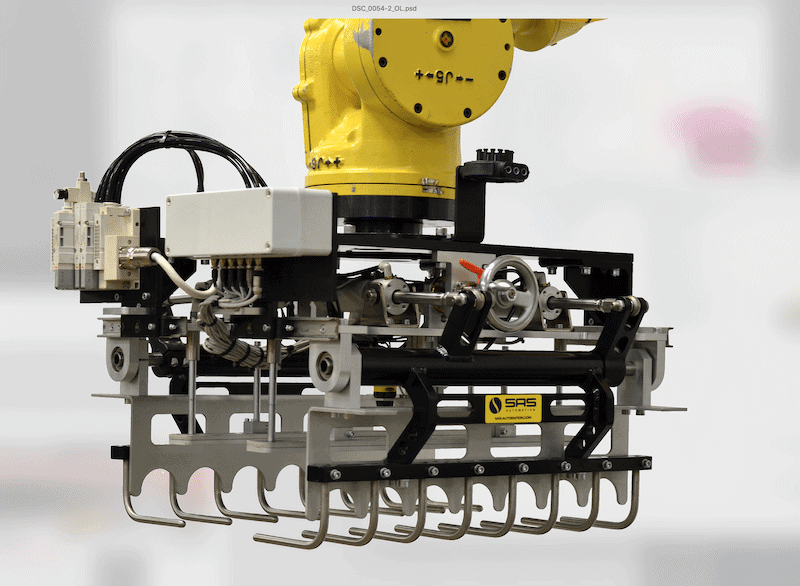 When large sacks need to be packaged Piab offers a forklift style bag gripper an original product of SAS Automation – a company Piab acquired in 2017. Radiused gripper fingers avoid puncturing of backs while decking plates that are independent from the gripper fingers enable precise bag placement on release. To allow high speed robot movements top mounted bag clamps stabilize the bag. Suctions cups at the outer ends of the gripper can be used to place slip sheets in between sack layers.
With the right tool bag handling can be automated and optimized ensuring that all productive processes keep running and are constantly fed with material in the right quantity, while final products are packed ready for the market.
This article is published by
Piab provides smart solutions for the automated world, helping thousands of end users and machine producers in e-commerce logistics, food, pharma, automotive and other manufacturing industries to improve energy-efficiency, productivity and working environments. With almost 500 employees and SEK 1.2bn in sales 2018, Piab is a global organization, ...