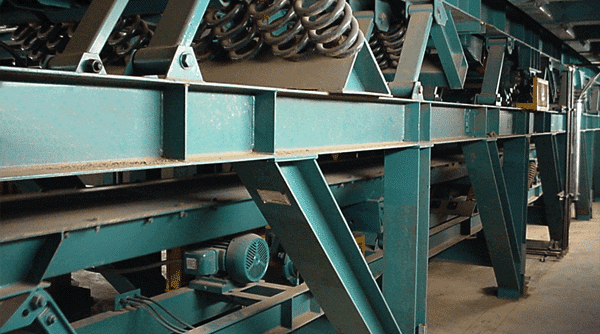 A staple in the industry for half of a century, General Kinematics SYNCRO-COIL® Vibratory Conveyors have a reputation for dependability, stability, and longevity.
In fact, it is still possible to find some of the original SYNCRO-COIL® Conveyors that have been working hard for nearly 60 years. From the beginning, GK engineers have designed these units using feedback from the industry, aiming to reduce and eliminate processing, maintenance, and safety issues. Created using the General Kinematics SYNCRO-CUSHION™ Coil Spring Drive, this conveyor model uses natural frequency to activate material while providing a rugged, low maintenance unit.
General Kinematics has the expertise and knowledge to respond to your objectives for efficient, dependable equipment in the processing of bulk materials. The SYNCRO-COIL® Conveyor can heat, cool, coat, convey and more, all while reducing energy consumption, maintenance, and downtime. A leader in the industry, General Kinematics can solve any bulk handling or processing problem and give you the support you and your business need.
Customizable design to fit your application- Multiple drive and isolation configurations along with light and heavy-duty construction options.
SYNCRO-CUSHION™ Coil Spring Drive- combines the advantages of natural frequency with a rugged drive and trough connection.
Balanced and Isolated Design- Transmission of forces to the surrounding equipment or building steel is reduced significantly.
This article is published by
General Kinematics Bulk Material Handling Equipment & Processing Solutions
Bulk material handling equipment simplifies the work-intensive process of managing rock, minerals, parts and other bulk materials. General Kinematics combines innovative technologies with production process insight and creativity to deliver engineered solutions ...