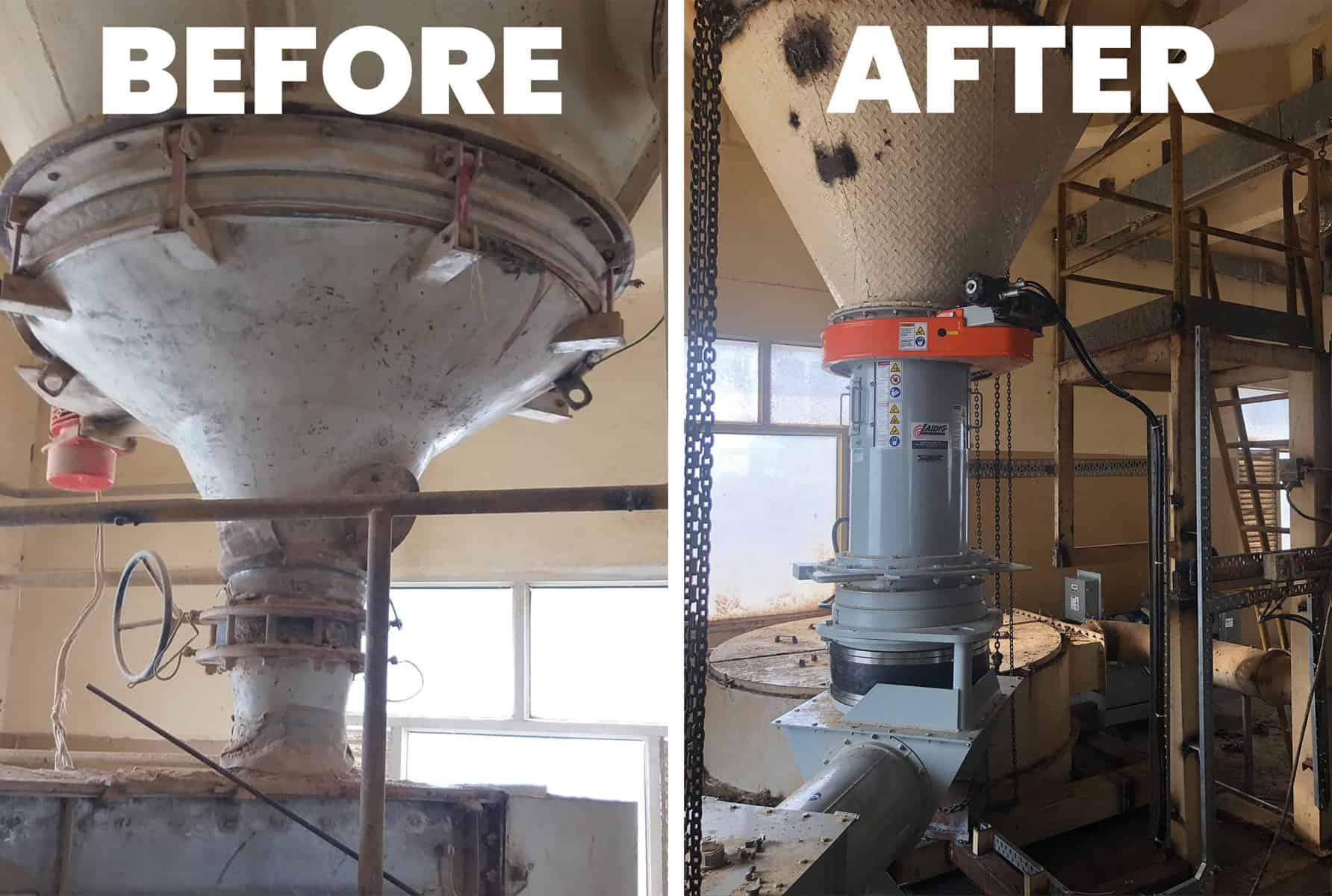 A corn processing plant in India was facing issues with channel flow and material bridging within their process silos, preventing the plant from operating at full capacity. Laidig Systems was committed to developing a solution that not only mitigated these issues, but also provided the customer with a superior fully automated reclaim system—increasing their product quality and processing efficiency, while reducing the manhours necessary for servicing their existing equipment.
Due to the high moisture content within the corn fiber, the material flow was erratic, causing the material to be prone to bridging and hard packing. As a possible fix, the customer invested into a vibratory silo bottom. Not addressing the issue, the "fix" quickly proved to be inadequate, often requiring plant personnel to manually strike the bottom of the silo with hammers in an attempt to promote material flow. Unknowingly, this reaction decreased the silo's integrity, while taking a physical toll on the employees and their overall capability to work efficiently.
Through 60+ years of custom application design experience, Laidig was able to provide three (3) Model #5360 Cone-Bottom reclaimers – replacing the ineffective vibratory silo bottoms, while retrofitting into the existing silo structures. The Laidig Model #5360 Cone-Bottom reclaimers were an excellent solution for this type of high-protein application. By providing a full 360-degree auger rotation underneath the corn fiber material, this allowed for a consistent FIFO flow pattern. By ensuring adequate material flow, this resolved bridging problems, maintained material quality, and eliminated the need for plant personnel to strike the silo structure – ultimately facilitating the environment for higher processing productivity.
This article is published by
Laidig Systems, Inc. is proud to be the leading provider of turnkey storage and reclaim systems in the World. Laidig's custom-engineered material handling systems offer proven performance and reliability that is second to none. Laidig is recognized throughout the industry for sophisticated, high-quality systems with special handling requirements, and ...