The Raptor Spark Detection and Extinguishing System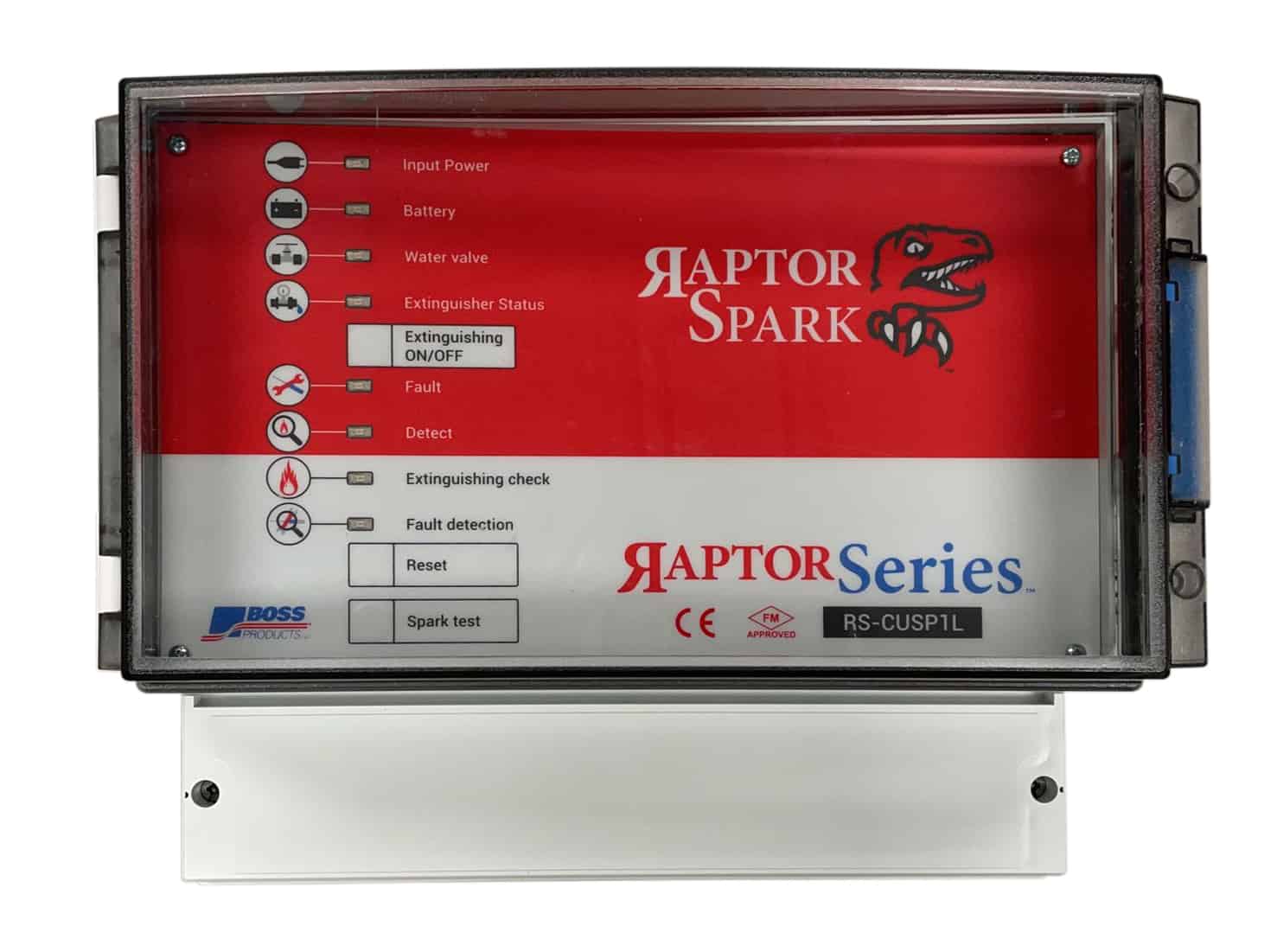 The Raptor Spark Detection and Extinguishing System is an FM approved safety system designed to reduce the risk of ignition of fire or explosion in dust collection systems.
It is made up of (3x) primary components, several auxiliary components, and many complementary components. The primary components are the Spark Detection Control Unit, commonly referred to as the RS-CUSP1L Control Unit, the Spark Detector(s), and the Extinguishing Unit.
The Raptor Spark single zone control system reduces the complexity and size of the Raptor Spark CU1610 control system to provide a solution for single duct spark detection and extinguishing applications. The spark detector and extinguishing unit in the Raptor Spark control system have been redesigned to allow for a simple and fast installation into the duct. The interface of the Raptor Spark control unit has been streamlined to provide the customer with only the essential information on the status of their system so that there is no confusion during installation or operation.
Raptor Spark has been specifically designed to be the most versatile and powerful Single Zone Spark Detection and Extinguishing System available today. Engineered with 6 input and output capacity, Raptor Spark easily controls a wide variety of clean and dirty side duct hazards.
The Raptor Spark provides the customer peace of mind in knowing that their business is protected and monitored by the latest single zone detection and extinguishing control system. The simple but powerful design of the Raptor Spark detect and extinguishing system allows for easy installation and straightforward operation so that your business can set it up and forget that it exists knowing you are protected.
This article is published by
Who We Are:
Boss Products was founded in 2012 with a singular vision to provide a complete product offering of integrated, energy-saving fire and explosion protection components for the industrial filtration and process industries. From the very beginning, we have stayed firm in our commitment to support select distribution and OEM manufacturers ...