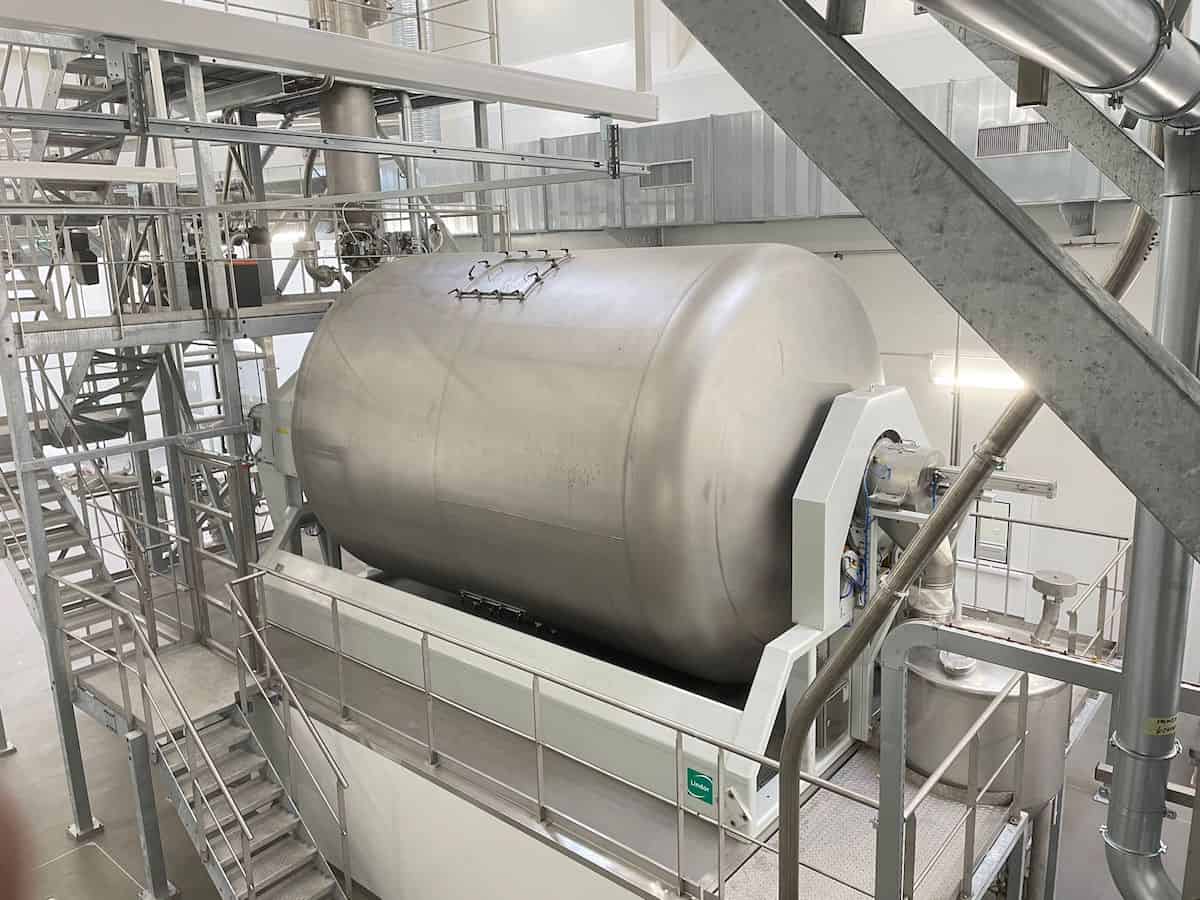 The first company to super-size their mixer and, in effect, extended the Lindor product range to the XXL L25000 in the 2004, was French gelatin pioneer: Weishardt. The concept was simple enough; they required a large capacity industrial blender the size of a tanker truck tank for the homogenous mixing of gelatin powder and granulate.
The realization of the concept was, however, far from simple. Flash forward to today, their 3rd XXL Lindor mixer has just been installed in their newly opened plant in Graulhet, France where collagen is being blended.
A bespoke solution in mixing technology
Weishardt's need for a 25,000-liter mixer drove the innovation which resulted in the Lindor L25000, the world's largest powder mixer of its kind.
At the time of the inquiry 18 years ago, the Lindor factory was not structurally capable of hoisting such a giant. A solid 20 tons of metal with a 12,5-ton rotating mass; it was even too heavy for the factory floors to bear. As Head of Engineering, Akko van der Lee, who led the original project team, fondly recalls: "We improved our building infrastructure due to that project." One example being the installation of a 20-ton special overhead crane.
There were also limitations of know-how. At the start, Lindor did not have the experience from a prior, similar-scale project nor the advantage of modern engineering technology. Yet the machine and design durability have withstood nearly 20 years of ongoing mass gelatin production.
Continuous innovation in Lindor products
To date, Weishardt runs 3 Lindor L25000 mixers in 3 factory locations: Their latest order just installed in their newly opened production site, the original machine that is still running in their pork gelatin plant also located in Graulhet, France, and their second mixer, delivered in 2006, running in another gelatin production site in Montreal, Canada. The ongoing and close collaboration between Weishardt and Lindor has driven new innovations in mixing technology.
Since the delivery of the original machine, the most notable innovation has been in the frame of the machines. After a service visit in 2006, it became apparent that the effort required to disassemble the carrying wheel could be minimized through an improvement in the design of the inlet and outlet.
Therefore, a small detail of the design has been changed so that the carrying wheel can be disassembled more easily. In 2004 the inlet and outlet were rectangular but are now round as a standard. This allows the product to flow more easily and ensures that little to no residue will be found in the inlet and outlet. Furthermore, much development has been done over the years on the design of the wheel itself. These improvements enable the Lindor team to provide a higher level of service.
Suitability for gelatin and collagen mixing
According to Madame Régine Berbon, Director of Blending at Weishardt, the value of Lindor machines is in the quality of product they are able to achieve and the ability to mix and match batches to meet client and application requirements.
In gelatin and collagen mixing, there are critical demands of a mixer. One of which is the capability to blend the powders and pellets without heating them up. An increase in temperature during the mixing process causes gelatin to become sticky and form lumps. Furthermore, the delivered lot must reach the desired homogeneity without any breakage of pellets and powder particles, which create dust.
Lindor mixers do not heat the product during the mixing process and deliver excellent homogeneity in combination with little to no breakage and dust formation.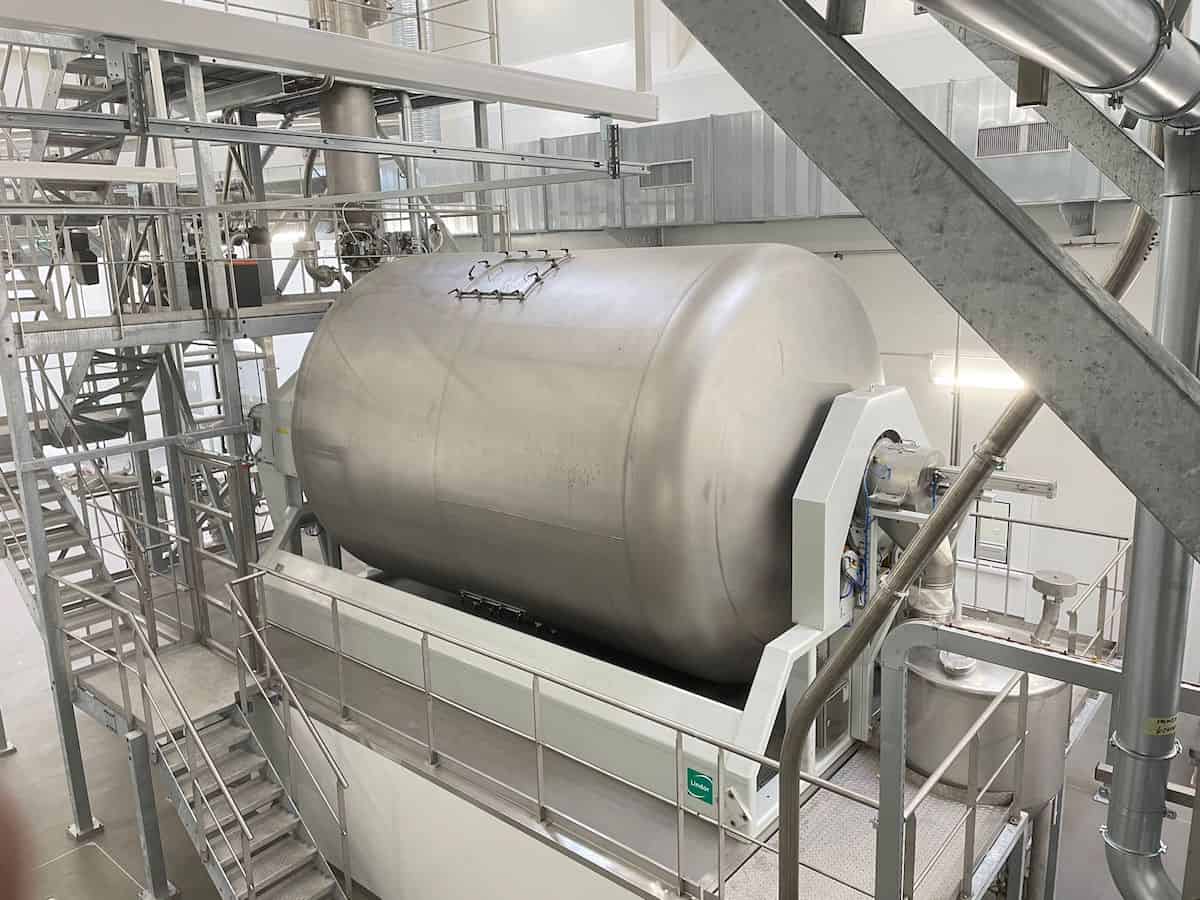 Large batch mixing with the L25000
Lindor mixers suitable for gelatin and collagen mixing can be ordered in a range of sizes. The L25000 is best suited for large-scale production. In Weishardt's case, they need very large machines to meet production capacity and to keep batch-testing efforts and costs low. Moreover, they need the ability to mix and match large quantities to meet client and application requirements. With the L25000, they have minimized the time lost to mixing and matching many smaller batches to complete a lot for a certain order.
Specialists in powder mixing technology
Gelatin and collagen are among the many applications in which Lindor mixers are suitable. Other Lindor XXL mixers have been installed for SAP (Super Adsorbent Powders), Polymer Compounds, MIM Compounds, Vegetable Seeds and more.
Throughout the years, Lindor machines have provided clients with valuable, innovative and long-lasting mixing solutions in various types of powder and granulate production processes.
If you are looking for an industrial mixer for a similar application, feel free to contact us at mixers@lindor.nl or give us a call at +31-78-6550655.
This article is published by
Lindor, manufacturer of rotary drum mixers, is known for its gentle touch mixing technique. The concept stands alone in that the design is entirely free of internal agitators. The gentle but thorough mixing effect is achieved by means of internally fixed, curved and orientated scoops. Lindor rotary drum mixers are designed for the processing of ...