The challenges faced by machinery for processing difficult-to-handle material, as in the sector of mining, are manifold: the equipment is constantly exposed to harsh, dusty environments. In addition, the classification of mined ores or minerals as well as the subsequent separation from blind rocks strain the machines involved; downtimes are cost-intensive and bearing periods often too short.(1)
Reliability, service, safety, throughput and availability are essential for the economic success. For this reason, the choice of the right machines for the preparation of raw material is crucial.
A wide portfolio of vibrating screens, magnetic separators and vibroconveyors is available for a variety of applications e.g.:
metal ores and concentrates
sintering plants in the steel industry
carbon and graphite masses
raw materials and materials in the ceramics industry
non-ferrous metals in powder metallurgy
raw materials for the manufacturing of refractory products
salts for industrial applications
In terms of the material handling process, the equipment is used in the fields of scalping, separating, sizing and conveying:
Scalping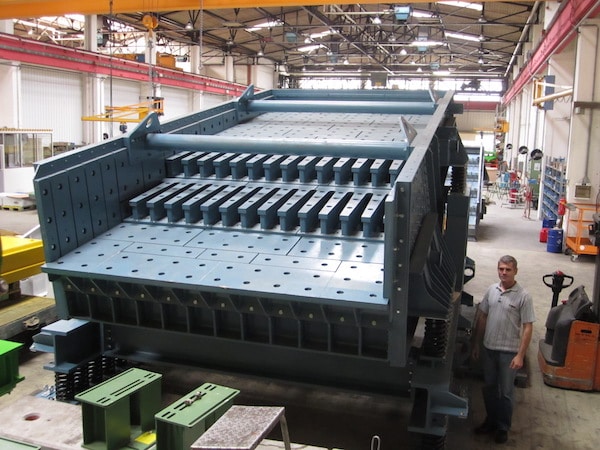 For scalping usually robust grizzly feeders in heavy duty design are in operation. They are used to feed crushers and mills, or as separating grates. Example: feed material with sizes up to 1000 mm and feed rates of more than 5000 t/h for iron ore are fed to a cone crusher, where the scalper removes fines below a cut point of 100 mm. The robust and reliable design combined with special wear plates (thickness 50 mm) allows for long lasting, safe operation under heavy duty conditions.
Sizing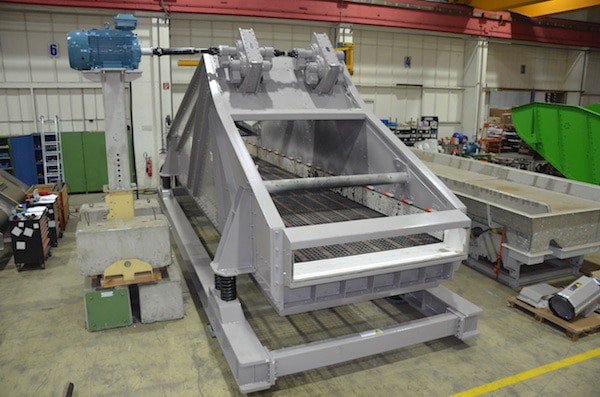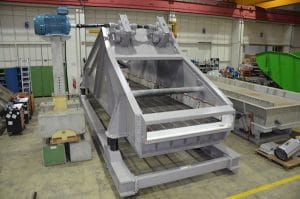 One of the main mechanical handling methods used for granular bulk material is screening. The type of material, the grain shape and grain size, humidity, output and screen cut size as well as many other parameters necessitate a broad spectrum of different solutions.
Computer-based machine calculation and design, long-term experience in the mechanical process technology as well as technical and manufacturing know-how result in the engineering of the optimal screen size and design. In general, the massive dimensions of the machines and the nature of the feed material require an extremely robust equipment as well as the best available wear protection of all parts in contact with material.
Individual Solutions
In the field of fine screening, where conventional screening machines such as linear or circular vibrating screens have reached their limits, special machines for very demanding duties are required.
Sticky material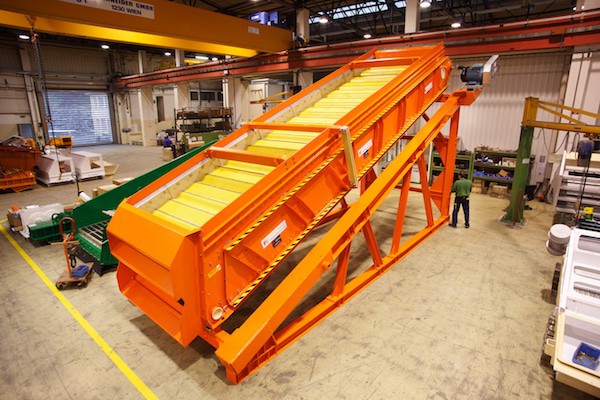 A flip-flop screen with its flexible screening panels is used for the classification of difficult-to-screen, sticky or moist material in separating cuts of approximately 2 to 20 mm. Tensioning and loosening of the screen panels produces a self-cleaning effect. Besides sand and gravel, this all-rounder screen is also used for screening coal and coke and also finds use in steel works.
Very high throughputs

The banana screen can handle two to three times higher feed rates compared to conventional vibrating screens. These screens are thus particularly well suited when a massive increase in capacity needs to be achieved or when the required capacity is very high in general. 34.100 kg of oscillating weight moves in the biggest banana screen (3200 x 10000) built by today – it is used for screening coal in Norway.
Magnetite Processing
Conveying and screening are usefully complemented by magnetic technology, when machines have to be protected against tramp iron or if products have to be cleaned or enriched.
For magnetite processing, there is an enormous spectrum available – from pre-concentration by magnetic drum to wet drum separation.
Wet drum separators are used to regenerate magnetisable media, to extract particles out of suspensions and to concentrate iron ore.
Conveying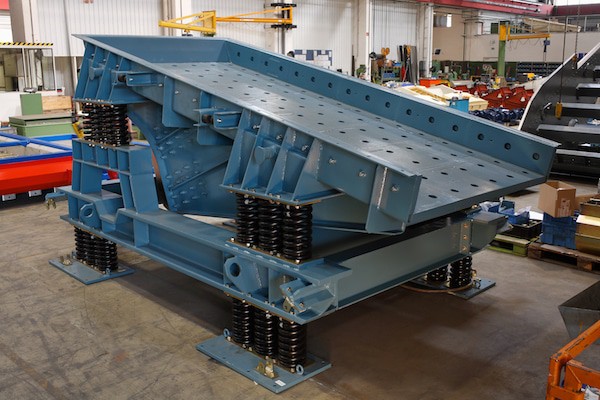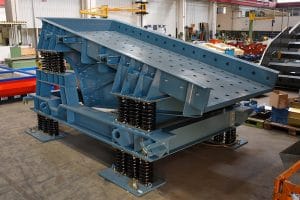 While vibrating feeders are generally not the focus of a plant, they can negatively impact both, throughput and product quality if not properly designed (2). Therefore, vibroconveyors must always be designed and manufactured for specific applications. Heavy-duty feeders are ideally used for high feed rates and perform well in harsh conditions. They are available in large machine dimensions and manufactured with robust materials. Typical applications involve the crusher feeding as well as the distribution and handling of high capacity materials, such as chrome and iron ore.
IFE is the only manufacturer that offers package solutions in the product areas of conveying, screening and magnetic technology. For that reason, IFE is able to supply the necessary know-how for the design and dimensioning of tailor-made solutions for processing bulk materials of all kinds.
1) cf. aggreko.com
2) cf. Schüttgut Vol. 13 (2007) No. 7
This article is published by
IFE Aufbereitungstechnik - machine engineering by tradition
For more than 70 years IFE Aufbereitungstechnik GmbH has been dealing with the construction of machines for bulk material handling. IFE is the only manufacturer that offers package solutions in the product fields Conveyor, Screening and Magnetic Technology. That's what characterizes ...